Photos Of Trump & Bush Sr. As Grandpas Shows They Had More In Common Than You'd Think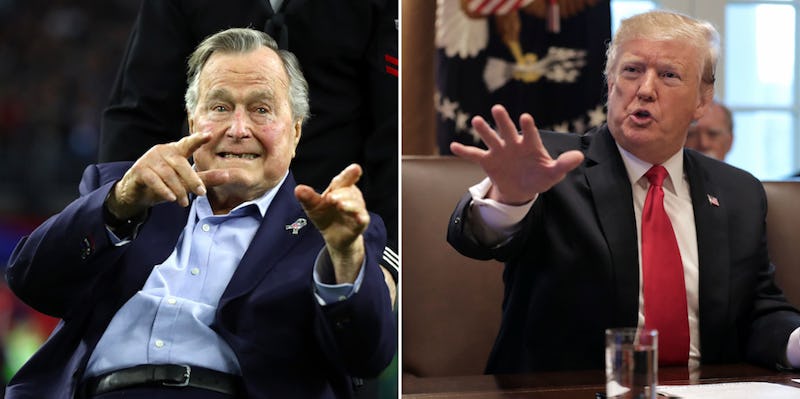 Al Bello/Getty Images Sport/Chip Somodevilla/Getty Images News/Getty Images
At 72 years of age, and with five children of his own, it's not altogether surprising that President Donald Trump has more than a handful of grandchildren. But while Trump's nine grandchildren vastly outnumber those of his most recent predecessors, they fall just short of former President George H.W. Bush's 14 grandkids. Photos of Trump and Bush Sr. with their grandkids show the presidency can sometimes be a kid-friendly zone.
At the moment, President Trump has nine grandkids. There's 11-year-old Kai, 9-year-old Donald III, 7-year-old Tristan, 5-year-old Spencer, and 4-year-old Chloe, all born to Vanessa and Donald Trump Jr. They're joined by Ivanka Trump and Jared Kushner's children, 7-year-old Arabella, 5-year-old Joseph, and 2-year-old Theodore, as well as Lara and Eric Trump's 1-year-old son Luke.
While Trump has enough grandkids to staff his own baseball team, Bush Sr. had enough to staff his own soccer team and then some. According to Town and Country magazine, the late president had 14 grandchildren. They include Barbara and Jenna, former President George W. Bush's fraternal twins, as well as Jeb Bush's three children, John Ellis, Noelle, and George Prescott. They're joined by Neill Bush's three children, Lauren, Pierce, and Ashley, as well as Marshall Lloyd and Charles Walker, the two children Marvin Bush adopted. The gang is rounded out by Dorothy Bush's four children, Sam, Nancy Ellis, Robert, and Georgia Grace.
But Trump and Bush's families aren't the largest number of grandchildren to be born to a president, sitting or otherwise. While there's no definitive database regarding presidential grandchildren, an analysis of what available data does exist by FiveThirtyEight found that former President William Henry Harrison had 25 grandchildren. Former President Franklin D. Roosevelt is also believed to have had a bevy of grandchildren. According to information provided by the Elenor Roosevelt Papers Project, Roosevelt had at least 21 grandchildren by blood with another four adopted grandchildren.
Still, photos of Trump and Bush Sr. with their grandkids show how presidents work young kids into life at the White House: