These Photos Of Trump & Kanye Meeting In The Oval Office Are So Surreal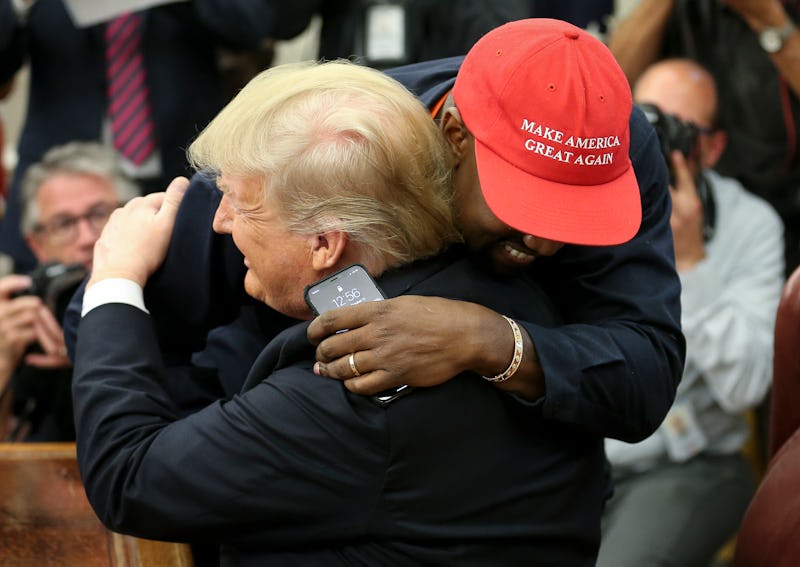 Pool/Getty Images News/Getty Images
Even by the current administration's standards, it was not a typical day at the White House. On Thursday, rapper Kanye West and President Trump had a meeting in the Oval Office, and based on photos from reporters in the room — as well as their tweets about West's ramblings — it wasn't a meeting anyone would soon forget.
West has made headlines in the past year for his outspoken support for Trump. Earlier this week, it was announced that West and former NFL player Jim Brown would attend lunch with Trump and his son-in-law Jared Kushner at the White House on Thursday.
They were expected to discuss, among other things, manufacturing, prison reform, and gang violence, CBS News reported. However, according to reporters in the Oval Office, West delivered a 10-minute rambling monologue in which he touched on mental health and his political ambitions. He also claimed that the Trump campaign's Make America Great Again hat made him "feel like Superman," contrasting the hat with Hillary Clinton's "I'm With Her" campaign slogan, which he suggested was emasculating.
"I love Hillary. I love everyone, but the campaign 'I'm With Her' just didn't make me feel, as a guy that didn't get to see my dad all the time, like a guy that could play catch with his son," he said. "It was something about [the MAGA] hat that made me feel like Superman."
At one point, West whipped out his phone, unlocking it before the cameras to inadvertently reveal his phone password, to show Trump a picture of a hydrogen-powered plane.
"This is what the president should be flying in," West insisted. "What I need Saturday Night Live to improve on, or what I need the liberals to improve on, is: If he don't look good, we don't look good. This is our president. He has to be the freshest, the flyest — the flyest planes, the best factories."
West also said that Trump inspired him to make good business decisions, suggesting that "because [he has] enough balls to put on this [MAGA] hat," he had the gumption to sign a lucrative endorsement deal with Adidas that "made me a billionaire." It's worth noting that West signed with Adidas in 2013, two years before Make America Great Hats existed.
At one point, reporters asked Trump whether West might be a viable presidential candidate in the future. "Could very well be," the president responded.
"Only after 2024," West added.
West addressed police violence and racism in his monologue as well, saying that black Americans "get caught up in the idea of racism over the idea of industry" and that liberals "try to control a black person through the concept of racism."
"We talk about police murders, which we definitely have to discuss," West said. "But we also, as black people, have to take responsibility for what we're doing. We kill each other more than police officers."
West and Trump exchanged words toward the end of the meeting as well.
"I tell you what, that was pretty impressive," the president said. "That was quite something."
"It was from the soul," West said. "I just channeled it."