There Are A Bunch Of Pics Of Trump & Kim Jong Un Hanging In The White House Now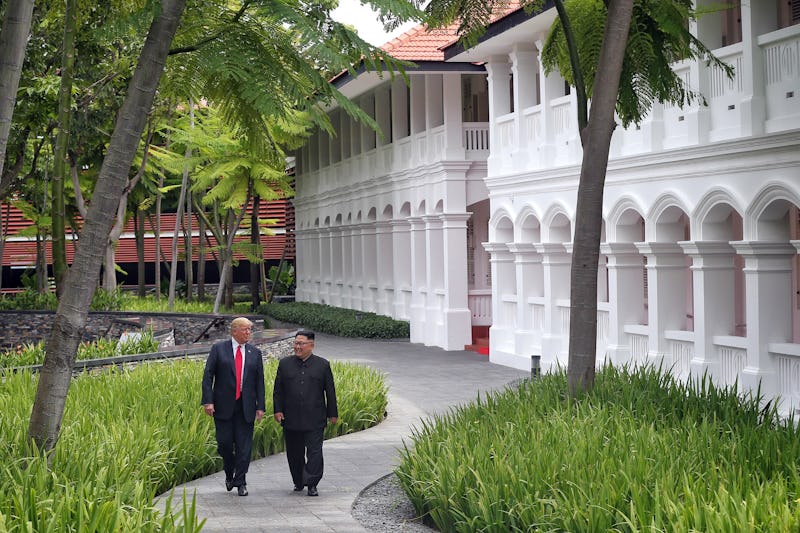 Handout/Getty Images News/Getty Images
The Trump administration is known for its controversial decorating choices, from Housing and Urban Development Secretary Ben Carson's lavish dining set to President Trump's own multi-million-dollar overhaul of the White House. In a late entry in that category, it seems photos of Trump and Kim Jong Un are now hanging in the White House. The decorative photos were unearthed by Wall Street Journal reporter Michael C. Bender, who shared them on Twitter Monday afternoon.
The grouping of six photos Bender captured includes a variety of shots of Trump so far in his presidency. Most notable, though, are multiple shots of the president and Kim in Singapore, which take up the entire bottom row.
From the left, there's Kim and Trump shaking hands in front of a wall of North Korean and American flags; there's also a shot of the two walking during a break in the negotiations at the summit. The third photo of the pair is a photo of the leaders sitting down at a table to sign a joint agreement.
The photo array also includes a shot of North Korean representative Kim Yong Chol hand-delivering a letter from Kim to Trump in the Oval Office. The other photos include a snap Trump outside of Air Force One as well as another picture of Trump outside of the White House.
These photos of Kim and Trump weren't always there, however. At the beginning of May, these photos themed around Trump and French President Emmanuel Macron. According to Bloomberg News reporter Jennifer Jacobs, the photos were up a week after Macron's state visit to Washington, D.C.
The array of photos is actually eight, while Bender's tweet only captured six of the current photo set. In the photo shared by Jacobs, you can see similar gold frames around all eight photographs.
The photographs feature Macron, Trump, First Lady Melania Trump, and Macron's spouse, Brigitte Macron. The photos appear to be from Trump's 24-hour visit to France that coincided with Bastille Day in July 2017.
There's a photo of a ballroom; another photo is of Melania Trump and Brigitte Macron sitting at a table near the Eiffel Tower. The top row is rounded out with a photo of world leaders (including Emmanuel Macron and Donald Trump) at the 43rd G-7 summit in Taormina, Sicily, Italy in May 2017, as well as a photo of Trump with his hand over his heart during a commemoration of the 100th anniversary of the United States entering World War I during his July 2017 visit to Paris.
Despite the change out of photos, it's an odd choice to display photos of Kim as Trump has faced criticism over his continued and glowing praise of the dictator, even seeming to gloss over Kim's human rights violations. Human Rights Watch called North Korea "one of the most repressive authoritarian states in the world" in their 2018 report. Still, Trump pursued a relationship with Kim, which he has said previous administrations were incapable of fostering.
In May, three American prisoners who had been held in North Korea (one was arrested in October 2015) were released. After that news broke, a reporter asked Trump if he was deserving of the Nobel Peace Prize for his role in North Korean nuclear disarmament.
Trump said "everyone" thought he deserved the award. "Everyone thinks so, but I would never say it," Trump said in early May before the Singapore summit, according to The Washington Post.
"You know what I want to do?" Trump continued, according to the newspaper. "I want to get it finished. The prize I want is victory for the world — not for even here — I want victory for the world. Because that's what we're talking about, so that's the only prize I want."