Photos Of Trump Holding Up The Pride Flag Are Sending Twitter Into A Frenzy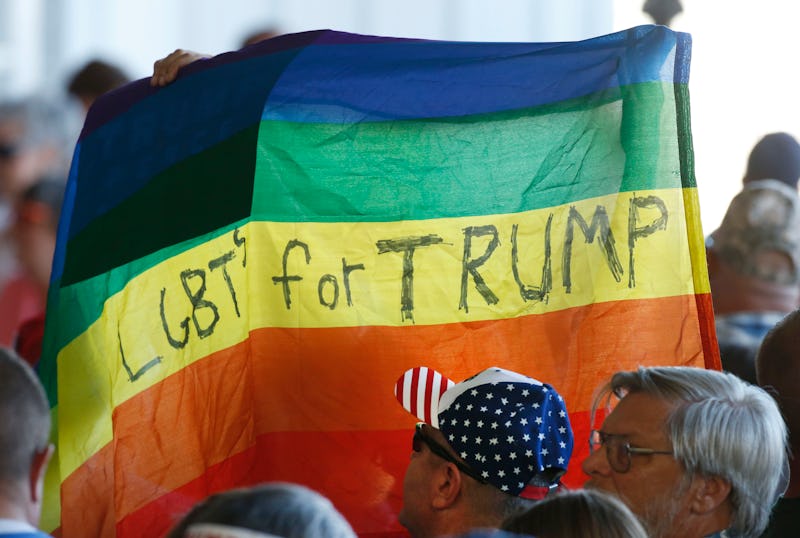 George Frey/Getty Images News/Getty Images
On Wednesday morning, quickly after he announced that transgender people would not be allowed to serve "in any capacity" in the military, Twitter users began sharing photos of Trump holding the LGBT pride flag. The photo shows Trump holding a pride flag upside down, with the words "LGBT for Trump" written on it.
The photo of the president holding the pride flag originally circulated in the days leading up to the Nov. 8, 2016 election, while Trump was on the campaign trail. It was at a rally in Greeley, Colorado, where Trump has handed the folded up flag by a supporter, conservative strategist Chris Barron, who praised him as "the most pro-LGBT [presidential] candidate ever nominated by either party" on Twitter.
Today, the photo has re-emerged on the internet in response to Trump's announcement that trans people won't be allowed in the military. The statements were made on Wednesday morning, in a series of Twitter posts, where Trump shared he had consulted with unnamed military experts about the decision.
After consultation with my generals and military experts, please be advised that the United States government will not accept or allow transgender individuals to serve in any capacity in the U.S. military. Our military must be focused on decisive and overwhelming victory and cannot be burdened with the tremendous medical costs and disruption that transgender in the military would entail. Thank you.
People have dissented online by posting the photo of Trump with the pride flag, some with captions, some without. The image itself speaks volumes.
Trump's decision to ban transgender people from the military represents a reversal of a policy approved by the Defense Department under Obama that was still waiting on final review. The policy would have allowed openly transgender people to serve in the military.
Last month, Defense Secretary James Mattis announced he was delaying the implementation of the policy accepting transgender individuals until Jan. 1. 2018 at the earliest.
In addition to posting photos of Trump holding the flag as a statement, some have retweeted original responses to the image.
"#DonaldTrump does not get a pass simply because he said #LGBT. America has evolved past that. You chose #MikePence... #WeSeeYou," Twitter user JerseyCraig wrote back in February.
The National Center for Transgender Equality posted a full statement in response to Trump's decision.
This is worse than don't ask don't tell, this is don't serve, don't serve. This is an appalling attack on our service members; it is about bigotry rather than military readiness, reason or science. It is indefensible and cannot stand. The President wants to discard thousands of trained and skilled troops who are already serving honorably and done nothing but be honest about who they are. To turn away qualified recruits simply because of who they are is a shameful way to show our country's gratitude to the people who serve our country.