These Bette Davis Photos Prove 'Feud's Casting Is Perfect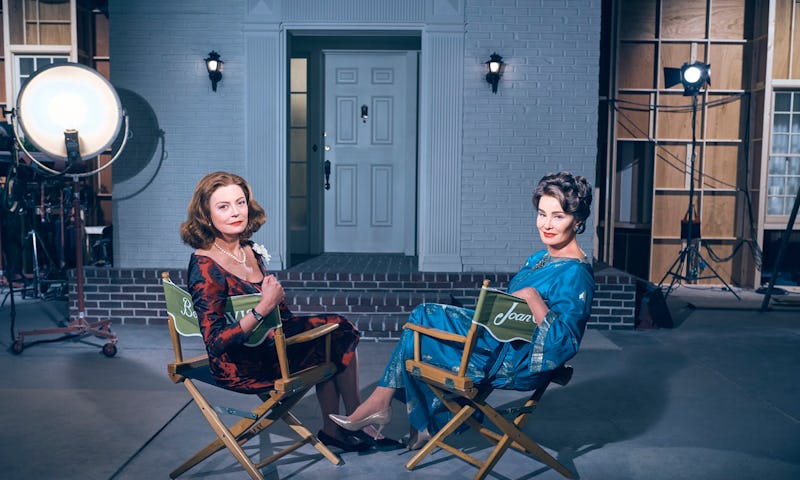 Kurt Iswarienko/FX
Not only are Jessica Lange and Susan Sarandon's performances on Feud pitch-perfect, but they actually look like their real-life counterparts, too. In the show, they play Joan Crawford and Bette Davis, two Hollywood icons who had a famously well-documented rivalry. The series centers around the height of their conflict — when they both starred in Whatever Happened To Baby Jane? — and at that point, they were in their mid-50s and struggling to find work in an ageist, sexist industry. But even photos of a young Bette Davis show how spot-on Feud's casting is.
Davis is portrayed by Sarandon, who's actually about 15 years older than the version of Davis depicted on-screen. Still, their resemblance is uncanny. Though they do have different hair colors (and styles), their facial features are what look the most alike: They have both have high-arched eyebrows; large, almond eyes; and slender noses.
When you look back at younger photos of both of them, their similarities are even more pronounced. Not because they don't look just as striking decades later, but because it proves Sarandon's resemblance is a whole lot more than good makeup — it's good genes. Of course, Sarandon would be just as compelling in the role if she didn't have such an on-the-nose image, but it makes Feud all the more realistic.
Young Bette
Davis definitely knew how to pull off black-and-white photography.
Style Icon
And she could really pull off hats, apparently.
So Fashionable
And really anything she wore.
Those Eyes
Just try to tell me her eyes don't look exactly like Sarandon's.
Another Throwback
She doesn't look exactly like Sarandon here, but it's still a pretty damn close match.
Seeing Double
For reference, this is a young Sarandon, but can you really tell the difference?
Hats off to you, Ryan Murphy. You really know how to cast a show.