Pickle-Flavored Soft Serve Is A Real Thing Now & People Actually Love It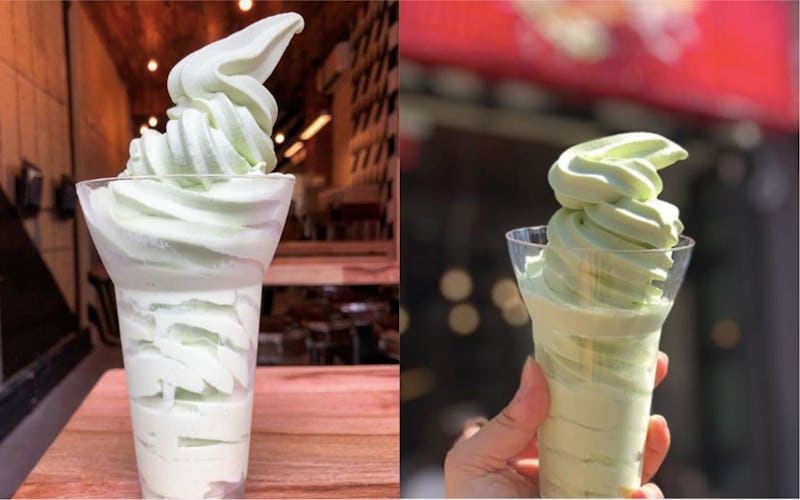 mikejchau/Instagram; always_hungry/Instagram
If you're wondering what the dill is with summer soft serve, the answer is in the pun. Pickle-flavored soft serve is now a thing in New York City and I am here for it. A kosher deli sandwich's favorite side dish can new be served in swirls in a cone shaped cup. While you may never tire of the classic offerings of soft serve, the culinary world has spruced up traditions and it's time to expand the palate beyond chocolate and vanilla.
New York City has been gifted another Instagrammable gem in the opening of Lucky Pickle Dumpling Co. The new Upper West Side haunt comes from the team behind Jacob's Pickles, a southern restaurant with brunch lines so long they rival the TKTS booth — a booth for discounted Broadway show tickets — in Times Square. But unlike the favored brunch spot, Lucky Pickle Dumpling Co. is a fast casual establishment. This means that you can pick up a pickle dessert and a plate of dumplings without the fear of facing a dramatic line.
I'm wondering: if you're craving a pickle for lunch, does pickle flavored ~soft serve~ also count as a side dish to a sandwich? On my personal food pyramid, to be real with you, it does.
There have been many cross overs in food. Cronuts combined croissants and donuts into a round, flakey wonder. Sweet courses meet savory ingredients. And once upon a time, sushi met the croissant. The prized couples of the culinary world aren't peanut butter and jelly anymore. Opposites have proven to attract. And in the case of the pickle soft serve, thank goodness for that.
If you're located in New York City, you can wrap your hands around a cup of pickle soft serve as soon as five minutes from now. Lucky Pickle Dumpling Co. is open Sunday through Thursday from 11 a.m. to 11 p.m. and Friday and Saturday from 11 a.m. to 2 a.m., according to Eater New York. A swirl of this soft serve will cost you $5. The menu also consists of a Matcha soft serve, Sriracha Pickle Slaw, Noodles and a Pickle-Doodle-Doo Shirt. Yes, you can order a side of swag with your dumplings here.
In case my weight of support behind a pickle soft serve isn't convincing enough, take it from other customers. Twitter user and Instagram foodie Mike Chau tweets, "Yes, this is Pickle Soft Serve and it's really really good and you get a ton of it for $5". Another Twitter user asked if pickle cheesecake would be next, to which I say, please. One Instagram user reports that the concoction was surprisingly and tasty. We're used to hearing about ice cream infused with vodka or Sour Patch Kids or dripping in 24 karat gold that a measly old pickle might not sound appetizing.
I know it may come off as whacky to have some incarnation of a pickle as a sweet treat when you're thinking more along the lines of chocolate and rainbow sprinkles, but it's worth a try. For the record, there have been weirder flavors to hit ice cream parlors around the world. Lobster ice cream, anyone? I'd probably prefer my lobster on a platter and not in a cone but who can turn their nose up to the delectable dairy product? Every flavor is worthy of at least a lick. Churn brussels sprouts into a batch of Ben & Jerry's and I would most likely still polish off a pint.
Sure, you might have previously perceived pickles as side pieces, but they're worthy of the spotlight. That is, perched atop a cone shaped cup and ready for their Instagram close up. The pastel green pickle soft serve is just as inviting of a treat as any other flavor.