Pickle Soup Exists & You Can Buy It On Amazon Prime
by Callie Tansill-Suddath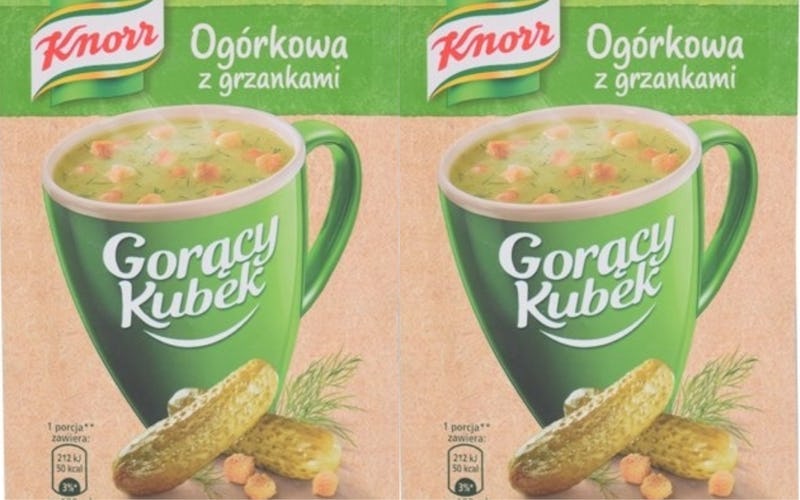 Amazon
Soup might not be the first food that comes to mind when you think about summer. But, don't count it out just yet. Have you ever spent a day at the beach, only to return home to a freezing house? You're damp and sticky from seawater and desperate to warm up. Few things will do the trick as well as a warm cup of soup. This authentic Polish Pickle Soup has been keeping the hearts and bellies of Poles warm for centuries, and now you can get some on Amazon.
Pickles are finally receiving their due recognition. For some, it may even be a little surprising to see; nowadays, the value of a food is often placed on how many likes it will bring in on Instagram. While the humble pickle may not come plastered with unicorns, rainbows, or glitter, its flavor has enough excitement to warrant a 'gram.
The pickle soup, a product of Knorr's, is a mainstay. Imported from Poland (even the ingredients are in Polish!), each box comes with five envelopes of soup mix ready to be mixed with water and eaten. The formal name of the fare is Ogórkowa z Grzankami Goracy Kubek, which roughly translates to "Cucumber with Croutons Hot Cup."
Although it may seem unusual to those who didn't grow up with it, people who tried it on Amazon haven't been disappointed. "Pickle soup you say? Yup. I always turned up my nose at the thought of.... pickle soup," writes one reviewer. "I was in our local Polish store and bought one packet of this instant cup of soup and loved it ... I ordered a ton of them from Amazon and am so happy to have them."
If you're still not soup on in the summer, there are countless other pickly products to keep your sour tooth satisfied while the sun is out.
Trader Joe's has been offering Popcorn in a Pickle for a while, but the magic of Instagram brought it back into the limelight. so we don't all make a mistake and sleep on it this summer. Last month, Michigan-based JunkFoodMom, a successful junk food Instagrammer, recently posted about the snack which returned it to the internet's radar. She posted a photo of the large bag, and a handful of popcorn displayed in the foreground. Her accompanying caption reads: "TJ's popcorn with the 'bite and tang of dill pickles.' I'm not a huge fan of pickle flavored snacks but found this strangely addicting. Dill oil is used to make these perfectly picklelicious."
I can speak from personal experience when I say this popcorn is a real treat. It maintains all the pucker of a true pickle, while offering a more enhanced taste of the spices used in the pickling process. Who knew popcorn could be so sophisticated? You can find these at your local Trader Joe's; but be warned, this spike in popularity may lead to them being out of stock. Again, that warning is rooted in personal experience.
Another option comes from Pringles, the original potato snack to come housed in a tube, rather than a bag. The brand has never been one to shy away from the original. In fact, the entire premise behind a flake-based, expeller-pressed potato snack was unheard of when Pringles was first released. In the years since they have become a supermarket standard, Pringles have released a bounty of the inventive flavors — about 29 can be found on shelves around the United States, according to Mental Floss. Among these is the unprecedented Screamin' Dill Pickle Pringles. The taste is described on the Pringles website as "...so big and bold and … freaking Xtra that it just screams 'PICKLE'." It's surely not for the faint of heart (or taste bud).
The takeaway here is if you can dream it, it can be pickled. That doesn't just go for chilly snacks, either. The next time you're looking for a unique midnight snack, mix up some Ogórkowa z Grzankami Goracy Kubek, or Polish Pickle Soup. You can find a pack of five on Amazon for a little more than six bucks (and it's on Prime!).