Pics Of Bey & Jay As Kids To Get You Even More Excited For Those Twins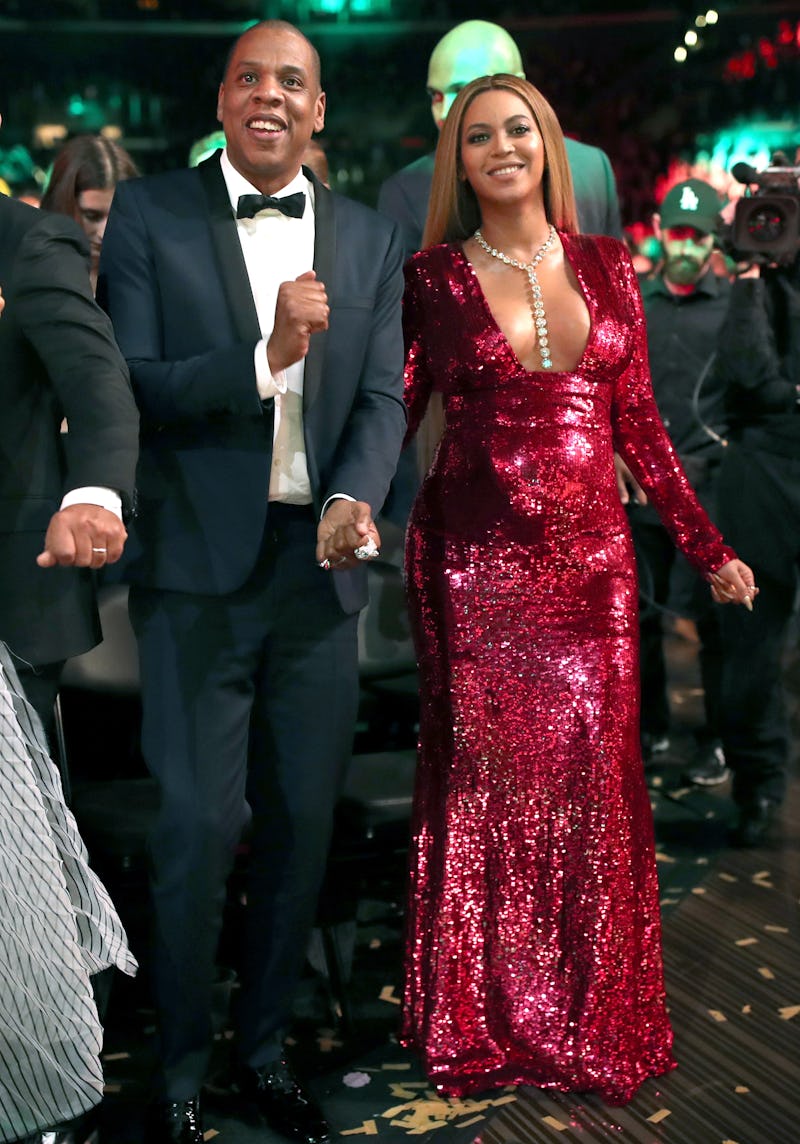 Christopher Polk/Getty Images Entertainment/Getty Images
When you look up the definition of "power couple" in the dictionary, I'm pretty sure the entry is just a picture of Beyoncé and Jay Z. They're one of the most iconic couples in entertainment, and for well over a decade they have ruled both pop charts and red carpets. This family will get a little bit bigger when the singer soon gives birth to twins, so there is no better time to revisit old photos of Beyoncé and Jay Z as kids. These pictures of the stars when they were little are so adorable, and will make you super excited for the arrival of the Knowles-Carter twins.
It's difficult to imagine Bey and Jay Z before they were famous, but over the years pictures of them from when they were young have surfaced online — for Beyoncé, often because she posts them herself. The photos are a reminder of how far they've come since those days, and that they built their success from the ground up out of their own talent and hard work. They're also super cute, and it's pretty funny to see the similarities between their childhood pics and current snaps of Blue Ivy. Blue looks more like her mom and dad every day, and not just because of her red carpet style. It's clear that Bey's daughter and future twins will continue her fashion, and hopefully musical, legacy, but before looking to the future, enjoy these pics from the past.
This old Polaroid of Queen B and her sister Solange proves that even as toddlers, these sibs had iconic style. Honestly, if Blue Ivy wanted to steal one of these glam looks, she would still be on-trend in 2017.
On her birthday, Queen B posted this picture to show that dancing and singing have always been her passion.
This pic of Bey at the hairstylist was captioned "1989", which means the star was just 8 years old.
This school photo is from around the same time, and Beyoncé poked fun at her missing teeth by captioning the photo "My grill in 1988".
The star posted another pic from 1988, presumably pre-tooth fairy visit.
Bey has lots of pics with her father, Matthew Knowles, and will often share them to Instagram.
Honestly, I support Beyoncé bringing back the pink turtleneck and purple sweatshirt combo and high-side ponytail in 2017.
Here's Jay Z as a teen, way back at the beginning of his career. It's a rare snap of the rapper from his younger years.
Beyoncé's music career began at a very young age, and this picture shows her performing in Houston in 1996. Not long after, her musical group Destiny's Child would begin performing together.
In a true #tbt, Bey shared a baby pic, and what an absolute gem it is. The lil' pink dress! Those teeny shoes! That adorable smile!
It's difficult to find pics of Jay Z before his career blew up in the '90s, but here's an old pic of him at the movies with a friend.
For another throwback, the singer shared another school picture to Instagram.
I think we all made this skeptical camera face as a kid when our parents made us pose for a picture. Also, please take a moment to appreciate that matching tie-dye shirt, scrunchie, and headband combo. This look was all the rage in the 90s.
New York Magazine put an old photo of Jay Z on the cover in 2014 as part of an issue that commemorated pop music in New York City, and honored the rapper's long and illustrious career.
When Beyoncé released this graduation picture of Jay Z to the world, it instantly went viral.
It's clear that both Beyoncé and Jay Z understand the importance of making photo memories, and the couple have documented there family with plenty of adorable pics with Blue Ivy. This walk down memory lane should make you even more excited for the arrival of the new Carter-Knowles babies and the many more family photos to come.