Pink's Entire Family Wore Suits To The VMAs & It Will Make You Smile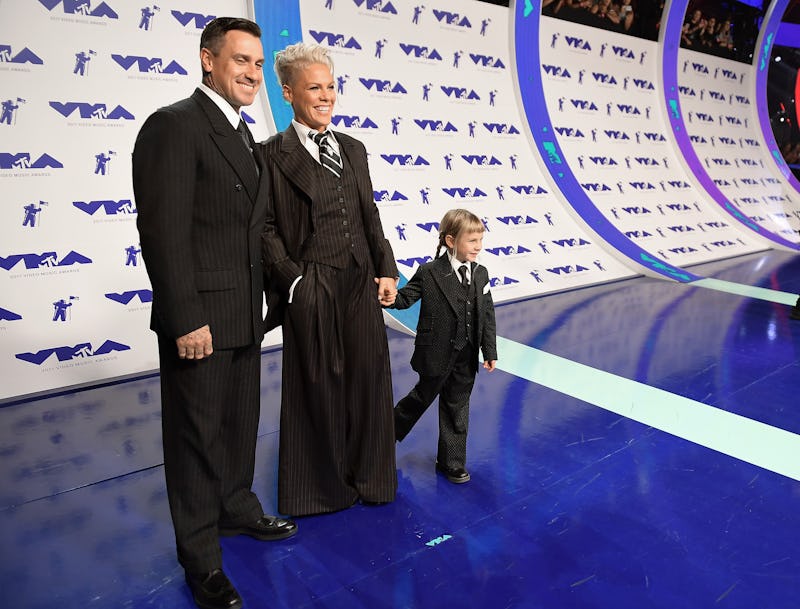 Matt Winkelmeyer/Getty Images Entertainment/Getty Images
We all know she's not shy when it comes to her style, but the fact Pink wore a suit to the 2017 VMAs... well, it was truly the makings of red carpet history. The singer stepped out in a pinstriped blazer and vest, which she paired with a floor-length pinstripe skirt. The look matched her husband and adorable daughter, who were there to support her.
If there's a singer who can rock a look, it's Pink. And if there's a performer who can craft the most mesmerizing music videos, it's Pink. So really, it makes perfect sense that she's being honored at the 2017 VMAs with one of the most prestigious awards of the night — the Video Vanguard Award. And the fact she's there with her family? It really is the icing on the cake.
While she's not nominated for any other awards, it's clear the singer is taking her appearance at Sunday night's show to a whole 'nother level for this amazing moment in her career. The suit compliments her rocker vibes perfectly, especially since she paired it with a half shaved head, striped tie, and a spiky ear cuff. Seriously, how cool can one person be?
This is one adorable family.
Pink is such a style — and music — icon.
I mean, come on. How cute is this?