Pippa Middleton Wore The PERFECT Spring Dress To The Royal Wedding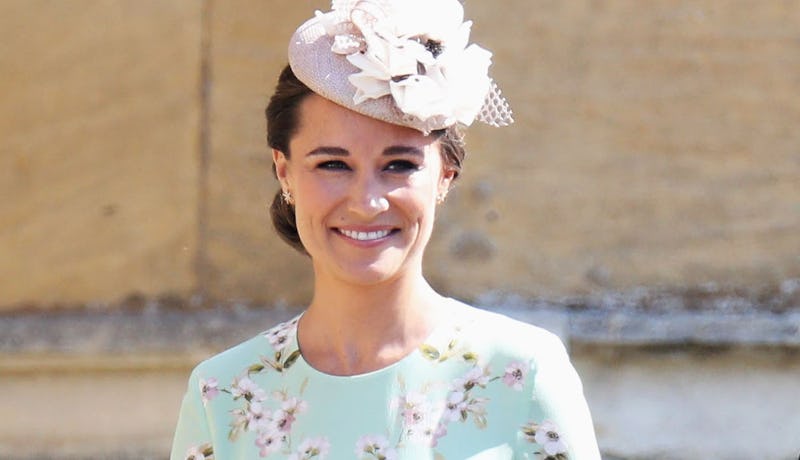 Chris Jackson/Getty Images Entertainment/Getty Images
Pippa Middleton is honorary British royalty, thanks to her duchess sister and her charm. Given her closeness to the royal family, it was no surprise that Middleton took the long walk to attend the wedding of Prince Harry and Meghan Markle. But what did Pippa Middleton wear to attend the 2018 royal wedding? With her husband James Matthews by her side, Middleton — who is rumored to be expecting the couple's first child — looked stunning in a floral and feminine dress that was simply perfect for the big day.
Middleton arrived to the ceremony in a mint green dress with delicate pink flowers decorating the fabric. Her skirt was slightly pleated in an unconventional way, showing off panels of a dusty rose color underneath the mint, which complimented the floral decoration on the dress. To keep with the conservative theme of royal affairs, Middleton wore light colored stockings under her dress.
And then, of course, there is the hat that is so standard and expected at British weddings. Atop her head, Middleton wore a matching blush hat made of tweed-like material. Afixed to the top of the fascinator was a collection of flowers and mesh to add volume and character to the headpiece. Middleton also wore simple blush colored heels and carried a muted pink clutch to complete her look.
With such a grand outfit and fascinator, Middleton kept her makeup and hair simple. A neatly tied low bun was her go-to hairstyle, while her makeup was left gorgeously understated, with a neutral eye and light pink lip. Her choice of hair and makeup reflected a style her sister Kate is known for — perfectly placed, feminine, and gorgeous. In a word, she made springtime look so, so chic.
Ever since her sister Catherine, Duchess of Cambridge AKA Kate Middleton married Prince William, Duke of Cambridge in 2011, Pippa Middleton has been a fixture in British society. Showing up to her brother-in-law's wedding, then, is no shock for the Middleton and her husband. The couple is also reportedly close to Prince Harry and Meghan Markle, with the two couples seen out on "double dates" to social events.
Middleton and Matthews were actually married on May 20, 2017, meaning the couple is celebrating their one year anniversary just one day after the royal wedding. Attending the social event of the year isn't a bad way to ring in your own celebration of love and loyalty.
Prince Harry also attended the wedding of Matthews and Middleton one year ago, but went to the event alone. He later brought Meghan Markle to the private reception, reportedly to avoid a media frenzy during his sister-in-law's big day. It was a considerate move, especially given the heightened interest in Harry's relationship with Meghan just one year ago.
Looking back at Pippa's wedding day, it's kind of amazing to see how far Harry and Meghan's relationship has come in just one year — not to mention incredibly romantic.
As for today's nuptials, Pippa Middleton has a lot to look forward to from her brother-in-law's wedding. With 600 guests ranging from Oprah to James Corden to Serena Williams to The Spice Girls, the star-studded celebration is sure to be breathtaking and awe-inspiring. Not to mention it's a national event that has the entire world tuning in to celebrate in unison.
Call it a whirlwind romance. Call it the social event of the year. Or maybe just call it love, because that's exactly what it is.