Pizza Hut Just Brought Back Cheesy Bites Pizza, This Is Not A Drill
by Callie Tansill-Suddath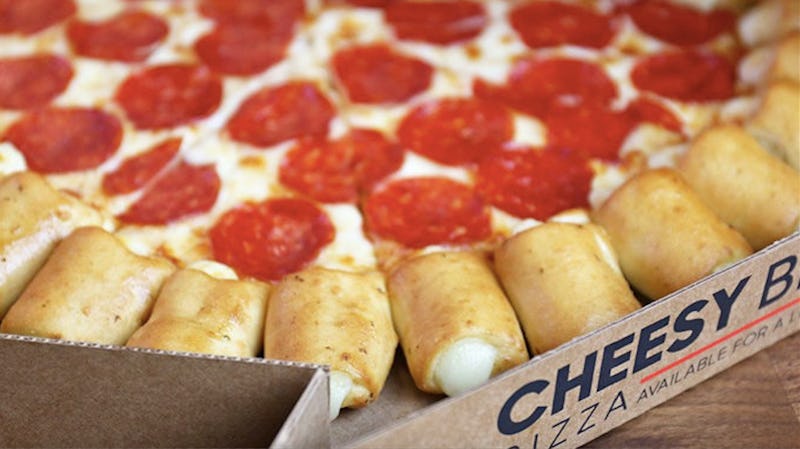 Pizza Hut
Classic pizza just doesn't cut it anymore. Why have a basic pie when you can have a fancy one? Why get a plain cheese pizza when you can add any topping you could possibly dream? In fact, why does cheese need to be limited to the actual pie, and not the crust? Some people believe it doesn't (and those people are correct). But Pizza Hut takes that good idea and makes it even better but making said cheese-filled crust bite-sized. Yes, you heard it here first, folks: Pizza Hut's Cheezy Bites pizza is back for a limited time.
Per ChewBoom, the Cheesy Bites Pizza is "... a large pizza [that] features a crust with 28 pull away, cheese-filled bites that encircle the main pie." So it is pretty much your typical stuffed crust pizza, but the crust is composed of a bunch of cheese-filled nuggets, rather than one long cheese-filled crust encircling the pie. This makes it easier for you to tear off a little pig-in-a-blanket-sized nugget of bubbling cheese-crust. The pizza has been reintroduced on menus annually during summertime since its initial release more than a decade ago, in 2006. Since then, not much has changed, aside from price. So you can relive your nostalgic early 2000s in all of their glory, simply by heading to Pizza Hut's website, where the Cheesy Bites Pizza is prominently displayed right now on the home page.
Pizza Hut has never been one to shy away from remixing one of the world's most classic, well-loved dishes. The Texas-based chain introduced another sweeter pizza recently that perfectly complements the gooey saltiness offered by the Cheesy Bites. The Hershey S'mores Cookie may not ~actually~ be a pizza, but it looks enough like one. According to a description from The Daily Meal, the confection features a massive, warm (of course) chocolate chip cookie base, is covered with mini-marshmallows, graham cracker chunks, and is sprinkled with pieces of Hershey's chocolate. It, like the Cheesy Bites pizza, has been on the Pizza Hut menu in the past, but appears to be yet another summer exclusive.
So far, 2018 has been a year of innovation for the pizza chain. Earlier in the year, Pizza Hut expanded its alcohol service with the addition of beer to its menu at select locations on the West coast.
Pizza Hut first began to offer six-packs of beer for delivery at select locations in Arizona in late 2017, according to according to AZCentral. The Pizza Hut located at First and East Pierce streets in Phoenix was the first franchise in the country to offer the service. The service, a partnership with MillerCoors LLC, offers free delivery to customers who order a six-pack of Coors Light, Blue Moon, or Miller High Life with their online or mobile pizza order. Plus, Pizza Hut is clearly not leaving any corners uncut, as the beer will be delivered in a cooler to ensure its cold temperature upon arrival to customers.
Zipporah Allen, the chief market officer of Pizza Hut, explained the decision to become the first chain to offer beer delivery, saying in a press release, "Many Pizza Hut restaurants are already licensed to serve and distribute beer, without third party services, additional fees, or extended wait times. Expanding the pilot program is a natural way for Pizza Hut to get our customers the perfect pizza and beer combo they're craving, delivered right to their doors."
The writing is on the wall, isn't it? Pizza Hut is your one-stop shop for the perfect summer dinner, dessert, and drinks. Both the Cheesy Bites pizza and the Hershey S'mores Cookie are available at participating Pizza Hut locations for a limited time.