Planned Parenthood Has A Plan To Protect Abortion Rights If Roe V. Wade Is Overturned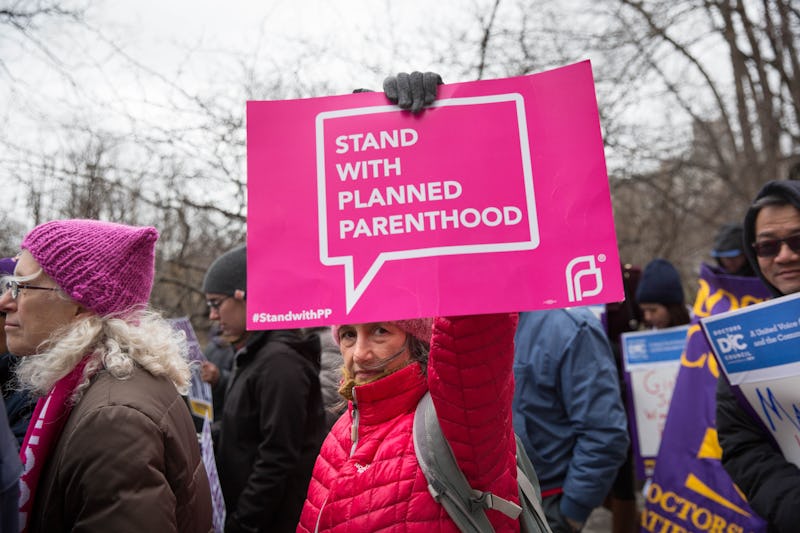 Kevin Hagen/Getty Images News/Getty Images
With Brett Kavanaugh now filling a seat on the Supreme Court bench, reproductive rights advocates are more worried than ever that SCOTUS will chip away at Roe v. Wade. In case that happens, Planned Parenthood released its plan for protecting abortion access and reaching people in states likely to ban abortion should Roe fall.
"There's no way to sugarcoat it. With Brett Kavanaugh on the Supreme Court, we will likely see the further erosion — and perhaps complete reversal — of Roe v. Wade soon," said Dawn Laguens, executive vice president of Planned Parenthood, in a Wednesday press release. "But Planned Parenthood is not going to let this become a country where people can no longer access safe and legal abortion."
If SCOTUS overturns Roe, 22 states would be at risk of banning abortion completely, according to the Center For Reproductive Rights, and four states have trigger bans on the books that would immediately outlaw the procedure in the absence of Roe. Planned Parenthood's "Care For All" plan involves expanding services in states where abortion is likely to remain legal and accessible, working on the policy level to ensure states codify the legal right to an abortion into state law, and continuing to fight the stigma around abortion.
Advocates expect access to telemedicine abortions, which allows health care providers to talk patients through a medication abortion via video conferencing, to be a crucial lifeline for people in states where access to abortion could disappear should the Supreme Court erode Roe. Planned Parenthood clinics in 14 states currently use telemedicine to provide medication abortions — a number it plans to raise to an unspecified amount, according to the "Care For All" plan. That goal must work around the fact that 19 states have already effectively banned telemedicine abortions, by the Guttmacher Institutes' count.
In states such as California that already guarantee the right to a legal abortion, the organization wants to work toward decreasing the financial burden for low-income residents and people who have to travel long distances to reach an abortion clinic.
On the policy front, Planned Parenthood plans to work alongside state advocates and other partners to champion laws that would protect and expand access to abortion in at least 25 states. The organization identified 10 states that will be vital to maintaining a network of abortion access across the country, including Illinois, Maine, Rhode Island, Oregon, Hawaii, and Washington. Though the plan is less specific on how it will attempt to thwart anti-abortion laws, it says Planned Parenthood will fight "tooth and nail" to "defeat hostile policies intent on shaming our patients and rendering abortion inaccessible."
At the same time, the organization plans to continue fighting abortion restrictions "at their source: the stigma that still surrounds abortion in this country," per the newly released plan. This will include educating people about why abortion is essential health care and working to put more authentic portrayals of abortion on TV.
"We demand a world where who you are or how much money you make doesn't determine your access to health care or access to safe, legal abortion," Laguens said in the press release. "We demand a world where your personal health care decisions aren't affected by stigma, shame, or silence. We demand a world where providers can give patients the care they need without harassment or government interference."