This New Rom-Com Is Basically 'The Devil Wears Prada' But For Professional Matchmakers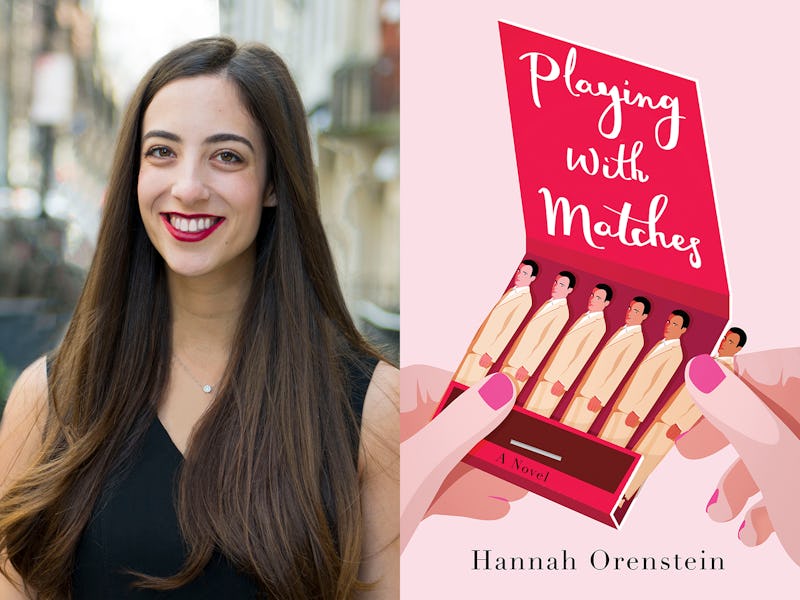 Hannah Orenstein, photo courtesy of Elyssa Maxx Goodman
I know the story well: a young, bright, ambitious woman has just graduated from college. She lives in a big city, where she hopes that her passion and past accolades will help her score a job in some creative field. But the fierce competition and seemingly never-ending economic woes hitting the arts sector make it seem like it will never happen. Now, she's got to find some other way to make money — and in the process she will get herself into some serious romantic/friend/family drama, rethink her goals and priorities, and figure out who she really is and who she wants to be. I unabashedly love books like this, not only because they are a total romp to read, but because I can relate to them — and so can Elite Daily's Dating Editor Hannah Orenstein, which is why she wrote one herself. Playing With Matches, out today, is inspired by her own experiences with the early-twenties, post-college doldrums — and how unexpectedly landing a job as a professional matchmaker helped her find her way through it.
Disclosure: Hannah Orenstein is an editor at Bustle Digital Group.
Playing With Matches follows Sasha Goldberg, a recent NYU graduate with a journalism degree, who hasn't been able to make headway in her dream career. So, she uses a dark secret from her family's past to snag a gig as a matchmaker at the elite dating service, Bliss. With zero experience but a lot of gumption, she throws herself into her strange new career, hoping to find The One for others — like she did for herself with her boyfriend Jonathan. But when he betrays her, she spirals out of control — and right into the arms of a strictly off-limits writer whom she had previously set up with one of her clients.
"I wanted to explore Sasha's first job because that was such a transformative time in my own life," Orenstein tells Bustle. "On one hand, I felt an overwhelming sense of impostor syndrome pretty much all the time. I was afraid my clients would lose trust in me if they learned the truth about my age. But on the other hand, my youth was a professional asset. I had grown up with social media and online dating, which put me at an advantage to older matchmakers. I felt incredibly conflicted and self-conscious about my age, and I'm sure I'm not the only 20-something who has felt the same way. So I loved depicting that through Sasha's story."
Playing With Matches by Hanna Orenstein, $12, Amazon
Orenstein says that she used her matchmaking experience only as a jumping-off point: "Some elements have roots in reality, like the nuts and bolts of what it's really like to work as a matchmaker, but everything is fictionalized. Even though, like Sasha, I also worked with clients to find their life partners when I was barely old enough to drink and feeling totally lost about what a satisfying relationship should look like... this isn't a thinly-veiled memoir at all." However, she and Sasha fell into matchmaking in a very similar way.
"I never considered working as a matchmaker because I was so laser-focused on landing a job in media after graduation. I first applied to intern at Vogue when I was 15 years old — a very kind editor wrote me back to explain she could not hire a high school student who lived in suburban Massachusetts," Orenstein says. "When I started writing for NYU's student-run blog, I launched a column called 'Now Kiss.' Every week, I'd set up my classmates on a blind date and write about their experiences. After a year of running the column, I met E. Jean Carroll while interning at Elle. She's the magazine's legendary advice columnist, and she also runs a matchmaking service. I really idolized [Carroll's] magazine work, so I emailed her a note that mentioned my matchmaking experience on campus. She wrote back in two minutes to ask if I would come work for her. I was scheduled to study abroad the following semester, so I went to Paris and applied for a prestigious magazine internship I was dying over. When I didn't get the internship, I took [Carroll] up on her offer."
And as much as Playing With Matches is about that truly relatable early-twenties career confusion, it's also a rom-com, filled with tons of drama, missed connections, and first-dates-gone-wrong. A lot of this, of course, stems from Sasha's work at Bliss, but it also comes from her own life and the life of her best friend, Caroline. The one constant in Sasha's universe throughout the novel is not work or romance or even family — it's Caroline. And this is where Orenstein flips the conventions of the rom-com novel on its head, turning a story that is all about romantic love into an ode to female friendship.
"Practically speaking, I think it's more common for a young woman like Sasha to fall in and out of love in her early twenties and lean on her best friend throughout it all," Orenstein says. "[It] might be considered surprising or fresh in the world of fiction, but I think it's actually very true to what happens in the real world. It was really important to me to make Sasha and Caroline's relationship feel as authentic as possible. Their relationship isn't always perfect, but neither can imagine a life without the other. I think that's really beautiful and worth celebrating in fiction. It was a really satisfying challenge to try to portray the nuances of female friendship accurately."
Portraying nuances accurately is one thing Orenstein definitely does in Playing With Matches. She introduces readers to an industry and lifestyle they probably aren't familiar with, and makes it easy for them to understand and relate to it.
"I wanted to explore what the matchmaking industry is really like," Orenstein says. "There's so much about the job that tends to be surprising to people — databases full of eligible singles, date-sitting, the fact that matchmakers poach users from dating apps, and more. It's glamorous, but in my experience, not particularly lucrative, even as clients pay enormous sums for matchmakers' services. My wildest dream is that Playing with Matches does for matchmaking what The Devil Wears Prada did for magazines."