The Sequel To 'The Devil Wears Prada' Is Out In Audiobook & You Can Start Listening Here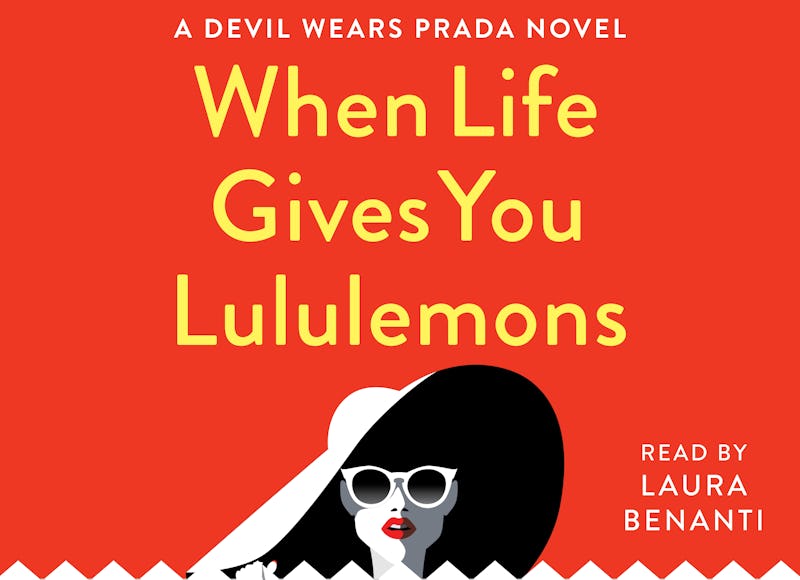 When I read Laura Weisberger's wildly popular 2003 The Devil Wears Prada, there was one character I just could not stop thinking about: Emily Charlton. After seeing her brought to life on screen by Emily Blunt in 2006, I was officially obsessed with her character, and desperate to learn more about her life. Finally, over a decade later, my wish has come true with the publication of When Life Gives You Lululemons, the latest novel in the Devil Wears Prada universe, out now from Simon and Schuster.
In When Life Gives You Lululemons, Weisberger returns to the world of The Devil Wears Prada to tell Emily Charlton's story. Once the first assistant to Miranda Priestley, Emily has left Runway magazine and New York for a life in Los Angeles with her husband and a career as an image consultant to the stars. But lately, she's been losing clients and struggling to keep her business alive. That is why she jumps at the chance to relaunch the career of a gorgeous former model whose mugshot has been dominating the headlines — because it just might be Emily's chance to relaunch her own career, too.
Karina is the big leagues, a former model and the wife of an up-and-coming New York senator. Or at least, she was, until in the aftermath of her husband's very public philandering scandal Karina is arrested for drunk driving a Suburban full of other people's children. After the scandal, her only true friend is Miriam, a hotshot attorney and stay-at-home-mom who lives close to Karolina and Graham's summer "cottage" in Greenwich, Connecticut. It's there that the unlikely team — Emily, Miriam, and Karolina — attempt to navigate the path to reinvention. If they can win over the suburbanites here, they can win over the American public anywhere.
When Life gives You Lululemons: A Devil Wears Prada Novel by Laura Weisberger, read by Laura Benanti, $17, Amazon
Smart, sexy, and laugh-out-loud funny, When Life Gives You Lululemons is a riotous romp through the over-the-to world of manicured lawns, beautiful women, and nosy neighbors. It's also a fun and beautiful story about the bonds of female friendship, and what can happen when women stick together, one you'll love reading — or better yet, listening to — by the pool, with a cocktail in hand.
Both the print and audio version of When Life Gives You Lululemons is out now, but just in case you haven't gotten your copy yet, Bustle is thrilled to be able to share an exclusive excerpt from the audiobook that you can start listening to right now. It is read by actress and singer Laura Benanti, who recently starred in Steve Martin's hit Broadway show Meteor Shower alongside Amy Schumer and Keegan-Michael Key, and frequently appears on The Late Show with Stephen Colbert as Melania Trump.
In the clip, which is from the first chapter of the book, Emily is celebrating New Years Eve at a swanky L.A. party, surrounded by drunk and glamorous people. As she contemplates the passage of time and compares her own body to that of a half-naked twenty-something next to her, Emily gets a phone call from the panicked manager of a Justin Bieber-type pop star who apparently showed up to a party dressed in — wait for it — a Nazi costume.
No, you did not read that wrong. Yes, this fictional singer is pulling a Prince Harry, circa 2005. Luckily, Emily knows exactly what to do.
When Life Gives You Lulumons is available on audiobook from Simon & Schuster wherever books are sold.