Ross & Demelza Have One More Shot To Get It Right On 'Poldark'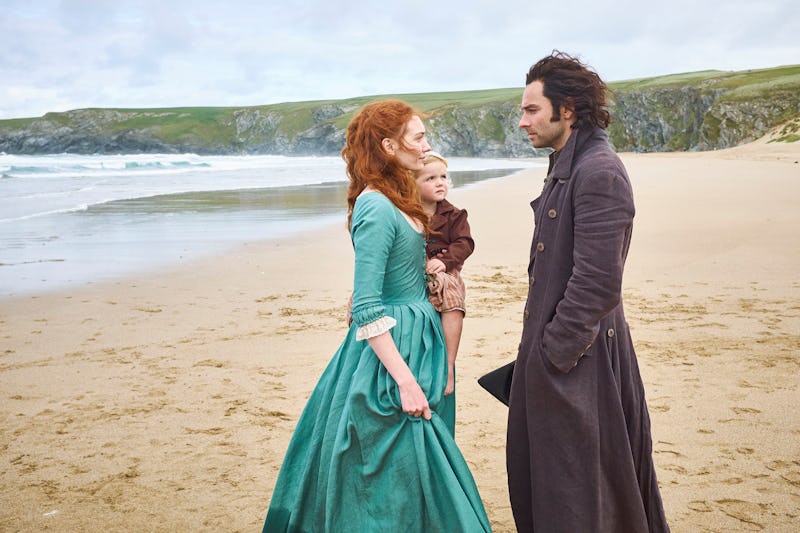 Courtesy of Mammoth Screen for BBC and MASTERPIECE
As much as fans of Poldark might be dreaming of a happy ending, Ross Poldark and his wife Demelza just can't seem to live in peace. Whether it's problems with the mines, schemes drawn up by their mortal enemy George Warleggan, or their own infidelities, the Poldarks have yet to really settle into domestic bliss. Those fans who can't wait to see Ross and Demelza happy surely aren't feeling good going into the Season 4 finale, since Episode 7 ended with the couple on less than speaking terms. But will this be the final season finale, or will Poldark return for Season 5 and give the couple a chance to set everything right?
Luckily for everyone still mourning by Demelza's sudden departure from London, Poldark will certainly be returning for a fifth season. PBS reported that Poldark was renewed for a fifth and final season, and filming for Season 5 is already underway. The show, which is based on a series of novels by Winston Graham, has mostly followed the direction of the books, but while Season 4 was based on seventh Graham novel, The Angry Tide, the new season will focus on what happens during the ten-year gap Graham left between books 7 and 8.
"In The Stranger From The Sea, Winston Graham made many references to developments that happened in the 'gap' years," Debbie Horsefield, who has written every episode of the series, said of Season 5 in an interview with PBS. "Much can also be inferred. There are, of course, also historical events and people of the time, both in Cornwall and in London."
Filming for the final season has already begun, and details of the last season are being kept closely under wraps. But Mammoth Screen released the following summary of what viewers can expect from the new season:
"It is a new century and with it comes the promise of a hopeful future, but the past casts a long shadow over Cornwall. Following the death of Elizabeth, Ross Poldark (Aidan Turner) resolves to put Westminster behind him and spend more time with the people he loves. However, when an old friend emerges with a plea for help, Ross is compelled to challenge the establishment again. As the Enyses (Luke Norris and Gabriella Wilde) rally to join the cause, Demelza (Eleanor Tomlinson) must contend with dangers close to home, while George (Jack Farthing) courts corrupt powers whose influence spans the Empire."
Hopefully, Ross' decision to return to Cornwall will help heal the rifts that exist in his marriage. Demelza's past romantic dalliance with the handsome Hugh Armitage, combined with Ross' longstanding (though fading) love for Elizabeth Warleggan, create a perfect storm of mistrust and jealousy. That suspicion recently ruined what began as a romantic interlude in London, when Ross stupidly accepted Monk Adderly's challenge for a duel after Adderly repeatedly attempted to seduce Demelza. (C'mon, Ross) Ross ended up killing Adderly, sustained an injury himself, and incurred the righteous anger of his wife, who left him to return to Cornwall.
It's far from the first time Ross' impulsive behavior and quick temper have led him into trouble. Even though he's got a wife who loves him and a beautiful family, he somehow always seems to find a way to mess it all up. This time, it seems like it might be the final straw for Demelza, and if there's anything we know about Mrs. Poldark, it's that she tells it like it is.
"She wears her heart on her sleeve and she is very true and very honest to Ross and I think it's lovely," Eleanor Tomlinson, who plays Demelza in the series, told RadioTimes. "That's what's nice about her, she doesn't conform to a society where women behaved themselves and were very much under their husbands' thumbs. Demelza speaks her mind."
The Season 4 finale also hints at closure in two other ongoing storylines. George, in an angry confrontation with Ross, might finally confess his suspicions about his son Valentine's true parentage (he's like, 100% Ross' son from a very questionable encounter with Elizabeth) and star-crossed lovers Drake Carne and Morwenna Chynoweth might finally get the happy ending viewers have been waiting for.
But no matter what happens, or what blunders Ross manages to make in the season finale (he'll almost certainly make a few) fans can rejoice in the fact that Captain Poldark will have one more season to get it right at last. Oh, and one more season of shirtless Ross.