Protesters With Disabilities Were Dragged Away From A Die-In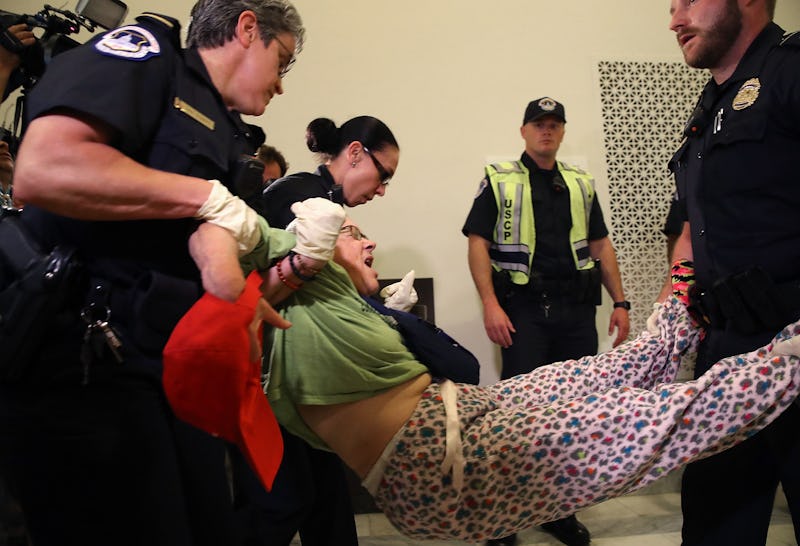 Mark Wilson/Getty Images News/Getty Images
On Thursday, protesters held a "die-in" outside Senate Majority Leader Mitch McConnell's office as the GOP unveiled legislation to repeal and replace the Affordable Care Act. Some of the protesters were in wheelchairs as they blocked the hallway, while others were wearing medical devices, and as they protested health care measures that would potentially threaten their lives, police dragged the protesters away from McConnell's office.
A statement from Capitol Police said, "Many of the demonstrators, as part of their protest activities, removed themselves from their wheelchairs and lay themselves on the floor, obstructing passage through the hallway and into nearby offices. U.S. Capitol Police officers warned the demonstrators to cease their unlawful activities or be faced with arrest. Forty-three people (15 males and 28 females) did not cease their demonstration activities and were arrested."
ADAPT, the grassroots disability rights organization that organized the protest, brought roughly 60 people to Capitol Hill to protest Senate Republicans' proposed health care legislation. According to ADAPT, the new health care bill would threaten people with pre-existing conditions and disabilities.
As the die-in was taking place, protesters chanted, "No cuts to Medicaid, save our liberty!" But McConnell was not in his office; he was on the Senate floor, introducing the legislation. The GOP's proposed legislation aims to make cuts to Medicaid and repeal taxes that help fund Obamacare, but McConnell introduced the proposal as one that would "strengthen Medicaid." The Republicans' bill would limit federal funds going toward Medicaid starting in 2020. Consequently, states would no longer have all the funding needed to cover eligible Medicaid recipients.
The people protesting that consequence were physically removed from the area, and footage of the protests and their aftermath shows Capitol Police removing one woman from her wheelchair as they took her away. Others were dragged away along the floor or carried upside down, and The Daily Beast reported that custodians were cleaning blood off the floor outside McConnell's office. Bustle has reached out to Capitol Police for comment.
"Quite Literally Dragging People Away"
"Physically Removing Protesters"
"Horrific Metaphor For Trumpcare"
"Are You Being Arrested?"
"Dragging A Disabled Protester Away"
"Another Protester Physically Removed"
"Escorting A Protester Away"
Approximately two dozen protesters were forcibly removed or arrested after the die-in, though this number has not been confirmed. Many of the protesters continued to chant "no cuts to Medicaid" even as they were being led away.
"No Cuts To Medicaid"
"Save Our Liberty"
"The Government Wants To Kill Me"
This protester wasn't the only one who felt that the government wanted to kill her rather than protect her. "My child is going to die, my grandkids are going to die!" another protester yelled. "My people are going to die because of these decisions."
"Blood On The Floor"
There were reports of blood on the floor following the arrests. Paramedics arrived around noon.
The Trump administration has promised to significantly restrict disability protections, and Medicaid is only the beginning of the GOP's plan to carry out this promise.