Pop-Tarts Crisps Are Coming & '90s Kids Will LOVE The Flavors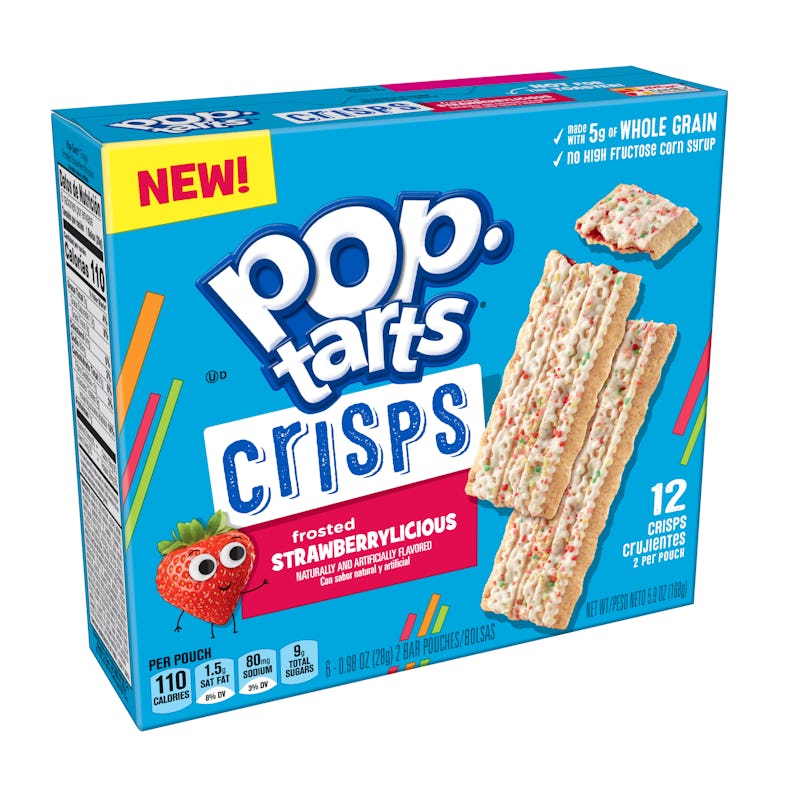 Courtesy of Kellogg's
No matter how old I get, I can never deny the appeal of a Pop-Tart. Portable, toaster-friendly hand pies for breakfast? Yes please! Over the years, though, Pop-Tarts have branched out from breakfast to snacks suitable for other times of day — and now we've got something new on the horizon: Pop-Tarts Crisps are coming… and soon.
These new treats first hit the internet courtesy of snack food Instagrammers like The Junk Food Aisle last week. The news is finally official now, too, which means we know a little bit more about them than we did seven days ago: According to press information provided to Bustle, Pop-Tarts Crisps "boast the delicious filling and fun frosting everyone loves about Pop-Tarts, plus a light and crispy pastry dough." They'll be available in two flavors, Strawberrylicious and Brown Sugar Cinnamazing, starting in December 2018.
This isn't the first time Pop-Tarts has released something marketed with the term "crisp"; in 2010, Pop-Tarts parent company Kellogg's released Pop-Tarts Mini Crisps. However, what we know of Pop-Tarts Crisps so far suggests that they're are going to be a completely different beast than their older sibling: Whereas Mini Crisps are bite-sized and almost cracker-like with no filling, Pop-Tarts Crisps are full-sized, frosted bars that come with either strawberry or brown sugar cinnamon filling.
Instagrammer Dad Bod Snacks made the interesting observation in a re-gram of The Junk Food Aisle's post that Pop-Tarts Crisps look kind of like "Pop-Tarts but in a wafer-like form" — which got the wheels in my brain turning. Pop-Tart Crisps do, in fact, look similar to something we've seen before; they just didn't come from Pop-Tarts. They came from another Kellogg's brand: Special K.
Special K itself has been around for over 60 years (it originally launched in 1955), but more recently, the brand has been branching out from simply cereal into other items. In 2012, Special K Pastry Crisps hit the scene — and it's these treats that Pop-Tarts Crisps bring to mind. Described as "bakery-inspired… snacks drizzled with… icing," Special K Pastry Crisps are bar-shaped pastries that can be filled with anything from strawberry to chocolate; they're meant to be eaten as snacks or as dessert, rather than as breakfast.
Sound familiar? It should; as one Redditor put it on the Shower Thoughts subreddit in 2015, "Kellogg's Special K Pastry Crisps are just really thin Pop-Tarts." Various folks on Twitter have also made similar comparisons over the years:
Pop-Tarts Pastry Crisps, meanwhile, seem to flip that equation around — or at least extend the thought a bit: If Special K Pastry Crisps are like thin Pop-Tarts, Pop-Tarts Crisps, with their leaner, bar-shaped profile, are like Special K Pastry Crisps.
That's what they look like at first glance, at any rate; we won't know for sure until they're released and can taste them for ourselves. Be on the lookout for them in your local grocery store starting in December — they might be just what your lunchbox has been missing.