Pop-Tarts Cereal Is BACK & '90s Babies Will Flip Over The Flavors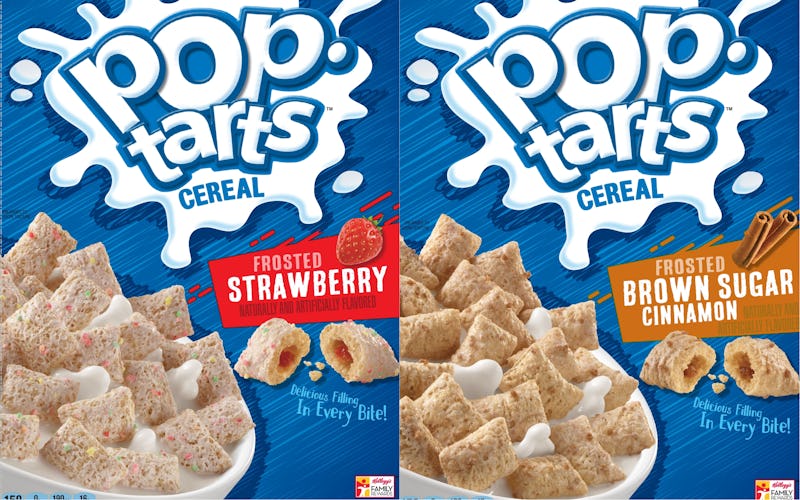 Courtesy of Kellogg's; Remixed by Bustle
Let me take you back, for a moment, to September 1994, when the landscape of cereal innovation was changed forever. That, my friends, was the year that Pop-Tarts Crunch cereal was first introduced to the market. Back then, "Pop-Tarts for your spoon" came in two flavors — Frosted Strawberry and Frosted Brown Sugar Cinnamon — which included cereal bits shaped like Pop-Tarts surrounding actual Pop-Tart fillings. Alas, this became the unicorn of cereals when it was pulled off the market a year later; but if you never quite got over it, excellent news: Pop-Tarts cereal is coming back.
Bustle reached out to Kellogg's early in August, when popular Instagram account @candyhunting posted a throwback image of Pop-Tarts Crunch, along with the caption, "TBT: Remember Pop-Tarts Crunch cereal? Well, it looks like it will be present in more than just our memories soon." It turns out that this rumor is not only delicious, but also quite true — Kellogg's confirmed to Bustle over email that we will, in fact, be getting Pop-Tarts cereal, starting in early 2019 and available nationwide.
I'll let you recover from the sound of your spoon hitting the floor before assuring you that not only is it coming back, but it will be available in the OG flavors of Pop-Tarts Crunch yore: Frosted Strawberry and Frosted Brown Sugar Cinnamon. According to Kellogg's, there will be "filling and frosting in every bite".
Here's an image Kellogg's provided of the upcoming Brown Sugar Cinnamon flavor.
And for the fruity Pop-Tart stans, the Frosted Strawberry.
Of course, this box is reminiscent of the modern Pop-Tart box we're used to seeing in grocery stores today, but the original Pop-Tarts Crunch had a far more retro feel than that. Here's the post that @candyhunting shared on August 10, that got all the Pop-Tarts Crunch cereal rumors swirling in the first place, for context on how different the design was then versus now.
For what it's worth (literally), you can procure an old version of the box on eBay, if it floats your nostalgic boat. And while we're taking a trip down memory lane, please appreciate this throwback commercial for Pop-Tarts Crunch, featuring none other than Marla Sokoloff — aka Gia from Full House. (Y'all, this is about as '90s as it gets.)
Alas, if you know your Pop-Tarts history, you're well aware that Pop-Tarts Crunch Cereal disappeared from shelves in 1995. It's been 23 years, y'all — long enough for Pop-Tarts Crunch to grow up, get a college degree, and maybe afford one third of an apartment — but it is decidedly coming back to grace our tastebuds in 2019.
Until then, Pop-Tarts-loving '90s babies can find some solace in yet another Pop-Tarts product that recently returned to shelves: Pop-Tart Splitz. Just like in the early 2000s when they were first introduced, the new version features a Pop-Tart split down the middle with two flavors; this time with Frosted Strawberry/Drizzled Cheesecake and Drizzled Sugar Cookie/Frosted Brownie Batter as the two combos. Hopefully this will be able to hold you over until Pop-Tarts cereal is back on shelves where it belongs — the children of the '80s and '90s have certainly waited long enough.