Popeyes Is Selling Whole Turkeys For $40 This Thanksgiving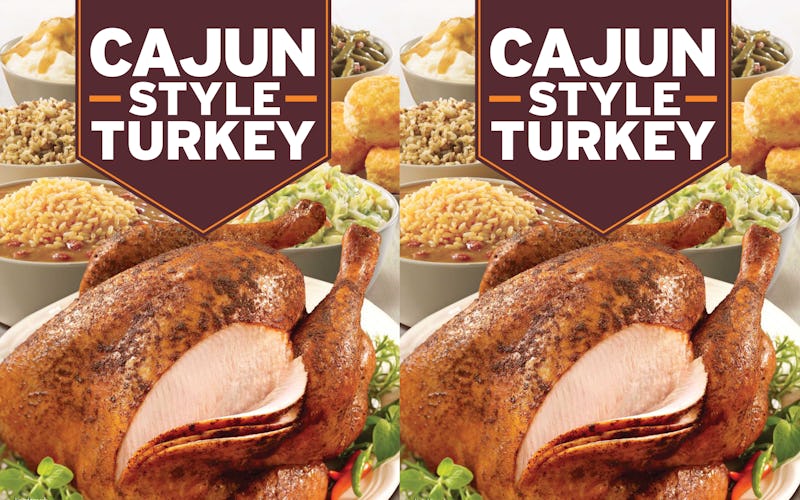 Popeyes
Making a turkey is hard work. Many consider preparing a Thanksgiving turkey to be the ultimate test of a home cook's culinary skills. The difficulty is not based in preparation alone — rather there is a lot of pressure to perfectly execute the most essential Thanksgiving table centerpiece. Plus, Thanksgiving dinner doesn't stop at turkey. It's not a feast without potatoes, veggies, stuffing, the works. If you've decided to undertake the preparation of a Thanksgiving feast this year, consider procuring yours from an unusual place: Popeyes is selling whole Thanksgiving turkeys this year, if you reserve one in advance.
You read that correctly — Popeyes, the famous Louisiana-style fried chicken chain, has switched up its poultry game in time for the season. In a press release sent to Bustle, Popeyes revealed it will be offering a Cajun Style Turkey for prices starting at a mere $39.99. The bird is "hand-rubbed and infused with zesty Louisiana-style seasonings, [and] precooked," per Popeyes. So, basically all the work you need to do is heat, carve, and serve the turkey.
When cooked, the turkey is roughly 13-16 pounds, which if you take the advice of Martha Stewart, is enough to feed about a dozen people. The Popeyes Cajun Style Turkeys are available at participating Popeyes locations nationwide, and are up for preorder now. Popeyes recommends customers pre-order them as soon as possible, as they are expected to sell out quickly!
Per Popeyes, at participating locations, you can reserve your bird through order forms at the restaurant, or call to reserve their turkey, setting a time and date for pickup.
Popeyes also has you covered for the munchies you will most certainly get when shopping on Black Friday. Next Monday, Nov. 12, the chain will be launching Red Stick Chicken, which is made with "juicy, all-white meat chicken tenderloins, marinated in a cayenne Tabasco pepper marinade." Popeyes assures diners each bite of the new flavor is sure to give consumers the signature taste of Tabasco Brand Pepper Sauce. You can get it in four-piece and six-piece value meal options, which come with a buttermilk biscuit, side dish, and "Smok'n" Pepper Ranch Dipping Sauce. The new creation is called "Red Stick" because, Popeyes explains, Tabasco pepper growers use a red stick to tell when the pepper is perfectly ripe for picking.
A number of other companies are aiming to make your Thanksgiving dinner prep as easy as possible. Plenty of restaurants stay open for Thanksgiving, including Boston Market and Denny's, if you need a quick-fix or just would rather not deal with cooking and cleanup this year. Depending on where you live, odds are more traditional sit-down restaurants will also take reservations for Thanksgiving meals, too. And if you're in a pinch cooking-wise, never fear: earlier this week, Whole Foods announced it will deliver groceries through Amazon Prime Now on Thanksgiving Day up until 2 p.m., so you can grab those last-minute ingredients without missing the giant Snoopy float in the Macy's Day Parade.
Now, if only they could could collaborate further with Popeyes so you could just have the entire meal delivered to your doorstep! Maybe next year. In the meantime, make sure you order your Popeyes turkey now — the company warns that they book fast.