Porsha Put An Old Peter Thomas Rumor To Rest On 'RHOA' Secrets Revealed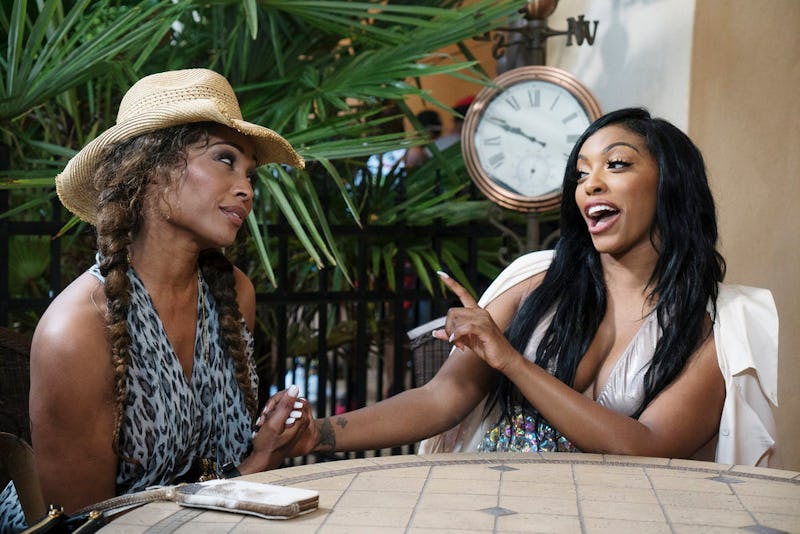 Mark Hill/Bravo
Never underestimate a season of The Real Housewives of Atlanta: there is always some extra drama to squeeze out of an hour, even if it's only the "Secrets Revealed" special. For example, in the last few minutes the show decided to throw out an explanation for why Porsha claimed Peter cheated on Cynthia in the Season 8 reunion. The series hasn't been very preoccupied with this long-off accusation, which helps explain why this was shuffled off into the last few minutes of the last episode of the season. But it does help explain a few things: why Peter walked off in the middle of the reunion, why Porsha was already in hot water during the Maui trip, and, maybe, why Peter was so angry about the way his marriage to Cynthia ended.
The chronolgy of the episode was unclear — it started with Porsha and Phaedra playing around on the Maui trip, then went back to show some earlier footage, including a scene where Peter rather abruptly told Cynthia that they would be breadking up and that he no longer wanted to spend time together socially. In this episode, it seemed abrupt — but maybe there was an implication that he was still angry about being thrown under the bus by Porsha in the previous reunion.
According to Page Six, there's allegedly a new spinoff for Peter Thomas coming next season on Bravo, which may be why he was featured so heavily in this postseason special despite his divorce. And as for his relationship with Cynthia, it seems they don't really have one right now. Peter hasn't offered Cynthia any well wishes for Mother's Day, even though thehe formed a strong relationship with her daughter, Noelle. Right now, it seems like Peter could be done with Real Housewives of Atlanta, but he's leaving with one rumor put to rest.