Post Malone Spent $40,000 On Postmates & His Order History Is Seriously Impressive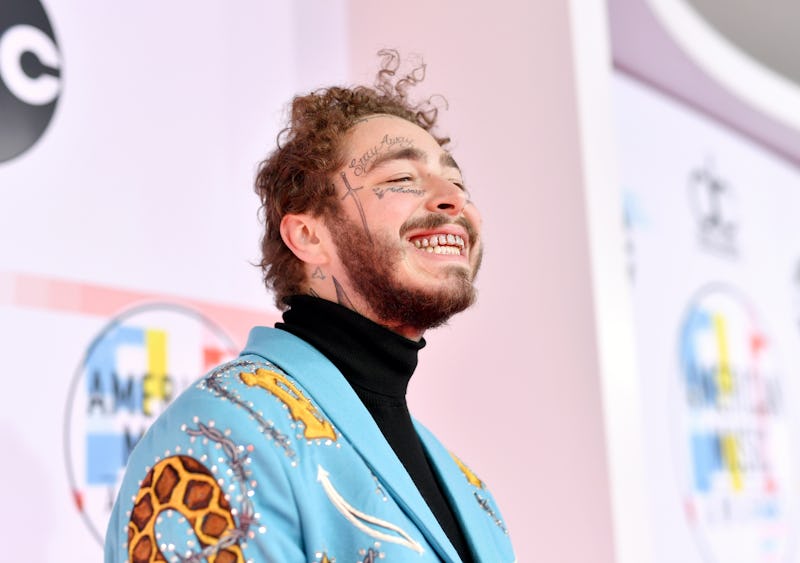 Emma McIntyre/Getty Images Entertainment/Getty Images
In a fascinating twist of nearly eponymous fate, Post Malone is Postmates' number one fan, according to the delivery service and The Hollywood Reporter. Fun fact, huh? And there's plenty more where that came from, thanks to Postmates' new blog feature titled "The Receipt." The recently rolled-out series provides fans with a glimpse into the order history of big-name stars, and you'll probably find Post Malone's eating habits pretty damn relatable. Well, most of them.
Take a quick minute to go through your own Postmates order history now. It's oddly personal, right? Does it make you feel a little bit ashamed about how much money you've spent on delivery food lately? It shouldn't. Not in comparison to how much money Post Malone has dedicated to the service, at least.
To be fair, though, he probably has a lot more disposable income than most. Plus, he tours all the time — convenience is key when you're constantly bouncing around from city to city.
Post Malone has spent more than $40,000 on Postmates in the last year alone, according to "The Receipt." Forty. Thousand. U.S. Dollars. Not only that, but the rapper has "ordered nearly 3,000 total items, on more than 660 orders, in 52 different cities nationwide." Whoa.
But wait — there's more. A lot more. Like, so much more. Have you eaten lunch yet today? If you haven't, grab a snack — because you're definitely about to get hungry.
Honestly, it's kind of hard to know where to begin with all of the details about Post Malone's delivery habits. It's pretty apparent that he's got a thing for fast food chicken joints, though. According to THR, Posty's top 10 places to order from are: [Sunset Blvd. grocer] Pink Dot, Chick-fil-A, Ralphs, Burger King, Popeyes Louisiana Kitchen, KFC, Petco, Panda Express, GameStop, and CVS.
The outlet specified some of the rapper's favorite menu items as well, which includes Chicken Love Me Tenders, Lord of the Fries, and Really, Really Good Mozz Styx from Big Daddy's diner, and a Popeye's combo with six biscuits, five chicken tenders, and a quarter pound of popcorn shrimp.
Six biscuits from Popeye's is child's play, though, in comparison to the number of biscuits he ordered at Coachella. While hanging out at the California music festival this past spring, Post Malone reportedly ordered 10,000 biscuits, which came in at a grand total of $8,000, the delivery service revealed. He basically could have like, Scrooge McDuck-ed into a sea of biscuits if he wanted to. That's living the dream right there.
He doesn't only use the service for food delivery — he uses it to throw parties too. If you ever want to get crunk with Post Malone, hope you like vodka or red wine, because those might be your only options. For one recent blow-out, the rapper apparently spent $850 on three packs of rolling papers, six bottles of orange juice, two bottles of cranberry cocktail juice, four bottles of cabernet sauvignon, two bags of ice, two handles of Tito's Vodka, 40 solo cups, and a partridge in a pear tree.
Just kidding about the partridge in a pear tree, by the way. There was no partridge ordered, nor was there a pear tree. Seeing as how he's Postmates' number one customer, though, they could probably make that happen.