Tulip's 'Preacher' Season 3 Story Is The Badass Resurrection You've Been Waiting For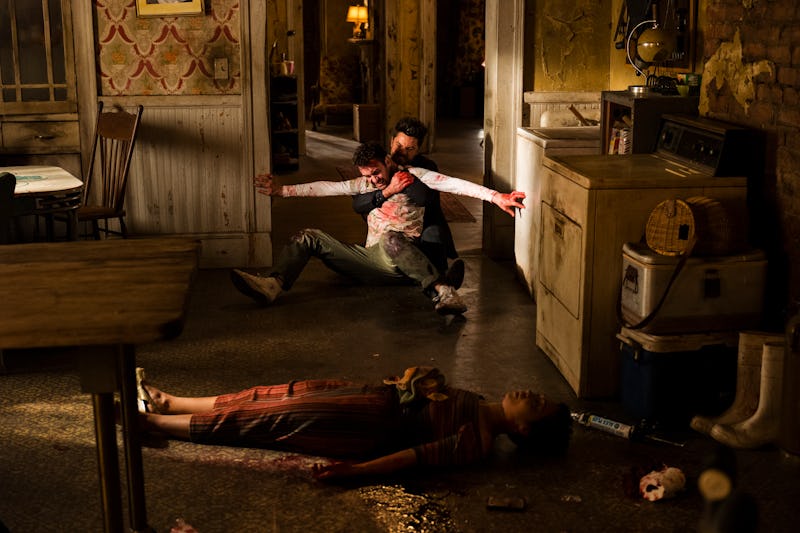 AMC
In a road-tripping trio on a quest to find God with a capital G made up of a centuries-old vampire and a cussing, fighting preacher with a dark past, it can be hard to stand out. But Tulip O'Hare (Ruth Negga) on Preacher Season 3 manages to be the most dynamic character of all. And if you thought the straight-talking, no-shit-taking, sharpshooting criminal with a heart of gold was badass before, you haven't seen anything yet. The AMC series is finally back for a third season, and despite Tulip's very bloody death in the Season 2 finale, she's going to be better than ever once she's resurrected. Because she's taking matters into her own hands and not leaving everything up to Jesse (Dominic Cooper).
The upcoming Season 3 is making some changes to Tulip's storyline from the comics, and according to executive producers Seth Rogen and Evan Goldberg, that was necessary to finally give Tulip the agency she deserved.
"The comics have a lot of Jesse saving Tulip and a lot of Jesse telling Tulip to not do stuff because it's too dangerous and then he's going to do it," Rogen tells Bustle along with a group of journalists. "That's stuff that just didn't feel like — it just felt like stuff that could be improved on and stuff that allowed us to give each character more opportunity to be active and to be heroic and make decisions, and that was really what we wanted to try."
So while Tulip's story will be different this season than what comic book fans may be expecting, it's all for the better. No more waiting around for Jesse to save her, no more damsel-in-distress situations and definitely no more having to get resurrected. After this one time, of course.
"Most of the changes come from that type of thinking, like how do we make the show better, how do we give these characters more agency, how do we give them more control over their actions," Rogen says. "This season, especially with Tulip and Jesse, he's the one who is kind of stuck this time, and so giving her more opportunity to try to get him out of this situation with his help, they're really working together as opposed to one being helpless and one saving the other."
If this just made you audibly cheer with excitement, you're not alone. Tulip is by far one of the most compelling female comic book characters ever, and yet her arc in the comics was frustrating. It's heartening to hear that Rogen and Goldberg recognize that flaw and are actively working to fix it in the live-action adaptation. But before they can start working on that, Tulip needs to be brought back to life. At the end of the Season 2 finale, she had just been killed by Featherstone (Julie Ann Emery), one of the Grail's top agents. Instead of trying to save her life, Jesse forced Cassidy (Joseph Gilgun) to watch her die, saying that he had a plan to resurrect her. That plan involves returning to the very place he almost killed himself trying to escape from as a child: Angelville.
The story of Jesse's past at Angelville is what Cooper has been waiting for ever since he signed on to play the titular role on Preacher.
"Please, can we get to the grandmother so we can understand more about him and the reason he is who he is and the terror of the world of which he comes from?" Cooper says with a big sigh. "The way we've done it, it's very different, it's not how I imagined it but it's much, much better. It's even more sinister than you can imagine and it was great to open that world and look inside and start to play with that."
Comic book fans know all about the horrors Jesse suffered at the hands of his grandmother Marie L'Angell (Betty Buckley) at Angelville, and viewers got only a small taste of what she's capable of in Season 2. But in Season 3, Preacher is going fully into the world of Angelville, and Jesse is going to suffer even more. "These people are psychopaths and terrifying," Goldberg warns.
"He's going back into this world that he only knows as torture and hatred and darkness because the things that happened to him as a child in that environment were horrifying," Cooper says. "Jesse can't forget what they've done to him in the past, what they've done to his family and his mother and his father, and he's caught back in this situation to save the one person he truly loves. You want him to seek revenge and you want to understand the power this woman has over him and it's a very intriguing dynamic."
Jesse plans to ask his grandmother for a favor and have her bring Tulip back from the dead. It will work (of course), but it comes with a pretty hefty price for Jesse — his freedom. "The story this season, the big difference is Jesse needs help and Tulip has to help him, as opposed to last season when it was the opposite of that dynamic," Rogen says. Thankfully Tulip "comes out of purgatory even more badass than she went into it," according to Rogen.
"Her thing this season is she's just f**king sick of people messing with her and she decides to take shit into her own hands, and she's not going to be anyone's pawn," Goldberg adds. "She's not going to let anyone manipulate her, she's not going to follow Jesse, she's going to do what she wants the way she thinks it should be done. And obviously, she'll kick a lot of ass while doing so."
And that's only going to make the men who love her even more in love with her, as the love triangle between Tulip, Jesse, and Cassidy gets even more complicated and awkward this season.
"Cassidy is in love with Tulip, and no matter how clear it is that she doesn't love him back and that she's in fact in love with someone else, he just cannot get over it," Rogen teases. "No matter what, it rears its head in some destructive way because he just isn't able to accept the reality of the situation."
While Cassidy's feelings and past hookup with Tulip has been kept a secret from Jesse all this time, expect things to finally come to a head this season between the two "friends" as those secret feelings are brought out into the open.
"Entering Season 3, Cassidy and Jesse are in a massive argument and Cassidy despises him," Goldberg says. "Cassidy really goes on his own side journey for a good portion of [the season] and it's a fan favorite, the Children of the Blood. He has his own little vampire side story that is bizarrely hilarious and incredibly crazy and really gives Cassidy and the actor Joe Gilgun a chance to shine."
According to Rogen, the Children of the Blood side journey with Cassidy was always his favorite part of the Preacher comics. "And in the show it's just as crazy as you'd hope for," he says. Considering this is a series that tries to bring empathy to Hitler on a weekly basis, crazy is an understatement.