Is The Kardashian Christmas Card Dropping Pregnancy Clues?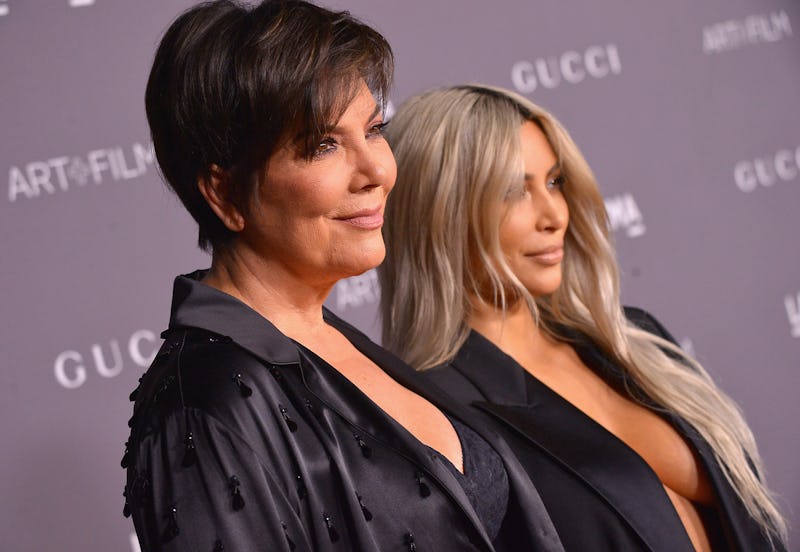 Charley Gallay/Getty Images Entertainment/Getty Images
The Kardashian family is doing things a bit differently with their Christmas card this year. Instead of one photo, they've been sharing multiple snaps from their holiday shoot with photographer Eli Russell Linnetz every day so far this December. Considering all of the pregnancy reports amongst the famous family, are there any pregnancy clues in the Kardashian family Christmas photos that help to confirm those reports? There actually are some signs that may point to pregnancies.
Kim Kardashian first posted about the family's 25 days of Christmas photos by posting an adorable picture of her son, Saint West, along with a bundle of presents on Dec. 1. In an Instagram post, Linnetz wrote that the series was entitled "25 Days of Xmas" and fans have been tuning in every day to see a new snap of the Kardashian crew.
After reports from TMZ and Us Weekly indicated that Kylie Jenner and Khloé Kardashian were both expecting children, fans have been eager for some kind of confirmation about the reports from the reality stars themselves. Could the family's Christmas card photos finally reveal whether they are expecting? Here's every clue in the photos that could suggest that the two are indeed having children.
Pretty Much All The Photos Have Children In Them
The kids of the family have appeared front and center in almost every photo that has been released (there were only two exceptions on Day 11 with Kim and Kanye West and Day 12 with Kendall Jenner). This ties back to Kim's comments on The Late Late Show with James Corden about the family shoot. She said, "It's women and children this year". While everyone knows now that that's not entirely the case (as West appears in one of the photos), it's still a telling theme to keep in mind.
It's possible that the shoot's theme directly ties back to Khloé and Kylie's impending motherhood. Some even think that the 25th day will bring the long-awaited confirmation that one and/or both of the sisters are pregnant. And it makes sense, especially given this theme.
Khloé Isn't Seen Close-Up
Many were taken aback by Khloé's appearance, without an apparent baby bump, in one of the latest Christmas photos on Day 13. However, in the photo that Kim posted on Twitter, which shows Khloé holding Rob Kardashian's daughter, Dream, it's not as though she can be seen close-up. Maybe they didn't want to show her closer to the frame because it would be a giveaway that she's expecting. It's possible that they used some clever angles here to make it appear as though she isn't pregnant.
Plus, everyone's body is different when pregnant — the real sign here could be that she's holding a baby. Another thing is, if the family's Christmas card photos were taken a couple of months back — just as their recent Christmas special was filmed a couple months back — it's also possible that Khloé wouldn't be showing that much if she is pregnant.
Kylie Has Been MIA
Just like her MIA status on the most recent season of Keeping Up With the Kardashians, Kylie's been missing from all of the chic holiday photos with her family. She's the only sister who hasn't been seen in one of the holiday snaps. Is it because Kylie was too far along when these photographs were taken and the fam still wants to keep things a surprise? The lack of Kylie in the photos so far could lend itself to the build-up surrounding a pretty big reveal come Christmas Day.
Fans will be left wondering if there will be an exciting reveal come Christmas Day, considering all of these (potential) subtle pregnancy clues. Until then, these Kardashian family Christmas photos really are the gifts that keep on giving.