This Is How Khloé & Kylie Are Most Likely Going To Confirm They're Pregnant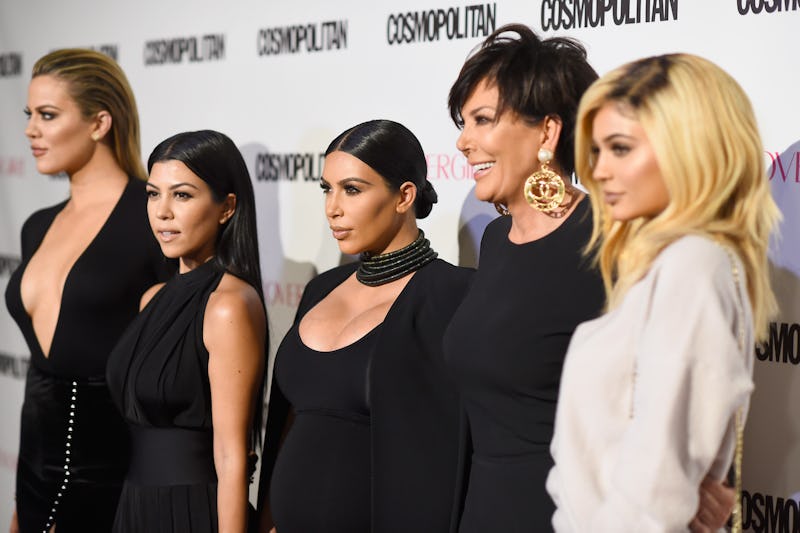 Frazer Harrison/Getty Images Entertainment/Getty Images
It's been months since reports that Kylie Jenner and Khloè Kardashian are pregnant first surfaced, and still, neither of the pregnancies have been confirmed or denied. There's been a serious lack of information from the famous family, so now, a new question is on everyone's minds: Will the Kardashian Christmas card confirm the pregnancies?
It's hard to say for sure, but it might be a good theory. Combine the fact that the annual Christmas card is always a really big deal for the family, who's constantly trying to outdo themselves, and that there's no way these pregnancies (if true) will be announced without a good amount of fanfare and it definitely sounds plausible. They've waited so long to comment on the news — and didn't use the Keeping Up With The Kardashians premiere to do it, as many fans hoped — that the idea that they'll do it in a really big way, thus breaking the internet once again, sounds likely. And what better time to share the joy than the holiday season?
Besides, this is a theory that writer and Kardashian expert Mariah Smith supports, and this isn't the first time she's called something very important to fans' attention. (Remember her theory that a Shaman predicted Jenner's pregnancy before she even knew about it?) On Sunday, she tweeted this:
If you've been obsessing over Kim Kardashian's recent posts like most of her fans have, you already know that she's been releasing pieces of the Christmas card shoot one at a time as part of a "25 Days of Christmas" series. So far, she's shared images of Reign, North, Saint, and a photo fragment of herself with North — and there are a lot of days to go.
So far, the photos have had a very clean, bright look, with the family members barefoot and wearing jeans. No word on what that might mean for any potential pregnancy reveals, but it does seem there's at least a theme. The photos are like a puzzle fans can put together, but it's not clear exactly how they'll fit. Maybe the series will end with a couple of baby bumps revealed for the first time?
Even though no one in the family has revealed whether or not there's a special motive behind these photos, a supposed insider recently shared information that might support the theory that they've been waiting for the Christmas card to break the news. While talking to Hollywood Life in October, a source close to Kris Jenner said:
"The Kardashian Christmas card is something that is very important for Kris Jenner. Kris wants to take everyone's excitement and use this year's card to be the reveal of all the pregnancies in the family. We all know of the past versions of the card and how everyone goes bonkers over them. And Kris wants everyone to make it 100 percent official via an announcement on the card."
That does sound like something Kris would take a lot of joy in, since she's all about the publicity. No matter how Kylie and Khloé eventually announced their pregnancies, it was going to be huge news, but why not turn it into something the whole family can get involved in? And then having Kim share pieces of the photo, one at a time? That means people are talking about this reveal for practically an entire month, trying to solve the puzzle, and there's no better way to keep people interested than that.
As curious as fans are, it's obviously up to Kylie and Khloé to choose the way they share any big news they may have with the world and when. But if they do reveal it in the Christmas card — and if that final piece arrives on Christmas Day — it may end up being their most memorable edition yet.