Trump's Statement On George H.W. Bush Recognized His Decades Of National Service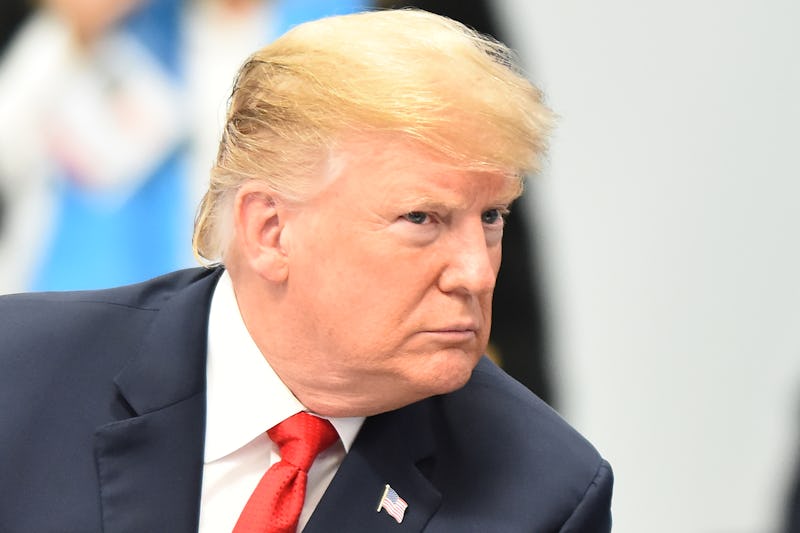 Amilcar Orfali/Getty Images News/Getty Images
While President Donald Trump has had something of a contentious relationship with most of the Bush family, Trump's statement on George H.W. Bush's death contained nothing but praise and admiration for the former Republican president and his "unwavering commitment to faith, family, and country." Bush died Friday at the age of 94, according to an announcement from his family.
In a statement released by the White House early Saturday, Trump and first lady Melania Trump praised Bush for having inspired generations to public service with his "thousand points of light" philosophy. "Through his essential authenticity, disarming wit, and unwavering commitment to faith, family, and country, President Bush inspired generations of his fellow Americans to public service — to be, in his words, 'a thousand points of light' illuminating the greatness, hope, and opportunity of America to the world," they said.
But Trump hasn't always spoken so reverently about Bush's "thousand points of light" philosophy. As NBC News pointed out, Trump appeared to mock the phrase and its meaning while speaking at a rally in Montana on July 5. "Thousand points of light, I never quite got that one. What the hell is that?" he said. "Has anyone ever figured that one out? And it was put out by a Republican, wasn't it? I know one thing, Make America Great Again we understand. Putting America first we understand."
Indeed, Trump has appeared to clash with his Republican predecessor on multiple occasions. In November 2017, the Trump administration appeared to question the leadership of both Bush and his son, George W. Bush, following reports the two men hadn't voted for him. "If one Presidential candidate can disassemble a political party, it speaks volumes about how strong a legacy its past two presidents really had," CNN reported the White House said in a statement.
But Trump has also taken aim at other members of the Bush family. During the 2016 presidential election, for example, Trump campaigned against Bush's son, Jeb, often taking shots at the former Florida governor on the campaign trail and nicknaming him "Low Energy Jeb." In February 2016, Trump told CNN's Wolf Blitzer that Jeb was an "embarrassment to his family."
On Saturday, however, Trump had nothing but praise for 41. "President Bush always found a way to set the bar higher," the Trumps said in their statement. "With sound judgement, common sense, and unflappable leadership, President Bush guided our Nation, and the world, to a peaceful and victorious conclusion of the Cold War. As President, he set the stage for the decades of prosperity that have followed."
While both the president and the first lady were in Argentina for the G-20 summit at the time of Bush's passing, they are both expected to attend his funeral sometime next week. President Trump said Saturday that he would postpone a press conference to discuss what he called our "great success in our dealing with various countries and their leaders at the G20" out of respect for the late President Bush.