This D.C. Ice Cream Shop Serves Each President's Fave Flavor (Including Trump's & Obama's)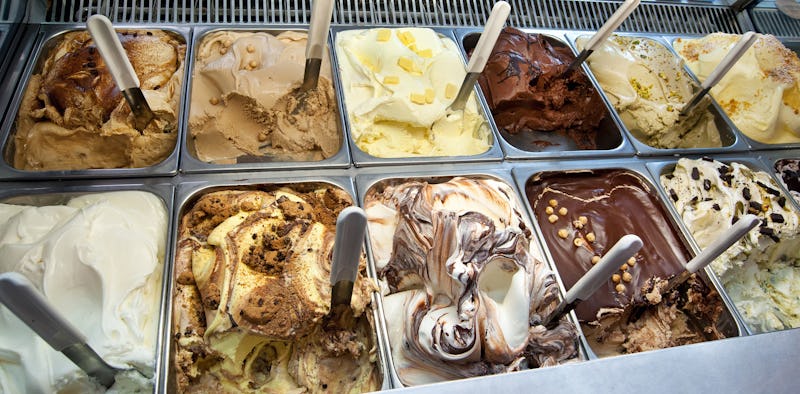 photology1971/Fotolia
If you love nothing more than getting the scoop on all of the U.S. presidents, now you can couple your love of presidential sleuthing with your favorite president's favorite ice cream. That's right, Presidential Scoops, a new ice cream shop in Washington, D.C., serves up all the presidents' favorite flavors. "Presidential Scoops is not only 'Making America Sweet Again,' but is delivering much more than an ice cream experience," the ice cream shop announced on its website.
"We offer a blend of presidential history mixed in with some cool facts about ice cream that may surprise you, and then [we] hand scoop the ultimate ice cream cone for your pleasure." Presidential Scoops is located near the White House, so if you're in the area and you're getting worked up thinking about, you know, presidents, you can head to the ice cream shop to cool off.
Sample flavors like America's Birthday Cake, a favorite of JFK, or Trump's Extra Rich Chocolate Chip Cookie Dough. Eater reported that you can also get your order "trumped," which means two scoops instead of one, which is reportedly the treat 45 gives himself while regular folks in his presence are only allowed one scoop.
Starting July 27, shake off the cosmic chaos of the blood moon and lunar eclipse by treating yourself to two scoops at Presidential Scoops, or any ice cream shop near you. Because, don't let Trump tell you how many scoops of ice cream you can have. Other flavors include Lincoln's Salted Caramel Pretzel, Obama's Strawberry Jubilee, and Nixon's Cookie and Cream Crumble, Eater reported.
Because ice cream was originally only for the bougie, according to the International Dairy Foods Association history of ice cream page, it's no surprise that those holding the highest offices in the land love themselves some ice cream. By the late 1800s, ice cream was for everyone, and since then it's been a go-to for celebrations, break ups, and for cooling down on a hot day (though plenty of people eat ice cream in the winter too).
"Ice cream became an edible morale symbol during World War II. Each branch of the military tried to outdo the others in serving ice cream to its troops. In 1945, the first 'floating ice cream parlor' was built for sailors in the western Pacific," the IDFA noted. "When the war ended, and dairy product rationing was lifted, America celebrated its victory with ice cream. Americans consumed over 20 quarts of ice cream per person in 1946." Who knew ice cream had such a political history?
Jim Warlick, owner of Presidential Scoops, is uniquely positioned to offer 16 flavors of president-inspired ice cream. According to the company's website, "[Warlick] has one of the country's largest collections of JFK memorabilia including the last auto that Kennedy rode in successfully in Ft. Worth, Texas, on Nov. 22, 1963, and his official White House armored limousine." Wherever you are, celebrate making it through this dumpster fire of a day by treating yourself to some ice cream.