'Pretty Woman's Original Ending Was SO Much Darker Than The Rom-Com Version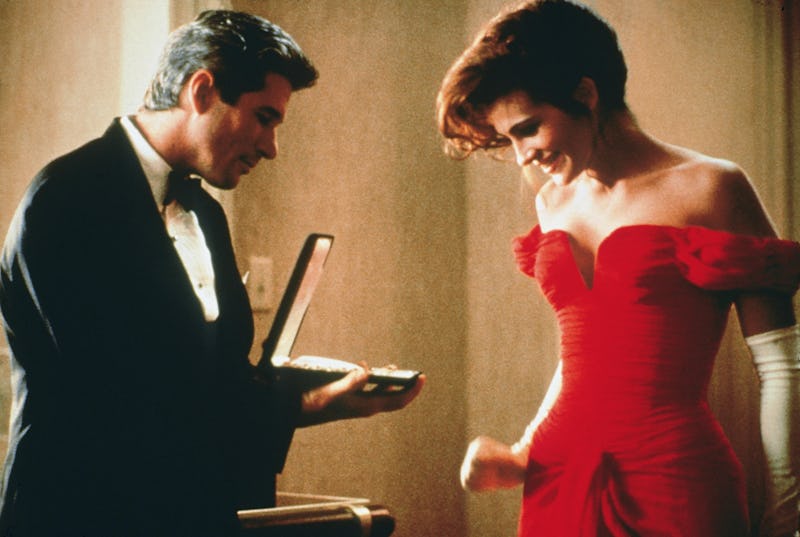 Touchstone/Kobal/Shutterstock
Pretty Woman is arguably one of the most iconic romantic comedies ever. One of those films that you have probably seen a thousand times but never tire of. The movie sent Julia Roberts into the stratosphere as a super star and cemented not only her mega star status but also made this film an instant classic. Your run of the mill romantic comedy with ups and downs and of course a happy ending, could have been considerably different. Yes, you heard me, originally Pretty Woman had a tragic ending.
The film, made in 1990 stars Richard Gere as the NYC based super suave and rich AF Edward. Edward decided to hire a sex worker to be his girlfriend for a week (yes, this is problematic) and this is when Vivian comes in, played by Roberts. All set in the glam back drop of L.A., the pair end up falling in love, hook, line, and sinker. In the end it seems like they are going to split for good post-business transaction, with him returning to the Big Apple, and her staying put in L.A. But in the end he ends up sweeping her off her feet in his big white limo.
The ending was filled with delightfully cheesy lines like when Edward says "So what happens after he climbs up and rescues her?" and Vivian responds "She rescues him right back." And a guy known only as "Happy Man" saying:
"Welcome to Hollywood! What's your dream? Everybody comes here. This is Hollywood: Land of dreams. Some dreams come true; some don't. But, keep on dreaming. This is Hollywood. Always time to dream, so keep on dreaming."
Ah so deliciously naff.
In more recent times, creators of the film have opened up about the original ending, and how the film, made by Disney, had a slightly more positive ending than the initial script. To put it mildly.
Speaking at a Q&A back in March 2017, Page Six reports the former studio head of Disney Jeffrey Katzenberg as saying:
"As a script, Pretty Woman was an R-rated movie about a hooker on Hollywood Boulevard. By the way, in the original version — it's pretty dark — I think she died of an overdose. So convincing [people] that we should make that at the Walt Disney Co., and that it's a fairy tale and a princess movie, a lot of people had a hard time seeing it. But, as they say, the rest is history."
Wow, that really is a considerably different ending! Speaking to Vanity Fair, the writer of the original script, J.F. Lawton revealed the original working title for the film was 3,000, which references the amount of cash Edward paid Vivian for a week's services. According to the magazine, his original planned ending would have involved "Kit and Vivian on a bus bound for Disneyland ... with Kit anticipating a fun day financed by Vivian's week with Edward, as Vivian 'stares out emptily ahead.'"
Makes you wonder, would the film have been such a smash hit had it kept the original ending? Or would it have been way too dark and not so rom-com friendly? Maybe you need to rewatch it to see what you think? Luckily, it is set to air on BBC One, so you will be able to muse over original endings, classic endings, and more importantly, how much popcorn you can enjoy while watching it.
Watch Saturday, July 21 on BBC One at 10:20 p.m.