You Can Thank Kim Kardashian For This Hi-Vis Jacket From PrettyLittleThing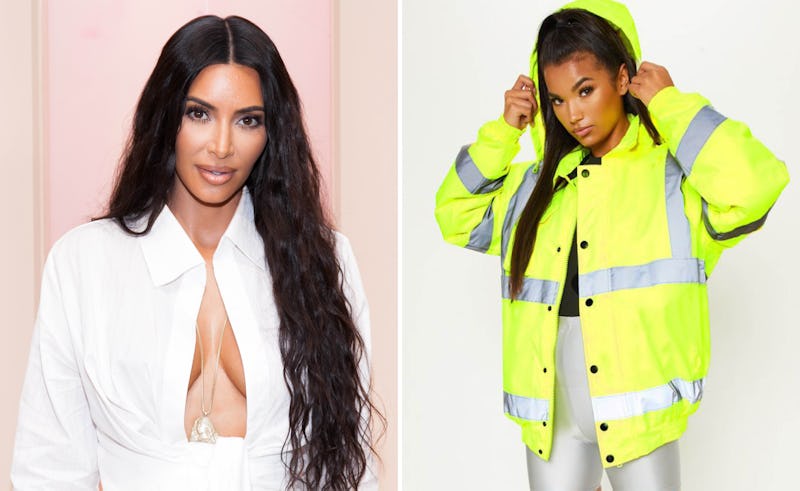 Presley Ann/Getty Images Entertainment/Getty Images / PrettyLittleThing
Do you like neon? Do you like being warm and comfortable? Do you ever look at builders and wonder why they aren't fashion icons? Then you're in for a treat because one high street brand has made all your fashion dreams come true. Pretty Little Thing's hi-vis jacket is causing a real commotion online, but unlike a lot of people, I'm not actually that surprised it exists.
As with many recent trends, you can thank Kim Kardashian for this one. Back in May, the reality star was photographed during a day out at Disneyland with two of her children. If she was trying to be inconspicuous, her fluorescent neon outfit didn't help.
The 37-year-old wore a neon green coat — which didn't feature the hi-ves stripes — pairing it with silver cycling shorts, and trademark chunky trainers. Considering she has rarely stepped out in anything else lately, it's likely that this entire look came courtesy of her husband, Kanye West, and his Yeezy label. West himself donned a hi-vis look in 2016, as Metro reports. It can't be a coincidence that PrettyLittleThing's model is wearing an almost identical outfit to Kim K's on the brand's website, though they have gone for more glam footwear. The high street hi-vis jacket will set you back £45 and comes complete with a hood (for when it rains, duh) and workwear-appropriate reflective stripes.
Although you could just ask a worker to borrow his uniform for free, an actual hi-vis jacket isn't fashion enough, is it? The statement piece is being touted as perfect for festival season. At least you'll be easily spotted when it gets dark. The best part about weird trends like this is reading the reaction tweets that inevitably come with them. Understandably, a lot of people just don't quite get the hi-vis look.
One person makes a point about trends like this appropriating working class uniforms for profit and turning an important piece of health and safety uniform into nothing more than a fashion item. There's also a practical point to be made. If everyone starts wearing stuff like this, how are you supposed to know who's in charge at an event and, more importantly, who can help in an emergency situation? I've reached out to PrettyLittleThing for a comment, but have yet to receive a response.
It may seem ridiculous to dress up as a labourer but PrettyLittleThing isn't the only label pushing the trend. Hi-vis looks have popped up on the catwalk a few times in recent years.
For Moschino's Spring/Summer 2016 collection, fluorescent orange and green coats, trousers, and top and skirt combos made an appearance. And in February, Calvin Klein showcased hi-vis apocalyptic wear with several looks featuring those reflective stripes.
This isn't the first PrettyLittleThing item to go viral. Earlier this month, the brand's rather denim thong shorts — which are a bargain at only £5 — caused a stir along with a bikini-dress hybrid. It's almost sold out so clearly I'm on my own with finding that one a bit extra, too.
In an Instagram photo showing the bizarre dress, comments ranged from "she's going to dinner, clubbing, and swimming all at once" to "that dress is a hot mess."
Fashion. It's the weirdest thing in the world but you've gotta love it.