Prince Louis Totally Steals The Show In Prince Charles' ADORABLE Birthday Photos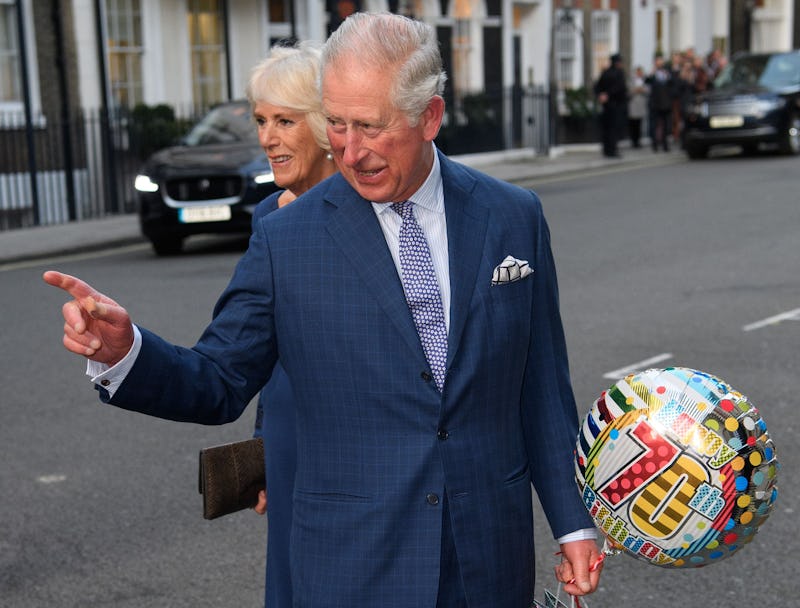 Tim Rooke/Shutterstock
Last week, Prince Charles celebrated his 70th birthday and a set of family portraits dropped that instantly made our hearts melt. In a rare move, the royals all got together for a set of informal photographs, which looked like something from one of my own family reunions. The picture, which included Prince Charles, Camilla Parker-Bowles, Prince William and Kate Middleton (plus their brood), Prince Harry and Meghan Markle, was a sweet look into royal life behind the scenes. Two photos were released; one where they were all posed and smiling happily at the camera and then another giggly one, where many of them were laughing at something out of frame. However it turns out there was another set of outtakes from Prince Charles' 70th birthday photoshoot that prove that Prince Louis could be the sassiest royal yet.
Although Prince Charles may be next in line to the throne, Prince Louis one-upped his grandfather when he poked and prodded at Prince Charles' face in another picture. The photo, which can be seen here, showed Louis curiously inspecting the Prince of Wales' face as he reached for his grandfather's nose. Prince Charles however took it in stride and was photographed laughing at the littlest royal's antics.
Not many people can smack a royal in the face and get away with it, but it looks like the future king gave his grandson a pass this time round. In fact, Prince Charles seems completely and totally enamoured with the newest addition to the family as there was another photo taken of just him and Louis.
In the portrait, Prince Charles was seen carrying Louis with a gigantic grin on his face as his grandson smiled at something off camera - looking totally content and happy in his grandfather's arms.
Even though I'm pretty used to seeing Prince Charles at formal occasions, giving speeches or awarding CBEs to the likes of Prince Harry's pal Tom Hardy, these pictures are a rare and lovely insight into his life behind the scenes. The new set of photographs were exclusively released by the Sunday Times Magazine and taken by a royal photographer from Getty called Chris Jackson.
The mag published a sweet gallery of other unseen photographs, which included one where Prince Charles and Prince Louis are making faces at one another as Kate Middleton tries to have a conversation with her father-in-law.
There's also another one where Prince William looks slightly exasperated with his dad as Charles and Prince Harry giggle off to the side, all three of them dressed up in their full set of military medals and uniform.
Jackson posted the portrait of Louis and Prince Charles to Instagram, saying, "It really has been an incredible priviledge [sic] to create such a unique set of images and a huge amount of fun at the same time."
He also added that he had "spent much of the last year documenting some intimate and 'behind the scenes' moments with The Prince of Wales'" so it sounds like he's sitting on a goldmine of heartwarming royal photographs. Leak the pictures Jackson, I need to see them immediately.
According to Metro, the photos were "taken in the garden of Clarence House" and it makes sense why Prince Charles and Camilla Parker-Bowles look so relaxed as it's literally their back garden.
Jackson told Metro, "It was particularly special to capture such an informal and relaxed family portrait over a fun afternoon in the gardens of Clarence House."
Too cute. So, how does one get invited to a fun afternoon with the royals? Asking for a friend.