George & Charlotte Looked SO Adorable At Prince Louis' Christening & We Can't Deal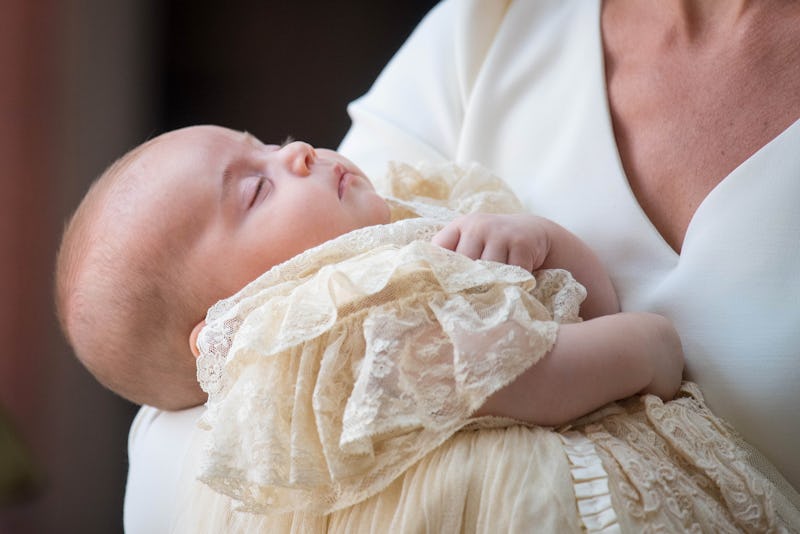 Shutterstock
Prepare for cuteness overload, because Prince Louis' christening, which Prince George and Princess Charlotte attended, is finally here. Surrounded by close friends and family, the 11-week-old prince was seen for the first time since those adorable official photos were posted by Kensington Palace's official Twitter account. The christening, which took place at The Chapel Royal, St. James's Palace, was also the first time that the Cambridge's have been seen as a family of five. The only photographs taken of Prince Louis before the event had been with his parents or with his big sister, Charlotte.
The excitement surrounding that reveal was truly palpable, and did not disappoint — surely I wasn't the only one consumed with feels.
As described by The Church of England, a christening is "the start of an amazing journey of faith for your child and a special day for all your friends and family." Prince Louis will certainly be surrounded an abundance of family and friends, although sadly the Queen and Prince Philip did not attend the service. According to BBC, "Buckingham Palace said the decision was taken by the Queen and the Duke and Duchess of Cambridge 'some time ago' and it is not due to health reasons."
However, Prince Charles and The Duchess of Cornwall, Kate's parents, Meghan and Harry, Pippa Middleton and her husband James Matthews, and Kate's brother James were all in attendance, along with the spouses of Louis' godparents. The Daily Mail reported that Kate was wearing Alexander McQueen, which she also wore for the christenings of Prince George and Princess Charlotte. The Duchess of Sussex, meanwhile, reportedly wore Ralph Lauren and a Stephen Jones headpiece.
Prince Louis has been given six godparents — three godfathers and three godmothers — chosen by the Duke and Duchess of Cambridge, and "all of whom are friends or family with their Royal Highnesses," as stated by Kensington Palace. They include Nicholas van Cutsem, who The Sun reports has known Princes William and Harry since childhood, with his daughter Florence serving as a bridesmaid to Meghan Markle. Guy Pelly, who formerly worked with nightclubs Mahiki and Whiskey Mist, also got the nod, along with Harry Aubrey-Fletcher, another friend of the couple.
The Lady Laura Meade, who's husband is godfather to Princess Charlotte, Hannah Carter, a school friend of Kate Middleton, and Lucy Middleton, Kate's cousin, have also been chosen. By comparison, Prince George was given seven godparents, and Princess Charlotte was given five. These kids are going to have such a loving extended family surrounding them and I'm slightly jealous.
The Archbishop of Canterbury, the Most Reverend Justin Welby, baptised Prince Louis and tweeted a delightful message the morning of the ceremony, quoting bible verse Mark 1:11:
Louis was not the only member of the Royal family to be christened by the archbishop. He also baptised the Prince's older brother and recently baptised his aunt Meghan Markle, both at The Chapel Royal. He also officiated Meghan and Harry's wedding, so it's pretty obvious that the Archbishop is becoming closely connected with the Royal family. Let's hope that this new tradition continues when Harry and Meghan start a family.
The Royal traditions continued with Louis wearing the same christening gown worn by his siblings, the replica of the Royal Christening Robe was commissioned by the Queen and hand-made by her dresser Angela Kelly, "in order to preserve the original." The original was made of "fine Honiton lace lined with white stain [and] was made in 1841 for the christening of Queen Victoria's eldest daughter, Victoria, Princess Royal," as stated by Kensington Palace.
Talk about fancy.
And luckily for the Duke and Duchess of Cambridge, they still have the tier from their wedding cake on hand for the christening cake. The Palace stated that the new parents would host a "private tea" where "guests will be served slices of christening cake, which is a tier taken from The Duke and Duchess of Cambridge's wedding cake." Who'd have thought that William and Kate were so thrifty?
As irked as I am that I didn't get a taste of that cake, the christening of Prince Louis was as magical as I'd hoped it would be, and just goes to show how precious of a family the Cambridge's are.