The One Trait Prince George & Diana Have In Common Will Have You Screaming SAME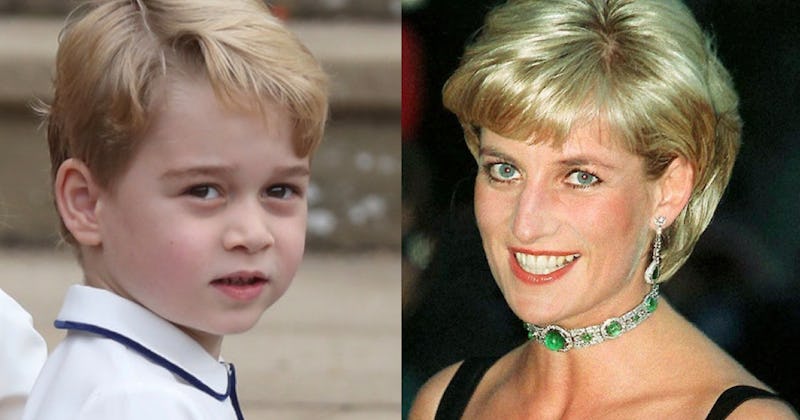 WPA Pool/Getty Images Entertainment/Getty Images / Tim Rooke/Shutterstock
If you thought George couldn't get any cuter, prepare to have your heart melted. While the Duke of Cambridge's eldest child never got the chance to meet his grandmother, he's definitely inherited her penchant for mischief. And according to Prince William, Prince George takes after Princess Diana a the most delightful way.
During a reception held for the finalists of the Radio 1 Teen Awards, Prince William and Kate Middleton met with the Teen Heroes of 2018 at Kensington Palace, according to Hello! magazine.
Speaking with 14-year-old Junior in a video posted by Kensington Palace on Twitter, William opened up about his son's love for dance. "George is doing dancing as well, he loves it," William said. "And it's kind of... my mother always used to dance, she loved dancing. And if it's something you love, you do what you love. Don't let anyone else tell you otherwise. Keep at it."
George obviously doesn't get his dancing bug from his father, as William explains how fascinated he is with street dancing as he "can't even dance properly anyway." Kate then jovially reminds him he loves breakdancing, to which William responds "No, with breakdancing I literally break myself." I can only imagine.
And it's not just George that takes after the late Princess Diana, Charlotte does too. According to Hello!, Prince William mentioned his daughter's favourite hobby is dancing during a conversation with the prime minister of Malta, Joseph Muscat, during the Commonwealth Day reception.
William spoke of Diana's love of the expressive art during a visit to her memorial garden at Kensington Palace with the English National Ballet director Tamara Rojo, Hello! reported. "She loved dancing, she was a fantastic dancer," he explained. "We've been going through her music collection recently and there's some quite eclectic stuff in there. She was elated by the skill."
Diana "loved the freedom dancing gave her," dancer Wayne Sleep said in an interview with The Guardian. The Princess of Wales approached Sleep in the early 1980s for dance lessons, as she "loved ballet, but she also wanted to learn jazz, tap and contemporary." Lady Di wanted to do it all, and I'm totally impressed by that level of commitment. She even performed a with Sleep at the Royal Opera House — a "private show for supporters and friends of the Royal Ballet."
And who could forget that magical moment in 1985 when Diana danced with John Travolta (I mean, who wouldn't) at President Reagan's White House gala. In an interview with Dutch TV station Één, Travolta said of the event, "I didn't know or expect to dance with Princess Diana, and it was the President's wife, Nancy Reagan, that said, 'It is her wish.'"
At midnight, I had to tap her on the shoulder, and I had to say, 'Would you care to dance?' She turned around and dipped her head in that Lady Diana way and we were off for 15 minutes dancing. I'll never forget it."
Although according to her former butler Paul Burrell, Diana actually wanted to dance with Mikhail Baryshnikov, who portrayed Aleksandr Petrovsky in Sex and the City. I'd have been totally jealous either way, that's for sure.
Here's hoping that when George and Charlotte are all grown up, royal fans will get to see them channeling their inner Diana on the dance floor.