Prince George & Princess Charlotte Totally Stole The Show At Eugenie's Wedding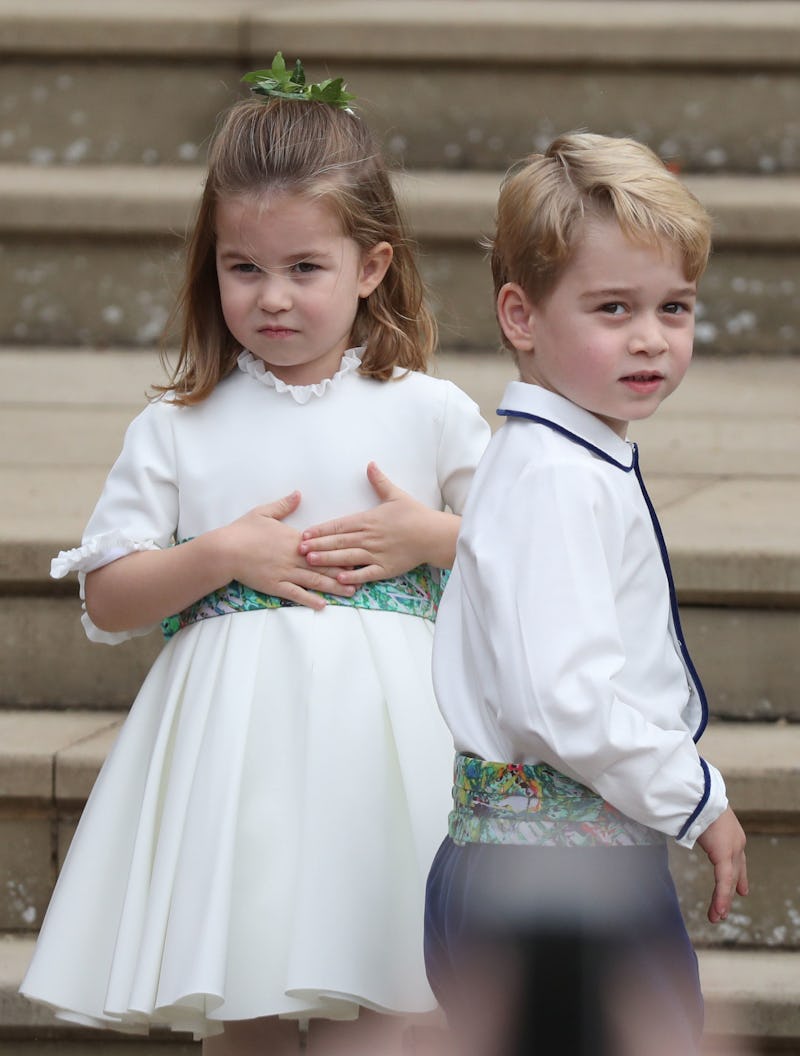 WPA Pool/Getty Images Entertainment/Getty Images
Being a page boy or flower girl is a huge deal for any kid. All of those photos will stay with you forever and be in every family photo album for all of eternity. It's an awful lot of pressure for anyone, but imagine if your family was the actual Royal Family and you were doing the duties at a flossy AF royal wedding. Luckily, Prince George and Princess Charlotte totally stole the show at Princess Eugenie's wedding. It's exactly what you would expect from the pair who have basically become professional bridal party members this past year.
Little Prince Louis got to stay at home and get his nap on, while his older siblings got on with what they do best: dressing to kill, and killing with cuteness. And, well, they really did it. Dressed in a white shirt with navy piping paired with navy trousers and a jaunty patterned sash, George adorably stood out and made an impression. Flower girl Charlotte, meanwhile, wore a very classic little white dress with ruffled sleeves and collar, with a bow matching George's jaunty green pattern sash in his and hers classic cuteness.
OK so the looks are on point, naturally, but way more headline grabbing is all of their LOL behaviour on the big day. Charlotte was totally embracing the royal wave, albeit with a tad more gusto than her royal predecessors. No need for a fake royal waving hand here. Yes, this girl gives the people what they want, and that is a lot of waving and acknowledgement.
She is so dedicated to waving that she totally kept up the good work while one of her teammates totally face planted (don't worry, he's OK!). Now that is a professional, if you ask me.
Charlotte was also photographed being adorably naughty and larking around with other flower girls, showing that princess or not, this young lady is as cheeky as can be.
The mini royals all showed off their bridal party skills, walking down the aisle cute as a pair of buttons and doing the job perfectly. Aww.
Sweet little George didn't disappoint, and it appears that he looks up to his cousin enormously and loved being in his presence. Everyone idolises their older cousins, right? Well, he definitely thinks she is hilarious, at least.
George and Charlotte really are just two small kids with a pretty big deal surname and future ahead of them. Also, like most small kids, George looked pretty relieved to get out of the ceremony, literally skipping out of the venue as happy as a clam. I mean, weddings are super long, after all — there's no wonder he was excited to leave and get on with his day.
With all this impressively cute and well behaved but just cheeky enough behaviour, here's betting that we will be seeing a lot more wedding shots of these mini royals in the near future. More George and Charlotte ASAP, please! And Louis, too.