Prince George Wore A Tiny Version Of His Dad's Uniform To The Royal Wedding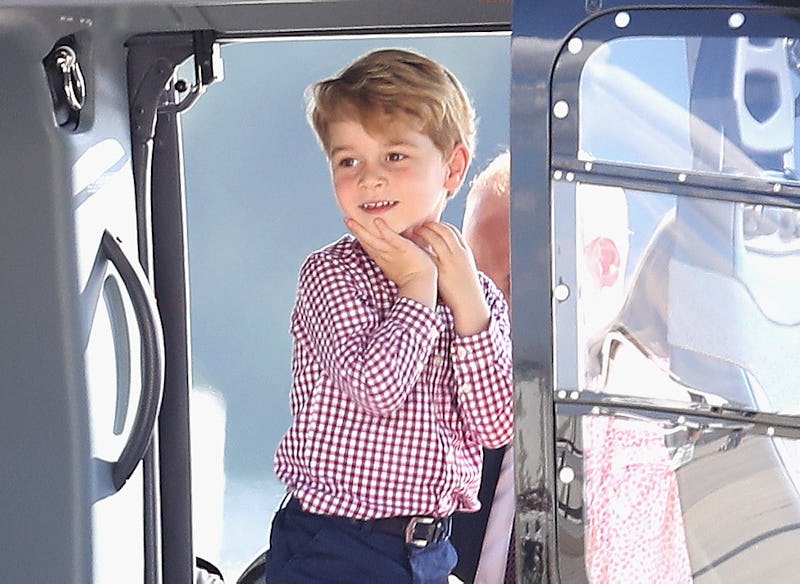 Chris Jackson/Getty Images Entertainment/Getty Images
It's no secret that there is one leading man in the royal wedding, but there's also a leading boy. Prince George wore a tiny version of his dad's suit to the royal wedding, looking as dapper as any four-year-old possibly can. It might be a whole until another member of the royal family gets hitched, but this moment of cuteness is enough to last the world a while.
It's not every day that there are so many royals all in one place, so this was definitely an epic moment for style. The tiny little page boy walked behind the rest of the group down the aisle dressed in an adorable black suit with shoulder detailing on the shoulders that was perfect for the daytime wedding. Not to mention that the group looked absolutely adorable all walking hand-in-hand in their formal outfits.
Every single member of the royal wedding party is under the age of eight. The boys and girls are hold a special part of Meghan and Prince Harry heart. There are six bridesmaids — 3-year-old Princess Charlotte, 3-year-old Florence van Cutsem, 6-year-old Remi Litt, 7-year-old Rylan Litt, 4-year-old Ivy Mulroney, and 2-year-old Zalie Warren — and four page boys — 4-year-old Prince George, 6-year-old Jasper Dyer, and 7-year-olds Brian and John Mulroney.
Prince Harry walked down to the aisle in a suit the represented his time in the Armed Forces, which most of the world predicted. The tiny little groomsmen didn't get dressed in their military uniforms. Because, well, they are still kids. They chose to wear something a little more basic for the daytime wedding instead.
As for Prince George, he was definitely adorable as he guided the kids down the aisle. This isn't his first time in the role, either. He served as a groomsman in his Aunt Pippa Middleton's wedding as well. Princess Charlotte was also in the wedding as well. There's no word on whether or not they gave the other kids any other tips on being in a royal wedding. Although that would be absolutely adorable.
Because the wedding is in the daytime, the kids got to be a little less formal than at other events they've been at. This was definitely a whole lot more formal than their everyday attire though. The accessories were what made the outfits. The boys walked down the aisle holding hands with each other, as the bridesmaids did the same with flower crowns in their hair.
While all of the boys looked absolutely adorable, this is a special moment for Prince George. After all, this is his uncle's wedding. He joins the group with his sister, Princess Charlotte and all Prince Harry's and Meghan Markle's godchildren. The group is all under the age of eight, but they all showed up looking like the most professional group of toddlers out there.
If you're wondering why everyone in the party is so, well, young, there's a good reason. No one of higher rank to the bride and groom can serve as a member of a royal wedding party, according to previous Bustle coverage. That means that Kate Middleton could not be her sister Pippa Middleton's maid of honor. It also means that Prince William cannot serve as Prince Harry's best man.
Markle chose not to have any of her friends in the bridal party. Instead, she chose to have her closest friends help her get ready on her big day. They chose the group of tiny little friends and family for the royal bridal party instead. I think it's safe to say, after seeing the group, that they made an adorable choice.