Royal Fans Will Totally Flip For Lifetime's Version Of Prince Harry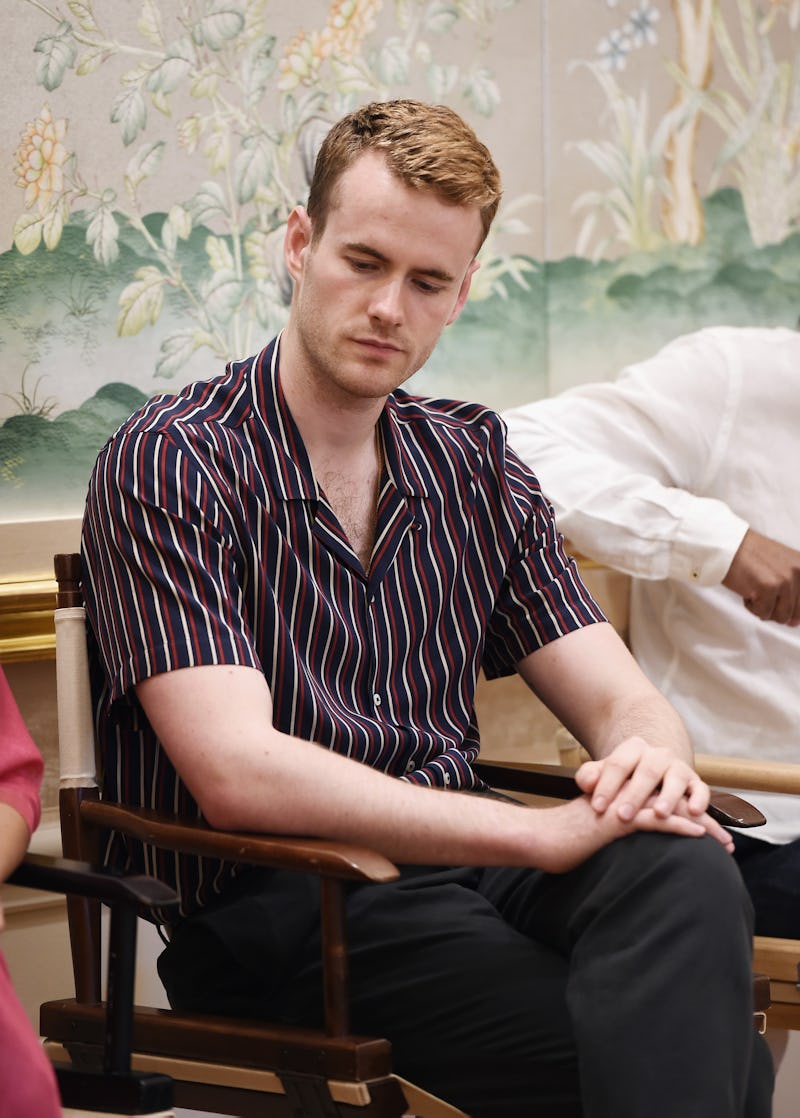 Amanda Edwards/Getty Images Entertainment/Getty Images
Prince Harry and Meghan Markle continue to make headlines across the world as excitement builds in anticipation of their forthcoming nuptials. The elation will only grow as their May 19 wedding date nears, and it's thanks to Lifetime that fans can plan to get their fix for some royal couple-related content a few days prior to the ceremony. A Lifetime movie outlining the story of their romance's beginnings is set to debut on May 13 — Jessica Jones' Parisa Fitz-Henley will play a near-clone of Markle, and Scottish actor Murray Fraser will play Prince Harry in Lifetime's Harry & Meghan: A Royal Romance.
In a behind-the-scenes clip from Lifetime, casting director Kerrie Mailey said that casting directors are usually given anywhere between one and six months to cast a movie — for A Royal Romance, she had three weeks. "Trying to find someone who could embody being royal, being fun, vibrant, and also really hot, was tough," said Mailey. "It was tough to find Harry,"
While there is an established actor who has become known for his frequent portrayal of Prince Harry on stage and on screen (read: The Windsors, King Charles III), Richard Goulding was not the man for the job.
As a young, up-and-coming actor, Fraser brings a refreshingly charming romanticism to the role. Don't believe me? Just watch him in the movie trailer and try not to swoon. The clip depicts the couple's first date — a blind one. "I've been on a lot of blind dates," Fitz-Henley as Markle says. "Pretty much all of them bad." As Prince Harry, Fraser responds with the perfect answer, and his confident manner is still somehow humble and assuring. "Well, let's see if we can break that streak," he says. Is your heart melting yet?
According to a report from the UK's The Sun, Fraser was born in Falkirk, Scotland in 1995 — that means he's only 22 years old, which makes him significantly younger than his on-screen love Fitz-Henley, who is 41. That explains Fraser's lack of a track record in the acting biz compared to Fitz-Henley's lengthy list of features. Having just left the London Academy of Music and Dramatic Art two years ago, per The Sun, Fraser has since appeared in ITV's mini-series The Loch and has been featured in an episode of Victoria.
Age gap aside, the two actors found their chemistry in front of the cameras seconds after meeting one another when they did a chemistry read as part of their auditions. "It was really great, just being across from him and seeing, like, this grounded, soulful performance," Fitz-Henley said in a behind-the-scenes interview with Lifetime. "And I just really felt like 'Oh, this could be really, this could be really really good.'"
But wait, there's more. Not only has Fraser mastered the royal "smize" and charm that everyone loves, he has perfected a dreamy English accent with ease. A native to Scotland, his natural accent is Scottish, so he was diligent in his practice to ensure he didn't have to think twice about speaking with elegance like Prince Harry would. "For the entire six weeks, seven weeks, I was doing the accent on and off set," Fraser said in the Lifetime interview.
Other than promotions of his acting materials, not much more information on Fraser's personal life is out there. He has a Twitter profile that he created in June 2017, but he doesn't appear to be very active on it, as you can scroll down to his first tweet with one swipe. Although fans would most likely go wild for a Fraser Instagram page, he doesn't seem to be up to speed there either. Thankfully, though, his lovely co-star is doing the heavy lifting by providing some adorable content of them both leading up to the movie's premiere.
Here he is sans-Harry's facial hair:
I had to do a double-take to make sure this photo wasn't of the real royal couple themselves!
From looks to love, this pair of talented actors know exactly how to embody the royal romance to a T. Let the countdown to the movie premiere begin.