There Was An Empty Seat For Princess Diana At The Royal Wedding & No, YOU'RE Crying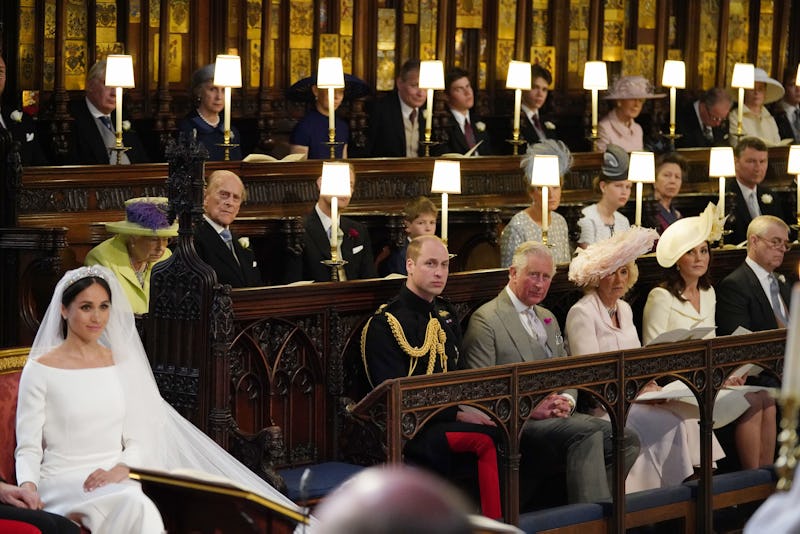 WPA Pool/Getty Images Entertainment/Getty Images
Grab another handkerchief, because you might not have noticed that Harry & Meghan's Saturday nuptials may have included a quiet (and possibly traditional) tribute that's sure to make you weepy all over again. People are theorizing that there was a chair left open for Princess Diana at the royal wedding, placed directly next to William, and it seems as if they was. If so, it's a perfect, touching way to honor the late icon.
Update: On Twitter, Daily Mail reporter Rebecca English confirmed with Buckingham Palace that the chair was left empty for a different reason:
Btw - I've seen some reports about the spare seat by Prince William in the chapel as having being left in memory of Princess Diana. It wasn't empty for that reason. The seat in front of the Queen is always left empty, I am told by BP
Earlier: The chair wouldn't be the only tribute to William and Harry's mother, the late Princess of Wales. Her sister, Lady Jane Fellowes, did one of the readings at Saturday's wedding, despite the fact that Fellowes does not often make public appearances. "Set me as a seal upon your heart," she read, "for love is strong as death." Other members of the Spencer family were in attendance as well, per a statement from Kensington Palace earlier this month that said:
In addition to having the support of The Queen, his father The Prince of Wales, and his brother Prince William as Best Man, Prince Harry is also keen to involve his mother's family in his wedding. All three siblings of Diana, Princess of Wales will be in attendance and Lady Jane Fellowes will give the reading. Prince Harry and Ms. Markle both feel honoured that Lady Jane will be representing her family and helping to celebrate the memory of the late Princess on the wedding day.
According to Good Housekeeping, one of the hymns at the ceremony was also sung at Diana's funeral, and additionally Markle continued the Princess' lead by omitting a promise to "obey" her husband from the vows. Finally, Markle's bouquet was hand-picked by Harry from Diana's garden of her favorite flowers, forget-me-nots. That's a touching tribute and swoon-worthy to boot. Harry also proposed to Meghan with diamonds from his mother's collection, according to The Washington Post.
However, the empty seat next to William, if it is intentional, is a quiet and sweet tribute to ensure that their mother's memory and spirit was in attendance at the ceremony. It's not the first time that this likely happened, either. The Daily Mail, back in 2011, mentioned it as a possibility for William and Kate's wedding. It was a rumor circulated then as well during their ceremony — but has not been confirmed in either case.
Viewers live-tweeting are moved, to say the least.
Why else would there be an empty seat in such a prominent place, honestly? There aren't many other plausible explanations.
Typically, if you leave a seat for a deceased loved one at a wedding, you might place a flower or a photograph on the chair to mark it. This chair was just empty. For what it's worth, William also paid tribute to his mother so that she would not "miss out" on his wedding to Kate Middleton, according to Reuters. The Duchess of Cambridge wore Diana's engagement ring, the couple also chose a hymn from the funeral, and they were married by a bishop who was the executor of her will.
"It's very special to me," William said at the time, "It's my way of making sure my mother didn't miss out on today and the excitement and the fact we are going to spend the rest of our lives together." The couple also visited Diana's resting place just before their wedding.
As for the open chair, unless Kensington Palace or an individual member of the Royal Family confirms that the empty seat next to Prince William was in fact left for Princess Diana at the Duke and Duchess of Sussex's wedding, we may never know. But if it was indeed a tribute to Diana, what a beautiful idea.