Prince Harry Handpicked Flowers For Meghan's Bouquet — And They Include A Tribute To Princess Diana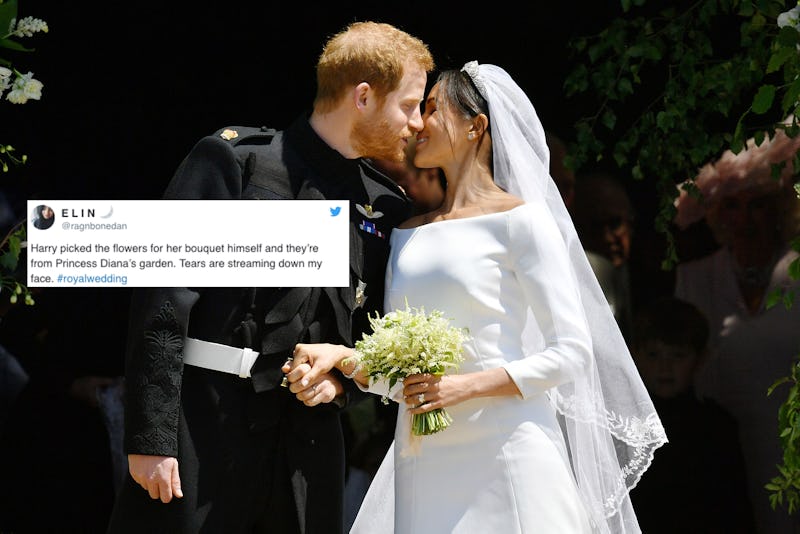 WPA Pool/Getty Images Entertainment/Getty Images
If you weren't already misty about the eyes while watching the live-stream of the royal wedding, get your tissues out: according to a statement from Kensington Palace, Prince Harry handpicked the flowers for Meghan Markle's bouquet the day before the ceremony from the palace's private garden. And in one particularly tender detail you may have missed, Harry's selection included this tribute to his late mother, Diana, Princess of Wales — forget-me-nots, which were reportedly Princess Diana's favorite flower.
"Prince Harry handpicked several flowers yesterday from their private garden at Kensington Palace to add to the bespoke bridal bouquet designed by florist Philippa Craddock," Town & Country reported, citing a statement from Kensington Palace. "The spring blooms include Forget-Me-Nots which were Diana, Princess of Wales' favourite [sic] flower. The couple specifically chose them to be included in Ms. Markle's bouquet to honour [sic] the memory of the late Princess on this special day," the quoted statement continues. Other flowers in the understated bouquet included lily of the valley, astilbe, jasmine, sweet peas and astrantia, according to PEOPLE. The traditional sprigs of myrtle were also included in the arrangement, which was bound with a raw silk ribbon.
This sweet subtlety was announced on the NBC livestream by Savannah Guthrie as the ceremony wrapped, with the newlyweds proceeding into the streets of Windsor for their processional.
Philippa Craddock, who designed the royal bouquet, is the floral designer for the entire event, according to PEOPLE. It had previously planned for the floral arrangements to honor Princess Diana in many different respects. According to Express, Princess Diana was a lover of white flowers, and roses in particular, and the floral arrangements within St. George's Chapel paid a beautiful homage to this preference of Diana's, with an impressive wall of white flowers snaking around the back wall of the chapel, framing the altar where Meghan and Harry were wed earlier this morning.
The inclusion of handpicked forget-me-nots is a tender detail full of strong symbolism, not just in the name. According to the website Flower Meaning, forget-me-nots symbolize "true and undying love," as well as a "connection that lasts through time," making these perfect flowers to include within a wedding bouquet. But these delicate blooms also represent "remembrance during partings or after death," as befitting their name, which would make them already a symbolic tribute to the Prince's late mother, if it weren't for the fact that they were also among her favorite flowers.
Craddock reportedly planned the floral arrangements with seasonality and sustainability in mind, with an emphasis on local blooms. "The floral displays in St George's Chapel will be created using locally sourced foliage, much of which will be taken from the gardens and parkland of The Crown Estate and Windsor Great Park," Kensington Palace tweeted when Craddock's appointment was first announced in April. At that time, Craddock was expected to utilize "branches of beech, birch and hornbeam, as well as white garden roses, peonies and foxgloves" through the nuptial floral arrangements. It is unclear when forget-me-nots were added to the roster of blooms to be included, or if this was a spontaneous decision on Harry's part.
Sprigs of myrtle are traditionally included in royal wedding bouquets, stemming back to Queen Victoria — and even today, the myrtle for the bouquets is picked from Queen Victoria's garden, according to Telegraph. Meaning, of course, that Princess Diana too carried myrtle in her own bouquet when she wed Prince Charles, Prince Of Wales, in 1981. The rich tradition of royal floral symbolism continues on with Meghan, with now an even more personal touch.
Though it shouldn't be surprising that Harry was involved with the floral arrangements — it's 2018, after all — it is an incredibly sweet detail, honoring both his late mother and his now-wife, that many people were glad to witness.