Harry & Meghan's Meaningful Night Out Caroling Will Seriously Warm Your Winter Heart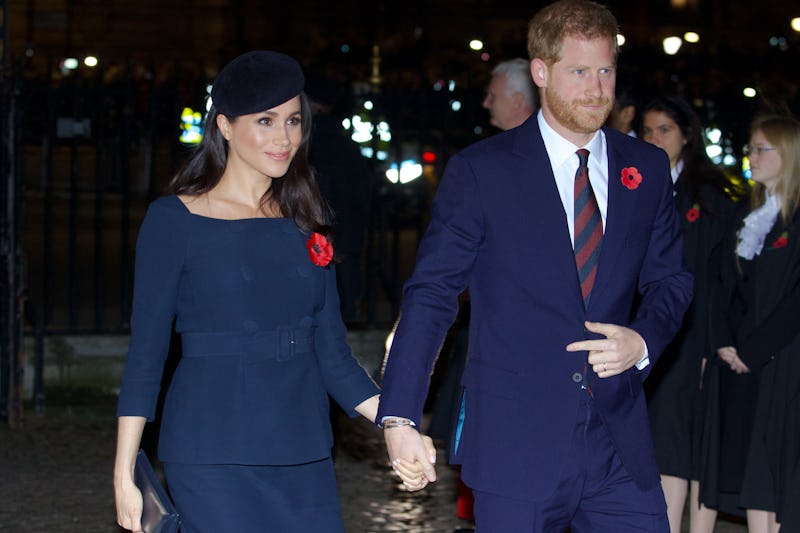 Shutterstock
We're well and truly into the festive season now and the royals have kicked things off earlier than most. As the Telegraph reports, the Duke and Duchess of Sussex joined a Christmas carol service in London. Although carolling is generally a happy occasion, this one was bittersweet as it was the tenth fundraising concert held in honour of the Henry van Straubenzee Memorial Fund — a charity set up following the death of Prince Harry's close friend of the same name. Held in London, Prince Harry and Meghan Markle attended Christmas carols and apparently did a couple of readings while they were there.
The Henry van Straubenzee Memorial Fund is a charity that aims to "improve the quality of education in impoverished rural Ugandan schools", a tribute to 18-year-old Henry van Straubenzee who died in a car accident in 2002. It's a charity very close to Prince Harry and Prince William's hearts, as they have been "joint Patrons... since January 2009" according to the official site. People reported that Prince Harry was one of van Straubenzee's "close friends" after attending Ludgrove Prep School together and Prince William also has a close family connection, as van Straubenzee's older brother Thomas is "one of his best friends" and Princess Charlotte's godfather.
Prince Harry and Meghan Markle joined van Straubenzee's family at St. Luke's Church in London, where they arrived in matching blue outfits and Meghan's baby bump put a big smile on our faces. People claims that the Duchess of Sussex read a poem to the congregation called Our Deepest Fear by Marianne Williamson. Before beginning her reading, she claimed the poem "sums up the spirit of what the Henry van Straubenzee Fund does to empower young children".
The inspiring poem begins, "Our deepest fear is not that we are inadequate. Our deepest fear is that we are powerful beyond measure."
The van Straubenzee Memorial Fund is currently "helping over 28,000 children across 40 nursery, primary and secondary schools" by "providing hygienic and educational resources" according to its site.
Henry's mother, Claire van Straubenzee, talked about the royals' involvement in the charity back in 2009. She said to the Evening Standard, "I suppose you could say [Prince Harry and Prince William] have suffered a similar tragedy with the loss of their mother, so they know what we are doing here. But beyond that, they both have a profound interest in Africa."
Sadly, Prince William and Kate Middleton couldn't come along as they were tied up with another cause: the Diplomatic Corps Reception. They joined Queen Elizabeth at Buckingham Palace to welcome "foreign ambassadors based in the UK" according to ITV, however Prince William did leave a little tribute to van Straubenzee in the event's programme. Harper's Bazaar reported that Prince William wrote a letter, in which he said, "We hope you agree that this is a very special cause to support and wish you all an enjoyable evening."
That said, the Middleton clan were represented as Pippa Middleton and her new husband James Matthews were in attendance. The Daily Mail claims that she had previously been to the carol concert before, most notably in 2015 when she wore the same French Connection coat.
People also reported that Prince Harry spoke at the concert, where he called Henry "a very special friend of mine." He also then turned to Claire van Straubenzee and told her, "Mrs van you have created the most incredible legacy for your son."
If you would like to donate to the Henry van Straubenzee foundation, you can donate online at the charity's official website here.