Prince Harry Has Yet Another Big Wedding Role Coming Up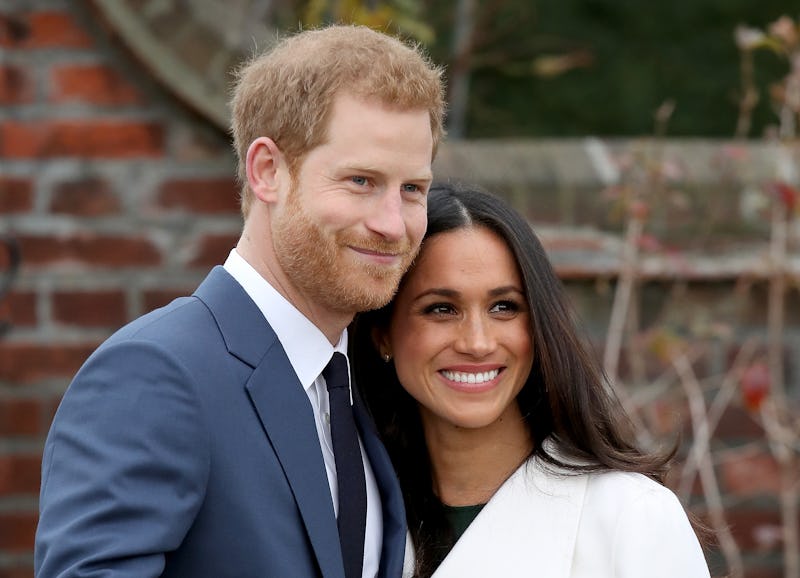 Chris Jackson/Getty Images Entertainment/Getty Images
The Duke and Duchess of Sussex are set to attend another lovely event soon, with the Duke himself having a very important role in it. As the Evening Standard reported (via Hello! Magazine), Prince Harry will be his childhood friend's best man in his August wedding. He'll reportedly be there to lend some support to his good friend, Charlie van Straubenzee.
According to the publication, Harry (alongside Meghan Markle, of course) will head to the county of Surrey to stand by his friend's side as he marries filmmaker Daisy Jenks. Seeing as though they've been friends since they attended prep school, it's really no surprise that the royal would be chosen for the important role.
Hello! Magazine goes on to note that Harry and van Straubenzee have been friends since they both attended Ludgrove Prep School when they were both kids. They've maintained their friendship throughout the years, with the groom-to-be even having a reported role as an usher in the Duke and Duchess' May 19 wedding.
During the evening reception for the newlyweds, Harry's friend even gave a a rowdy speech. According to Us Weekly, he joked around about everything from the Prince's tabloid troubles to his hair loss. Basically, the speech sounds like something only something a good friend could get away with. If Harry does take up the best man mantle at van Straubenzee's wedding, there's no doubt that his speech would be equally personal.
Thanks to Hello! Magazine's report, royal watchers can now expect yet another Harry and Markle sighting come August. The couple are also set to make some other official appearances in the coming months. The Duke and Duchess of Sussex are both expected to be apart of the Trooping of the Colour festivities in the United Kingdom on June 9. It would mark the Duchess' first appearance at the annual event, which is a celebration in honor of Queen Elizabeth II's official birthday, as People noted.
They're also planning to attend the 2018 Invictus Games in Australia in October. Harry, who is the founder of the international sporting event for wounded servicemen and women, will attend with his wife by his side in what would be one of their first overseas engagements together. As you might remember, the 2017 Invictus Games in Canada was equally exciting for fans of the pair as that was where they made their first official debut as a couple.
During their Australia trip, there may also be a little Suits reunion in store, per The Mirror. According to the publication, Markle's former Suits co-star, Gabriel Macht and his Australian wife, Jacinda Barrett, have invited the royal couple to stay with them in their Queensland home following the Invictus Games and before they're set to depart on an international tour. The publication also noted that Macht and Barrett have asked Sarah Rafferty, a fellow star of the series, and her husband, Santtu Seppälä, to stay with them during this time, as well. It sounds like the royal couple are in for a fun time in Australia.
Aside from van Straubenzee's August nuptials, there's another important wedding celebration that Harry and Markle will attend. On October 12, Princess Eugenie, the Prince's cousin and the couple's new neighbor at Kensington Palace, is set to wed her fiancé Jack Brooksbank. Like Markle and Harry, the husband and wife-to-be are also exchanging vows in St. George's Chapel in Windsor Castle, so get ready for another exciting royal wedding at the picturesque location.
Harry and Markle certainly have a lot in store for them in the upcoming months, from Invictus Games events to multiple wedding celebrations. But, that just means that fans will be able to see even more glimpses of their favorite royal couple.