This Cute Video Of Harry & Meghan Hugging A Little Boy Is All You Need To See Today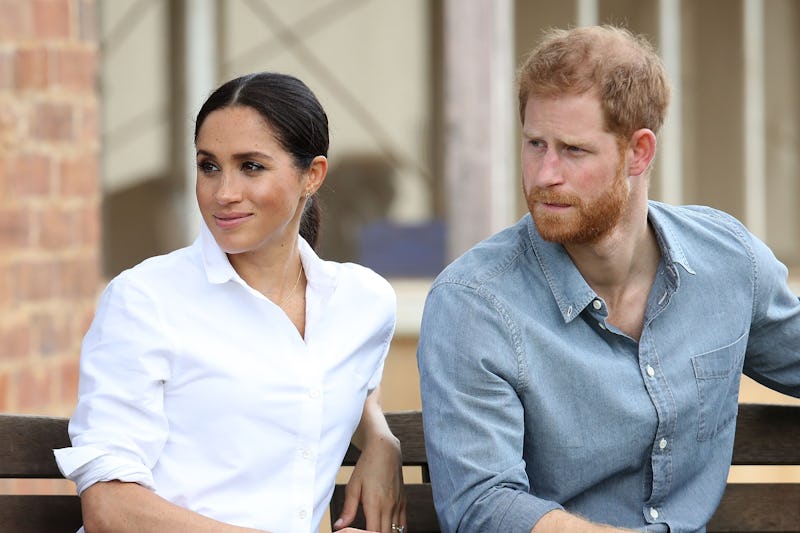 Chris Jackson/Getty Images Entertainment/Getty Images
There have been a lot of adorable moments over the course of Meghan Markle and Prince Harry's first royal tour — and we're only on day two. From saying hello to Prince Harry's biggest fan (who planted a big one on him) to meeting the koalas at Sydney's Taronga Zoo, there's been a number of heart-warming scenes. But there was one in particular that made my heart burst; Prince Harry and Meghan Markle hugging a little boy in Dubbo, a farming town afflicted by intense drought.
After touching down in Dubbo, Harry and Markle were greeted by a number of schoolchildren including a five-year-old boy called Luke Vincent, according to the Daily Mail. Vincent, who has Down Syndrome, was given the important task of presenting bouquets of flowers to the royals. However, when the moment arrived, he went one adorable step further and hugged Markle, which took her completely by surprise and put a huge smile on her face. He then made his way over to Harry and cuddled him too before playfully patting him on the head and stroking his beard. I know.
Now, there's an actual video now of Harry and Markles cute hugs in Dubbo and warning: it's going to make you broody immediately. The sweet moment was captured on camera below by Nick Dole, an ABC journalist, on Twitter. You can watch it here:
Vincent's a student at Buninyong Public School and many of the pupils were around to greet the Duchess and Duke, each with their own story about the experience. Anne Van Dartel, the principal, shared some insight into why Vincent was so enamoured with Prince Harry's hair and it just added whole new layer to an already adorable experience.
She said: "He got a hug from Meghan and then Harry bent down to speak to him and Luke didn't give him any choice. Luke's favourite person in the world is Santa Claus, who has a beard. So he rubbed Harry's beard."
That's right. Luke looked into Harry's eyes and all he could see was Saint Nick. I'm starting a petition; I want Prince Harry to kit up in a Santa Claus outfit and meet Luke again on Dec. 25. The world's having a tough time right now, we deserve this.
Dubbo in particular deserved a slice of happiness with the duke and duchess' arrival, given that the community has been struggling with intense bouts of drought. Van Dartel called their visit "a real morale boost" for the town and they certainly left a lasting impression on the school children who clamoured to see them. In fact, Harry ended up striking up a connection with a student from another school as they had a lot in common.
James Fogg, an eleven year old from Eumungerie Public School, told the Daily Mail that he spoke to Harry about his dream of becoming a helicopter pilot. Fogg was definitely talking to the right man, as Harry served in Afghanistan as an Apache helicopter co-pilot gunner and officially qualified as an Apache helicopter commander in 2012. His brother, Prince William, also manned helicopters for the military before he became a civilian air ambulance pilot, though he hung up his uniform last year. Harry reportedly told him: "Good choice, good man."
But Harry wasn't the only one who found something in common with a younger fan as the day before, he and Markle actually wound up breaking protocol after meeting a young girl. While greeting the public at Sydney Opera House, Harry spotted a young girl wearing a shirt that read "Girls Can Do Anything," which he knew would appeal to his wife's fiercely feminist heart. In a video posted to Instagram by @harry_meghan_updates, he asked the little girl if she would like to meet Markle and he waved the Duchess over to come say hello.
According to PEOPLE, it's against the royal rulebook for the royals to take selfies with the public. However, Prince Harry flouted those rules when he asked her if she wanted to take a photograph with Markle. The tables were turned as he took the fan's phone and snapped a picture of the little girl with Markle.
"We feel she looks a bit like you," somebody in the crowd commented to Markle.
"I was literally about to say the same thing," the duchess exclaimed in return, before adding, "and I love your shirt."
Too cute. If these couple of fan encounters are anything to go by, I have a feeling Markle and Harry are going to be some pretty awesome parents when their little one arrives next spring.