Kensington Palace Announced Meghan Markle's Baby News With Such A Sweet Message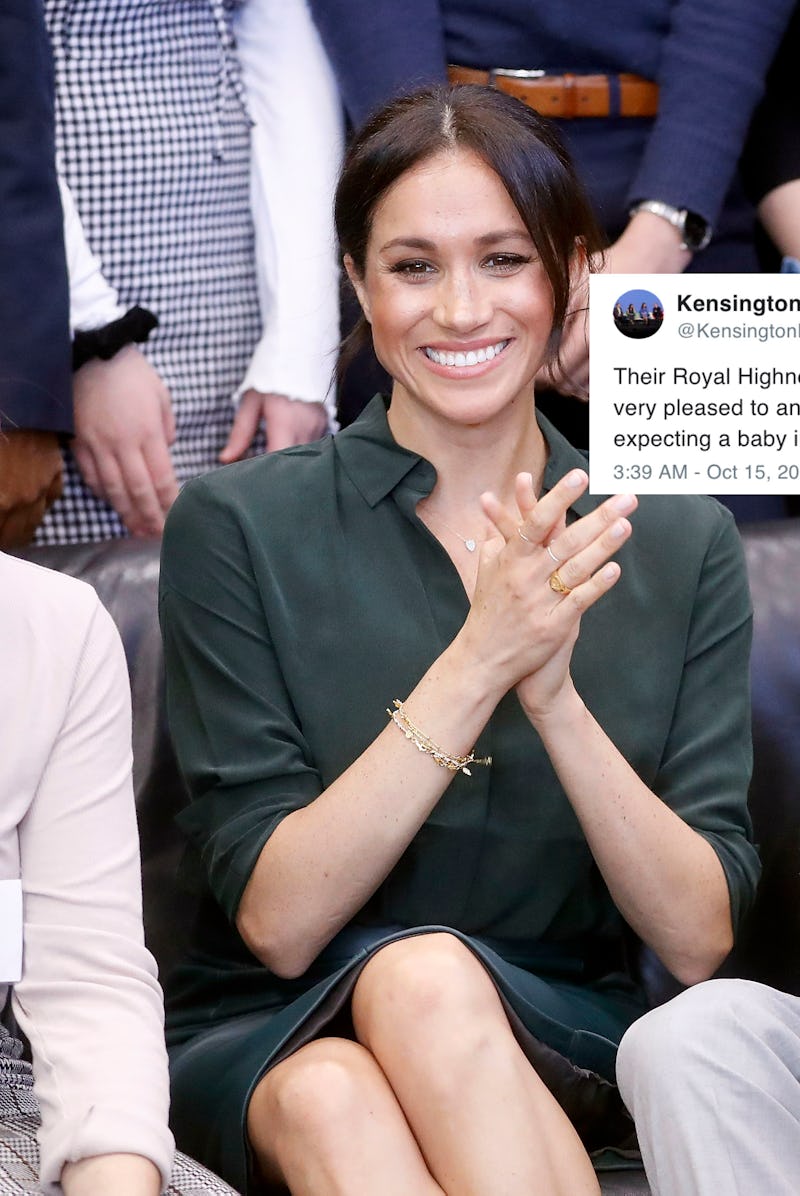 Chris Jackson/Getty Images Entertainment/Getty Images; Kensington Palace/Twitter
Just days after Princess Eugenie's royal wedding, there's more major news being shared by Kensington Palace. This time, it's about her now cousin-in-law, Meghan Markle. On Monday morning, Kensington Palace announced Meghan Markle's pregnancy with a heartfelt message, focused on how "delighted" she and Prince Harry are. The royal baby announcement was posted to both Twitter and the family's official website.
Along with a photo of the parents-to-be, the statement read:
"Their Royal Highnesses The Duke and Duchess of Sussex are very pleased to announce that The Duchess of Sussex is expecting a baby in the Spring of 2019. Their Royal Highnesses have appreciated all of the support they have received from people around the world since their wedding in May and are delighted to be able to share this happy news with the public."
While there aren't too many specifics, at least royal family fans now know when Duke and Duchess of Sussex's baby will arrive — sometime next spring. That gives you plenty of time to get your best royal baby name guesses in, even if it hasn't been revealed yet whether it'll be a future Prince or Princess. One thing's for sure, that child will have plenty of cousins to play with — Prince William and Kate Middleton's three kids George, Charlotte, and Louis. And the photos? Those are guaranteed to be adorable.
As soon as the news broke, Twitter exploded with reactions to Meghan and Harry's soon-to-be bundle of joy. Just as the announcement says the couple is "delighted to share this happy news with the public," royal fans couldn't be more thrilled.
Fan comments included everything from emojis galore to GIFs to baby name suggestions. But one thing tweets should not include is an "I told you so." Long before Meghan's pregnancy was announced, people have unfairly scrutinized her body, guessing when or if she was expecting. Sure, she's a public figure, but that doesn't mean her stomach size should be up for debate. This was an especially apparent conversation after Meghan attended Princess Eugenie's wedding on Friday and her coat shape sparked attention, even though the focus could and should have been on the bride-to-be instead.
Now that Meghan has announced — on her own terms — that there is indeed something to celebrate, all the seemingly invasive speculation can finally end. And hopefully that courtesy extends to people respecting her privacy and space during her pregnancy in whatever capacity she needs.
It's clearly an exciting time for Meghan and Harry, who recently visited their namesake — Sussex — for the first time as a couple. Plus, the Duke and Duchess recently got a new dog (that they've kept most details under wraps about). So they're getting some parenting practice in the meantime with their four-legged friend.
As royal fans know, these two couldn't seem happier or more in love whenever they make a public appearance, so Kensington Palace's official statement probably doesn't even do justice to how over the moon they must be.