The *Real* Reason Harry & Meghan Are So PDA, According To Body Language Experts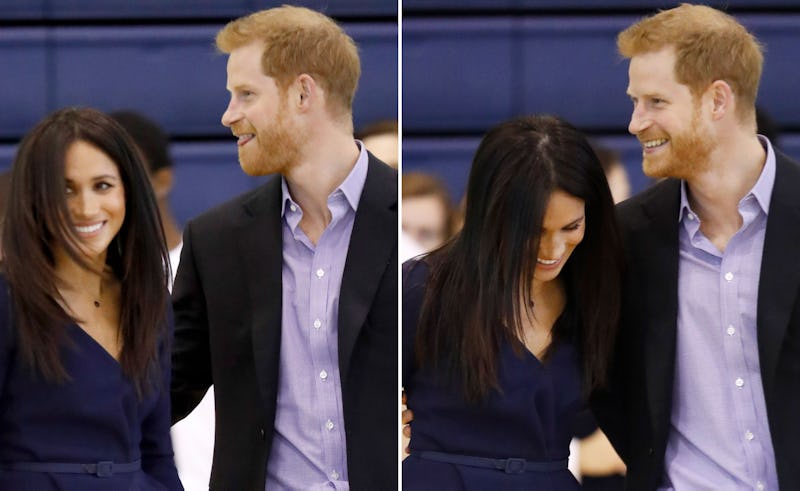 Chris Jackson/Getty Images Entertainment/Getty Images
Meghan Markle and Prince Harry had the most beautiful fairytale wedding back in May. However, it's now been more than four months since they become husband and wife. So, how are they finding married life? While it's unlikely either will sit down and reveal every intimate detail about their relationship, turns out, Prince Harry and Meghan Markle's body language reveals more than you may realise.
On Monday, the couple stepped out for an event hosted by an apprenticeship programme called Coach Core, during which the royals were asked to take part in a netball masterclass. Joined by professional athletes, the Duchess of Sussex nailed the drill in her heels as she competed with her husband on the court. Although they were going head-to-head, it seemed pretty obvious that these two are very much in a honeymoon period of their relationship. At one point, they even found time for a snatch of PDA. Of course, I'm no body language expert. So, I decided to talk to someone who is.
Dr. Lillian Glass is a body language expert and communications consultant, and she knows how to interpret pretty much every gesture and facial expression going. I asked her what she thought of Markle and Harry's very loved-up display this week. Let's just say, since talking to her, I'm pretty convinced that this is one rock solid relationship.
Even from the moment the pair walked into the hall, Dr. Glass is quick to notice how they "walk in sync". Although she later walks ahead, it's "because she is the one playing ball" during the practice session — not anything else nefarious.
If you watch the video below, you'll notice a couple of moments where Harry throws a look over his shoulder to see how Markle is doing.. Commenting on this, Dr. Glass says: "[Harry] always stops to sneak a peek at her to make sure she is okay and doing the right thing.
"He absolutely adores he, He has never had such a genuine smile."
During the event, Markle really seemed to hold her own, and to my amateur eyes, looked pretty confident. Dr. Glass notices this too, and points out that the duchess looked "pretty independent and does her own thing." Although Markle may not have had that much time in her royal role, Dr. Glass says that, based on her body language here, the duchess is "comfortable with others" and is clearly adjusting well to her new role.
Compared to Kate Middleton and Prince William, as well as other couples in the royal family, Harry and Markle have chosen to waive the royal rulebook and PDA it up at events. From holding hands to celebratory kisses at a charity polo match, this is just another moment I'm filing for later and Dr. Glass thinks it's pretty important too.
Dr.Glass then points out the way Markle leans into Harry without thinking twice about it. She concludes: "[Meghan] leans into him and that shows she is completely connected to him. They are so comfortable and at ease with one another."
It's sweet to see how supportive Harry is of Markle. The prince was recently spotted beaming with pride during the launch of her latest charity project, a cookbook titled Together: Our Community Cookbook to raise money to help survivors of the Grenfell Tower fire.
He's also previously given her a bit of help with protocol in the past, as he was caught on camera quietly helping Meghan out with the timing of a curtsy during Trooping the Colour.
That settles it, I'm a total stan of this royal marriage.
Come at me Meghan Markle and Prince Harry naysayers, I now have expert evidence to back up my obsession.