FYI, Prince Harry & Meghan's PDA At The Polo Match Didn't Actually Break Any Rules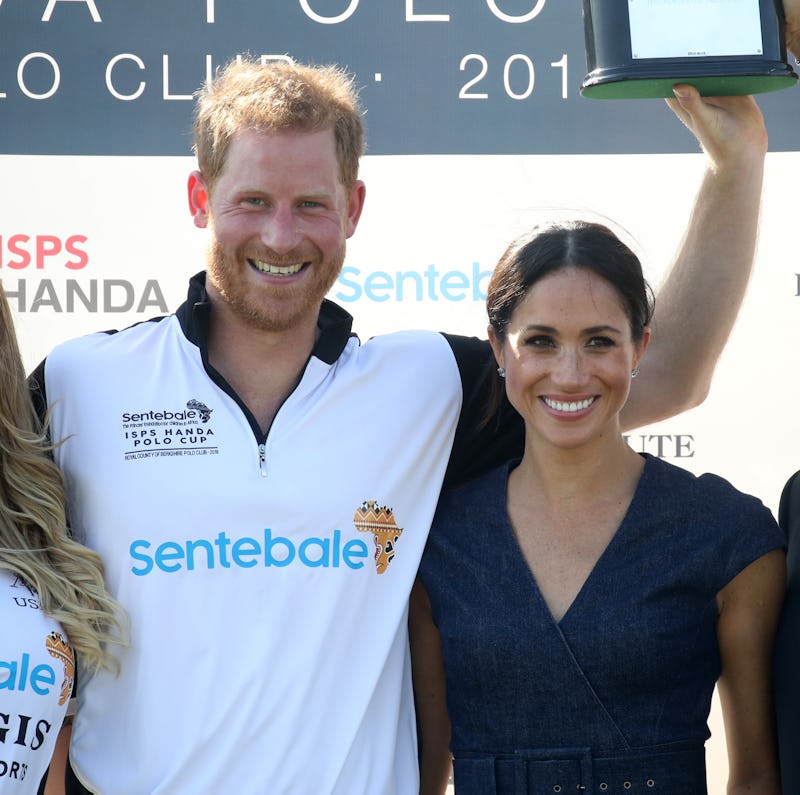 Chris Jackson/Getty Images Entertainment/Getty Images
How could they? *Gasps* Divert your eyes! *Clutches pearls* What would the Queen say? Actually, though, Prince Harry and Meghan Markle's PDA at a polo match on July 26 wasn't breaking any royal rules — so simmer down, everybody. There are, of course, plenty of non-official public etiquette expectations that the royal family chooses to uphold, but Harry and Markle are probably in the clear with this one.
The kiss heard 'round the world occurred at the Sentebale ISPS Handa Polo Cup at the Royal County of Berkshire Polo Club. The charity competition raised awareness and funds for Harry's non-profit — Sentebale, which is aimed toward helping children in Lesotho and Botswana with HIV — and the Prince's team had just wedged out a 5-4 victory. Harry personally scored two goals for his team throughout the course of the game, People reported, and Markle was clearly beyond beaming with pride.
At the end of the event, Harry's team was presented with their game winning trophies, and that's when the PDA went down. The moment was captured on video by the Daily Mail's royal correspondent Rebecca English, and it's actually kind of awkward to watch, to be honest. It kind of seemed like Markle wasn't sure what to do when she got on the stage, but she's still pretty new to this whole Duchess thing, so you can't really blame her.
Markle was first handed the game-winning trophy by the guy in charge, and then she passed it over to the team's captain, Nacho Figueras. He and Markle ended up in a somewhat tricky embrace, after which she turned over to Harry, and — brace yourselves — planted one right on his lips.
Markle's every move has been under a microscope throughout her relationship with Harry, and since she's become known as a bit of a "rule breaker" — i.e., going sans pantyhose, wearing a floppy hat, signing an autograph —  it's easy to see why people would jump to conclusions in this particular instance. However, Myka Meier, a royal etiquette expert and founder and director of Beaumont Etiquette, told People that, "There is no actual etiquette or royal protocol that says the couple must refrain from PDA."
Meier also told Elle that the level of PDA a royal couple puts out there often has to do with the formality of the event they're attending. When speaking about some people's negative reactions to Harry and Markle's loved-up engagement photos, Meier said their level of affection was "absolutely fine because they're not presenting a serious-natured event."
She continued,
"They're not walking into a ceremony commemorating death or something horrific by showing PDA. But the ways that we have seen them [be affectionate] have been really social ... just walking through very informal events together."
So, yeah. Fans shouldn't expect them to get all handsy in front of the cameras any time soon, but a quick kiss here and there at casual events doesn't seem to be a big deal. After all, at the end of the day, they're just two people in love — two people in love who just got married and are living out their honeymoon phase for all the world to see.