Prince Harry & Meghan Markle's Engagement Photos Are Here & They're Ridiculously Perfect
Chris Jackson/Getty Images Entertainment/Getty Images
If Prince Harry and Meghan Markle's May wedding seems way too far away for you, this new development might help. On Thursday morning, Kensington Palace released Harry and Markle's engagement photos, and they are every bit as gorgeous as you might imagine. Since the couple formally announced their engagement last month, it seems there's been news about them all the time — not that fans of the royal family are complaining. And now, these new photos show just how in love this future husband and wife really are.
According to Kensington Palace's Twitter account, the photos were taken by Alexi Lubomirski at Frogmore House in Windsor.
"A huge thank you to His Royal Highness Prince Harry and Ms Markle, for allowing me to take their official engagement portraits," Lubomirski wrote on his Instagram post about the couple. "Not only was it an incredible honour [sic], but also an immense privilege to be invited to share and be a witness to this young couple's love for each other. I cannot help but smile when I look at the photos that we took."
Even though only two photos have been released from their shoot, that's enough to see how happy they really are together.
This classic black and white photo (where they just so happen to be posing in the perfect position to show off that ring) is so romantic — and the grins on their faces make it even better. If anyone ever doubted that Harry and Markle are truly in love, this photo should squash that doubt immediately.
In the second photo, it seems that Markle and Harry could easily be professional models. Her dress, his suit, that pose, their faces — everything is perfection.
Later, they also shared this candid shot taken from the shoot, which is just as gorgeous as the other photos.
Is it possible to gush over a set of photos too much? Not when they involve these two. These pictures have turned out beautifully... and they're way less cheesy than some engagement photos can be.
It's been a busy week for Markle and Harry so far. Not only did they take these incredible photos and then blow everyone's minds by releasing them, but on Wednesday, they attended Queen Elizabeth's Christmas lunch, which is a pretty big annual event for the royals. It seems that this gave Markle the chance to meet more of her future extended family, and it was reportedly her first time eating at Buckingham Palace, which is obviously a huge deal — and something most people will never get the chance to do.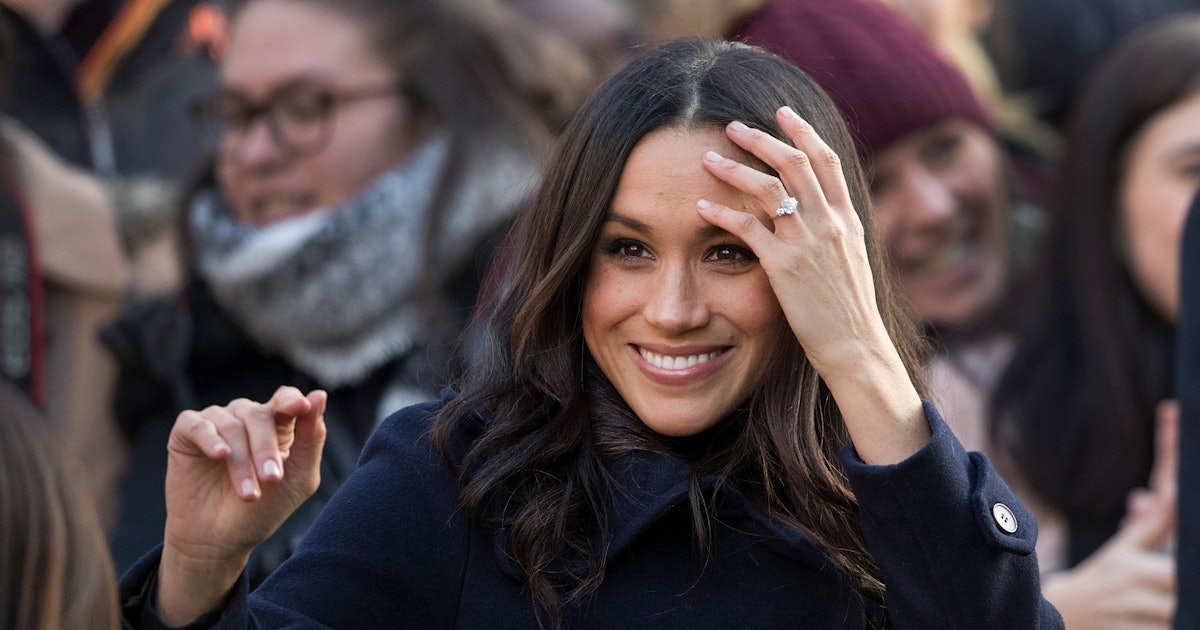 It's hard to believe that just a couple of months ago, photos of Markle and Harry together were scarce, and the ones that did exist were candid photos that had been captured while they were out in public together. But in the weeks since they took their engagement public, fans have been inundated with new pictures from photo calls, interviews, and plenty of shots of Markle and Harry making public appearances together.
So far, there are only a few details about their big day out there, but it's definitely enough to get fans excited. We already know that their wedding is scheduled to take place on May 19, 2018 at St. George's Chapel at Windsor Castle, and of course, it will be televised, just like Prince William and Kate Middleton's was when they got married in 2011.
With just a little more than five months to go until they tie the knot, there might be more photos like these to come. For royal family fans, there's a good chance that letting time pass between now and then will be agonizing, but if these engagement photos are any indication of how beautiful the ones they'll take at their wedding will be, it will definitely be worth the wait.