All The Details About Harry & Meghan's Wedding We Know So Far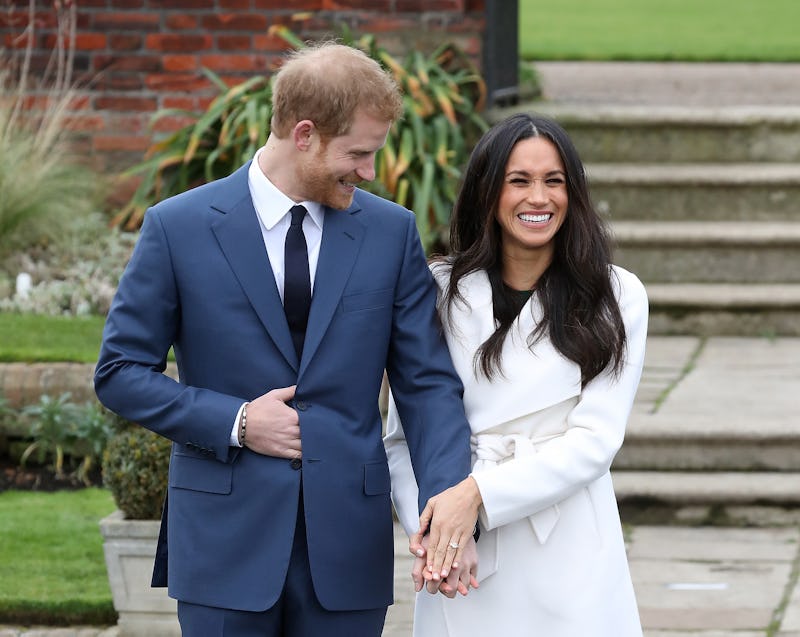 Chris Jackson/Getty Images Entertainment/Getty Images
In the weeks since Prince Harry and Meghan Markle announced their engagement, the world has been aflutter with rumors and speculation about their nuptials. While plenty of information has yet to come, there are quite a few details about Prince Harry and Meghan Markle's wedding we know so far, and a couple rumors that sound pretty likely, too.
The nuptials are going to be televised, and one thing is for certain: All eyes are going to be on the happy couple. And it's no wonder. After all, between Markle's phenomenal sense of fashion and the British royal family's history of throwing elaborate celebrations (with a few weird traditions thrown in), it's sure to be a spectacle. Even Americans who might not normally pay too much attention to the aristocrats across the pond, can feel like a part of the magic since Markle, who born and raised in California, is one of our own. Plus — and I can't reiterate this enough — the two of them are so flipping adorable. If we can't be there in person, at least we can be there through our TVs and our daydreams.
Here's what you should know while vividly imagining the special day before it gets here this May.
WHAT WE KNOW FOR SURE
Where And When They're Getting Married
Kensington Palace announced that the happy couple will be tying the knot at St. George's Chapel on May 19, 2018. The 14th-century chapel, which is attached to Queen Elizabeth's primary residence, has long held an important place among British royalty. It has seen many royal weddings, including Harry's cousin Peter Phillips in 2008 and his uncle Prince Edward in 1999. The chapel is also where Harry was christened in December 1984, when he was three months old.
Though the church has a significant spot in British history, with its 800-person occupancy, it is smaller than Westminster Abbey, where Prince William and Kate Middleton married in 2011, which can hold about 2,000. Meanwhile, St. Paul's Cathedral, where Prince Harry and William's parents, Prince Charles and Princess Diana, married in 1981 can seat a whopping 3,500 guests.
Meghan Markle Is Definitely Allowed To Get Married In The Church Of England
While this might seem obvious given the first fact, there was a lot of speculation that Markle might not receive the green light because her first marriage ended in divorce. After all, the last time a member of the royal family married an American divorcée, it threw the whole line of succession out of whack and caused a major scandal. In 1936, King Edward VIII abdicated the throne to his younger brother (and Elizabeth II's father) George VI so that he could marry socialite Wallis Simpson, a woman who, at the time, had been divorced once before and was seeking another divorce from her second marriage.
Meghan Markle Will Not Automatically Become A British Citizen
According to the BBC, Markle will have to apply to become a citizen of the United Kingdom the same way everyone else does. Hopefully, Prince Harry will help her study for the mandatory Life in the U.K. test, a 45-minute quiz all wannabe citizens must pass that touches on British traditions, customs, history, and more.
Where They'll Live After The Wedding
When the two shack up as newlyweds, Markle will be moving into Harry's current digs, Nottingham Cottage at Kensington Palace. While the 17th-century cottage is wee compared to many of the royal family's other residents, it also served as the first home for the Duke and Duchess of Cambridge, and if it was good enough for older brother William, it'll suit them just fine — at least temporarily.
WHAT WE THINK WE KNOW
Prince George And Princess Charlotte Will Be In The Wedding Party
Right now, all we know for sure about the wedding party status of Harry's adorable nephew and niece, Prince George, 4, and Princess Charlotte, 2, is an official telling the Sunday Times that "You can expect the family to be involved." But, considering the fact that having young children serve as pageboys (sort of like ring bearers) and bridesmaids is tradition in these weddings, it's hard to think of better candidates than those two cuties. When Princess Kate's sister, Pippa, got married recently, Charlotte and George served dutifully as a bridesmaid and a pageboy, and the world basically demands more pictures of them in wedding parties.
There Will Be Another New Royal In Attendance
As all loyal royal baby-watchers are probably already aware, Prince William and Duchess Kate are expecting baby number three to arrive in April 2018. That'll likely make the newborn the youngest guest in attendance for the May wedding.
The Wedding Guest List Will Include Some Celebrities
While Queen Elizabeth is the only guest confirmed to be in attendance, Markle will probably include a few of her famous pals in the festivities. There have been reports circulating that royal stewards have been instructed to watch Suits so that they can recognize Markle's co-stars. She is also close friends with Serena Williams.
Let Them Eat Banana Cake
OK, this one might just be a rumor, but it's one that's been getting a lot of traction. Supposedly, Harry is a big fan of the flavor.
That's it for what's been confirmed and what has been widely rumored. But, Prince Harry and Meghan Markle only officially announced their plans to marry in late November. Though the wedding is only months away, there's plenty of time for more announcements to be made.