Prince Harry & Meghan Markle Just Made Their First Appearance As An Engaged Couple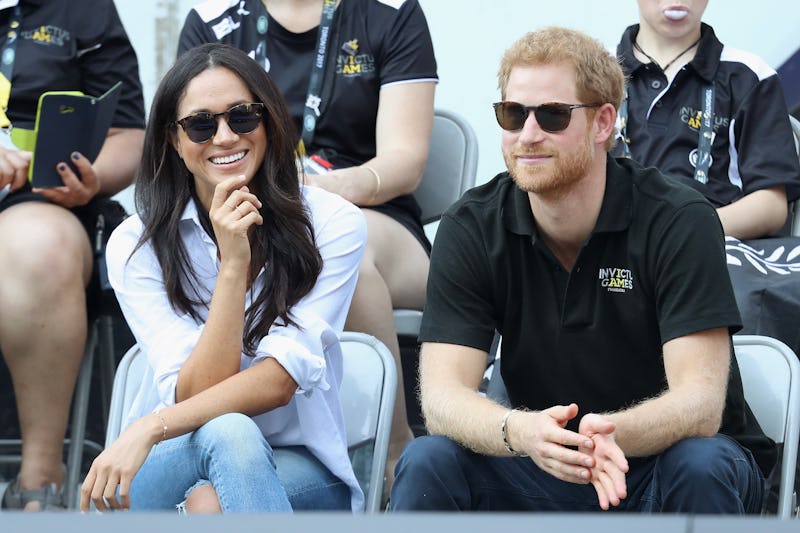 Chris Jackson/Getty Images Entertainment/Getty Images
Only hours after their engagement news was made public, Prince Harry and Meghan Markle have made their first appearance as an engaged couple. During a photo call on Monday, the couple took some snaps together, answered a few questions from reporters, and just looked generally thrilled to be together. Why wouldn't they be? Now, they can finally be open about the fact that they're spending the rest of their lives together, and that can only mean good things for those of us who have been rooting for them all along.
These photos are a huge deal, since until now, posed photos of Markle and Harry were practically non-existent, thanks to the fact that they had to keep their relationship low-key (well, as low-key as a member of the royal family can manage, anyway). But after the photo call? So much cuteness for fans of this beautiful family to enjoy, and this is just the beginning. They're sure to do plenty of press between now and the big day, after all.
Here are the best photos from Harry and Markle's engagement photo call — and obviously, after seeing them, there's no doubt that these two are meant to be... and that their future wedding photos are going to be insanely gorgeous.
This Video From The Event
To some, this is just a couple, standing and posing for photos. But to the rest of us, it's actual, video footage of Markle and Harry as a real couple, and its totally exciting. Just from this short minute and a half, it's easy to see how well these two relate to each other.
The Perfect Grin/Hand Holding Shot
Engagement photos can often be very awkward, but so far, Markle and Harry are killing it. See that slick hand hold where she's showing off her ring? Such a professional move.
A Closer Look At That Ring
So sparkly! And the two outside diamonds are from Princess Diana's jewelry collection, according to People.
The Sheer Happiness Of Being Together
Just in case you weren't already totally sold on the idea of Harry and Markle as a couple, this photo ought to do it for you. How gorgeous are they?
The Royal Wave
Harry's been waving to his adoring public practically since birth, but for Markle, this is all new. Sure, she's had the chance to meet her own fans since she's in the entertainment business, but waving to those who want to catch a glimpse of a royal couple in action? That's new territory, but from this wave alone, it seems like she's already adjusting very well.
The Best Adoring Gaze Ever
Is this relationship goals or what? We all need to find ourselves someone who looks at us like Harry and Markle look at each other.
Looking At The Ring In Admiration
Don't ever let anyone tell you that being engaged doesn't involve a lot of gazing at your ring in awe. It totally does, and this photo is proof.
This Beautiful Walking Shot
Casually walking in the palace garden, looking like a dream. It seems so effortless. How do they do it? It's like you can tell they're gliding just from this still photograph.
This Photo Suitable For Framing And/Or Save The Date Cards
They look so perfect together, and this photo may be the best one they've taken so far. It's easy to see it on their mantle, or as an insert in their wedding invitations, right?
If these photos are a sign of what we can expect during this engagement, it's certainly going to be so fun for fans to follow along with whatever comes next. Congratulations to this adorable (and very photogenic) couple. Now hurry up and get married so the world can obsess over those wedding photos.