Prince Harry & Meghan Markle Will Get Married Even Sooner Than You Thought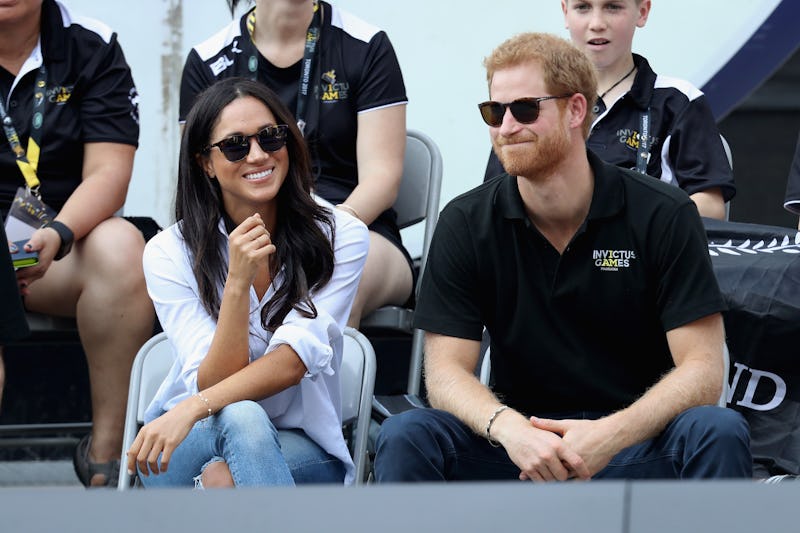 Chris Jackson/Getty Images Entertainment/Getty Images
On Monday, Clarence House, the residence of Prince Charles and the Duchess of Cornwall, announced that Prince Harry is engaged to Meghan Markle, leaving many to wonder when the royal wedding will take place. Clarence House noted that the nuptials will occur in Spring 2018 and that further details will be released in due time. The Guardian reported that March is probably the most likely month for the ceremony, as it would ensure that there will not be a conflict with the birth the Duke and Duchess of Cambridge's third child.
Update: On Tuesday, Kensington Palace announced that Prince Harry and Meghan Markle would be married in May 2018 at St. George's Chapel at Windsor Castle, according to the BBC UK.
Earlier: The much-anticipated engagement announcement revealed that Harry proposed to Markle earlier this month. It also reported that the prince had informed his grandmother, Queen Elizabeth II, of his engagement as well as sought the "blessing" of Markle's parents to marry their daughter.
Harry has been dating Markle, an American actress, for around 16 months. According to Time, the pair first met in London in July 2016, when they were introduced to each other by a mutual friend. Harry was compelled to publicly comment on their relationship relatively early-on, after growing increasingly upset and concerned about the "wave of abuse and harassment" that Markle had faced since she started dating the prince. Indeed, a couple months into their relationship, Harry released a strongly-worded statement condemning those who were mistreating Markle.
This year, the couple has made several public appearances together, revealing an increasingly close relationship. Indeed, earlier this month, many were speculating that an engagement was imminent, something which today's announcement has certainly confirmed.
Various members of the royal family shared their excitement about the engagement on Twitter. William and Kate, the Duke and Duchess of Cambridge, noted on the Kensington Palace Twitter page that, "We are very excited for Harry and Meghan. It has been wonderful getting to know Meghan and to see how happy she and Harry are together." Moreover, Queen Elizabeth II and her husband, Prince Philip, also offered their congratulations via social media, saying, "The Queen and The Duke of Edinburgh are delighted for the couple and wish them every happiness."
Kensington Palace also released a statement on behalf of Markle's parents, Thomas Markle and Doria Ragland, who collectively noted their excitement about the union:
We are incredibly happy for Meghan and Harry. Our daughter has always been a kind and loving person. To see her union with Harry, who shares the same qualities, is a source of great joy for us as parents. We wish them a lifetime of happiness and are very excited for their future together.
Theresa May, the Prime Minister of the United Kingdom, released a statement of congratulations for the couple as well, noting "I would like to offer my very warmest congratulations ... This is a time of huge celebration and excitement for two people in love and, on behalf of myself, the government and the country, I wish them great happiness for the future."
According to the BBC, once the couple marries, Harry is expected to receive the title of Duke of Sussex. Markle will likely receive the title of Duchess.
The Telegraph noted that the newly-engaged couple will hold a photo call at Kensington Palace on Monday afternoon to publicly celebrate their engagement as well as to record a message that will be broadcast on Monday evening.
It is clear that many people are thrilled for Markle and Harry's engagement and are eagerly anticipating their nuptials. Fortunately, the many people who are looking forward to the occasion will not have to wait very long to celebrate, as a springtime date means that the happy couple's wedding is only a few short months away.