Prince Harry Talked About Having Kids With Meghan Markle — Well, Sort Of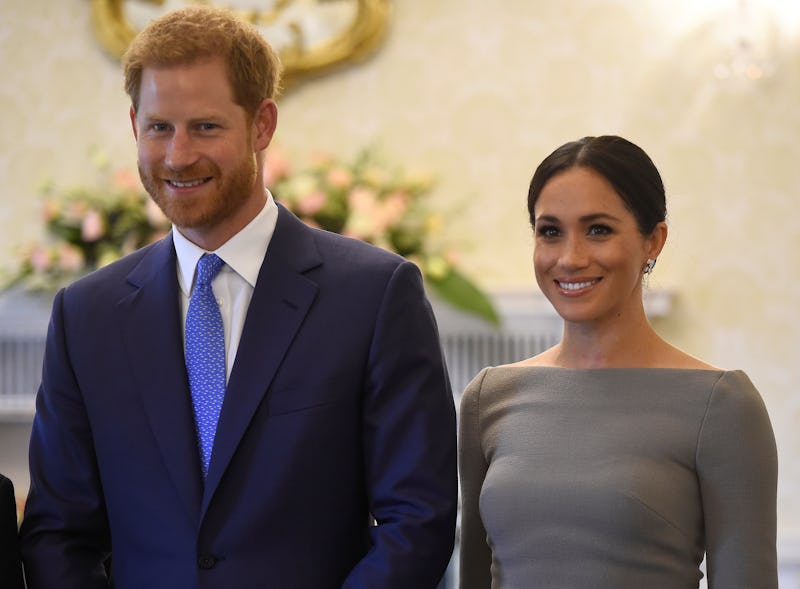 WPA Pool/Getty Images News/Getty Images
Prince Harry, Duke of Sussex, and Meghan Markle, Duchess of Sussex, have been married for less than two months. But that hasn't stopped fans from speculating about if and when the newlyweds will have children (even though it's definitely their own decision). Now, it looks like Prince Harry and Meghan Markle are talking about kids — at least, kind of.
On Wednesday, People reported that Prince Harry had a brief conversation with a fan in Dublin about his and Markle's potential future children. "My husband also has red hair and he gave me five children — when are you and Meghan going to get going?" the fan reportedly asked Prince Harry, according to the publication. The fan, Elaine Adam-Stewart, told People of Prince Harry's response, "He laughed and said 'five children? — too many.'"
Of course, it sounds like Prince Harry was just joking around, and not actually knocking bigger families. After all, his father, Prince Charles, Prince of Wales, is one of four children himself. But it does sound like the topic of children has come up between him and Markle — which is pretty understandable, considering the royal family's focus on succession. This isn't the first time Prince Harry has talked about the possibility of having children, but it's still noteworthy to see him joking around about the topic.
As People pointed out, Prince Harry also talked about possibly having children during a BBC interview in November. He and Markle did the interview after announcing their engagement. According to People, Prince Harry told the BBC that "of course" he and Markle had talked about having children. "One step at a time," he told the outlet. "Hopefully we'll start a family in the near future."
It shouldn't come as a surprise, then, that Us Weekly reported in June that Prince Harry and Meghan Markle want to have kids soon. "Having children is definitely a priority," an unnamed source, who's apparently close to Markle, told the magazine. "She and Harry want to start a family right away — and she'll start trying as soon as she can."
A separate source also told Us Weekly that Markle's mom, Doria Ragland, is eager to be a grandma, too. "Doria is expecting to be a grandmother by this time next year. She's very excited for Meghan to become a mother," the source claimed to the magazine.
Markle has also spoken about the possibility of becoming a mom, and it sounds like she and Prince Harry are on the same page. As People noted, Markle shared in a 2016 interview with Canadian magazine Best Health, "I want to travel more and I can't wait to start a family, but in due time." Now that she's married to Prince Harry, that time might come sooner rather than later. But again, it's totally her decision.
As for where Prince Harry and Meghan Markle's potential children would fall on the royal line of succession, they'd be pretty far down the line. Prince Harry moves further back each time that Prince William, Duke of Cambridge, and Catherine, Duchess of Cambridge, have a child. Because Prince William is Prince Charles' firstborn, he and his children come before Prince Harry. Prince Harry is now sixth in line for the throne, following Prince Charles, Prince William, Prince George, Princess Charlotte, and Prince Louis. So any potential child would be seventh in line, unless Prince William and Kate Middleton have another child.
Of course, it's Prince Harry and Markle's choice if and when to have kids. But it's understandable that fans are excited to see what's next for the royal couple. And if they do become parents, their little one will surely be showered with love.