Here's The Reason Prince Harry Avoided Holding Meghan Markle's Hand In That Viral Video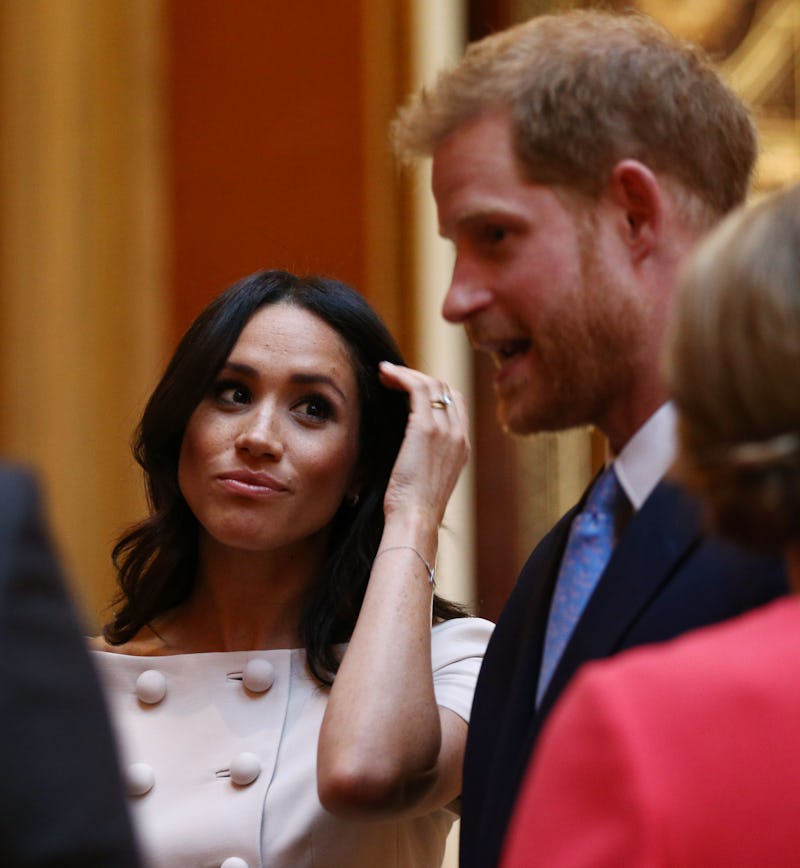 WPA Pool/Getty Images News/Getty Images
Meghan Markle and Prince Harry have pushed the boundaries of what we expect from the royal family a few times, but recently turned heads with a slightly more traditional approach to public life. At the Young Leaders Reception at Buckingham Palace on June 26, fans of the newlyweds spotted a missed PDA moment, and it sort of went viral. Why can't Prince Harry and Meghan Markle hold hands in public all the time? Believe it or not, there's a reason.
"It is rare to see royal couples holding hands on official outings," said royal etiquette expert Myka Meier in an interview with PEOPLE. "While we are much less likely to see The Duke and Duchess holding hands in public, we often see Prince Charles and The Duchess of Cornwall holding hands — it's all simply a matter of preference for each couple and is also likely dependent on the nature of the event they are attending. A more serious engagement would warrant a more serious level of professionalism, which each royal is sure to follow."
For Meghan and Harry specifically, they are a bit more open with their PDA than other couples in the family — just not when the Queen is present, according to PEOPLE via a royal biographer. The Prince's grandparents are never seen holding hands in public, and others are expected to follow suit when they are around.
Sure, Twitter has made fun of (and/or celebrated) Melania Trump denying or swatting away the President's attempts at a public display of hand-holding in the recent past, but etiquette is more complicated on the other side of the pond. This isn't Harry and Meghan being fed up with each other — it's actually cute. Here's the clip that went viral below:
This kind of stuff of restrained British romantic dreams. Remember that Colin Firth adaptation of Pride & Prejudice that milks a mountain of sexual tension out of longing stares?
There are plenty of examples of Harry and Meghan holding hands in public or at other royal engagements, which is "refreshingly modern" according to Meier in the same PEOPLE interview.
"While Prince Harry and Meghan holding hands is atypical for royal engagements, it is a seemingly welcomed gesture to show unity and celebration of their engagement period. There is no protocol that says they can not show affection on official engagements, and this gesture makes them relatable and lovable to the public. Meghan and Prince Harry holding hands at a royal engagement is a refreshingly modern approach to their new role both as a couple and as representatives of the royal family."
In an interview with The Daily Mail, another royal etiquette expert named William Hanson also said that while there is no official rule regarding hand holding, Prince Charles and Kate Middleton "seem much more reserved with their emotions and affection whereas Harry and Meghan are more tactile" in public, generally. "It comes down to different styles for different royal couples," he said. However, while on official business with the Queen, even the most modern couples take a backseat to tradition.
"I suspect Prince Harry and The Duchess of Sussex realize that now they are married their job and status is what comes first," Hanson said.
Also at the Young Leaders Reception, Markle accidentally crossed her legs for the briefest moment when she sat down before correcting to the "duchess slant" — women with her title are supposed to either cross their legs at the ankle or slant them to the side, also according to PEOPLE. You can watch that moment below as well:
It's a faux pas, but she quickly recovered. Joining the royal family, especially at such a high position, is a learning curve! Traditions die hard, and while we can always count on Harry and Meghan to mix it up, there are some (mostly harmless) things they won't touch just yet.