Harry Opened Up About Charles Walking Meghan Down The Aisle & It's All SO Emosh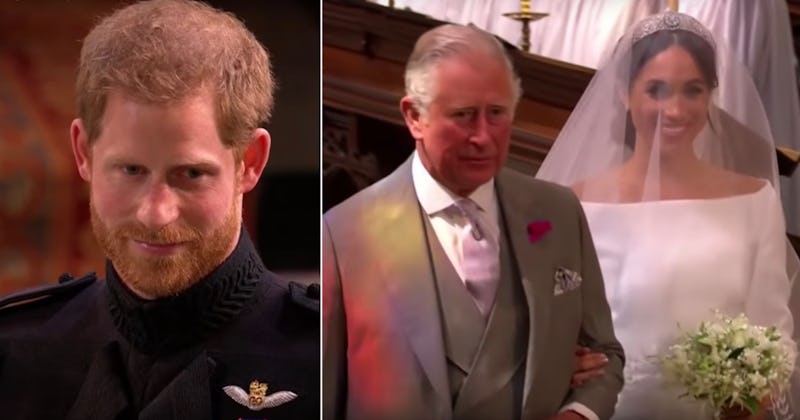 BBC
This year will be memorable for a number of reasons, but none bigger than watching the Duke and Duchess of Sussex tie the knot in what can only be described as nothing short of a fairytale. A moment I certainly won't forget is seeing Prince Charles walking Meghan Markle down the aisle, and neither can Harry. Judging by his comments in an upcoming documentary celebrating his father's 70th birthday, it looks like Charles is adorably fond of his daughter-in-law.
Two days before the big day, Meghan's father Thomas Markle was unfortunately unable to attend nor walk his daughter down the aisle. The day before the wedding, Kensington Palace announced that Prince Charles would instead "accompany her down the aisle," and that he was "pleased to be able to welcome Ms. Markle to The Royal Family in this way." This gesture must have put Meghan's mind at ease, for sure.
Harry looks back on this moment in the BBC documentary Prince, Son and Heir: Charles at 70, which airs tonight (Oct. 8) at 9 p.m. "I asked him to and I think he knew it was coming and he immediately said, 'Yes, of course, I'll do whatever Meghan needs, and I'm here to support you.'"
"For him that's a fantastic opportunity to step up and be that support, and you know he's our father so of course he's going to be there for us. I was very grateful for him to be able to do that," Harry explained. And I thought the wedding itself was emotional enough.
The Duchess of Cornwall also commented on her husband's gesture, highlighting that "it was very touching," and watching it again on television highlighted that "it was a lovely gesture," as reported in the Daily Mail.
And who could forget those pricelessly cute moments between Meghan's mother Doria Ragland and Charles during such a special day for both their children. Harry and Meghan obviously stole the show, but that didn't stop me trying to grab as many glances as I could of Charles making sure Doria felt at ease for such a big event.
And I'm sure royal fans will be able to see more insight into the wedding during the BBC documentary, which will capture "a revealing and intimate portrait of the longest-serving heir to the throne, who still feels he has a lot more to do," as stated in a press release.
Given "exclusive access" and a chance to speak with The Dukes of Cambridge and Sussex and HRH The Duchess of Cornwall, director John Bridcut's documentary offers "a unique insight into his life and work and those who knew him best," Director of BBC Content Charlotte Moore commented.
From watching The Crown to countless documentaries, and of course the two royal weddings this year, I don't think I've ever learned so much about the royal family in such a short space of time. I think I'm turning into a bit of a royal fangirl, and I'm totally not ashamed of it.
Prince, Son and Heir: Charles at 70 airs at 9 p.m. on BBC One tonight (Oct. 8).