Prince Harry's Cute AF Nickname For His Future Child Is Probably One You've Used Too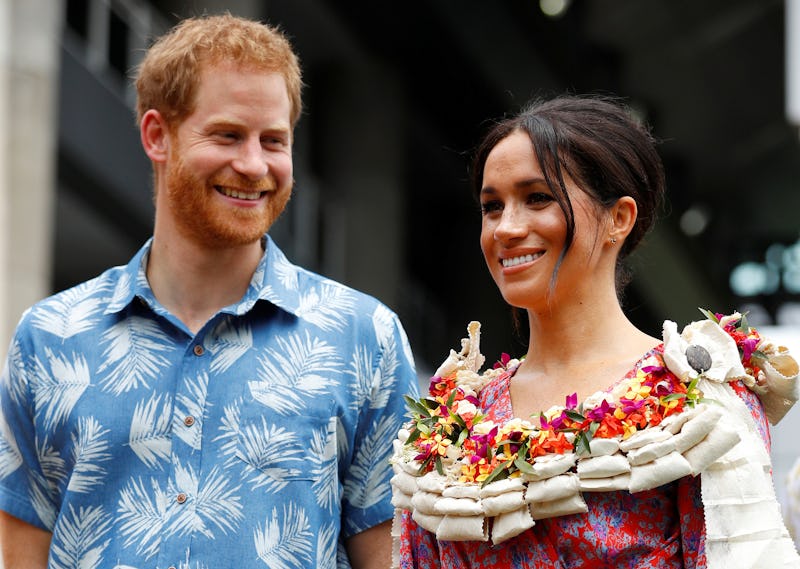 Pool/Getty Images Entertainment/Getty Images
I know we aren't going to get to meet Meghan Markle and Prince Harry's baby until next year, but that hasn't stopped me (or the rest of the world) from hanging onto any Baby Sparkle news we can possibly get. Although the Palace and the royals have kept very quiet on a number of things like Meghan Markle's due date, the gender of their child, and what they'll be naming them, the Duke of Sussex has finally thrown us a bone and shared Prince Harry's nickname for his baby. It's adorable AF, even if it strategically doesn't give anything away about their future child.
Meghan Markle and Prince Harry are currently in New Zealand and earlier this morning, they nipped over to South Island's Abel Tasman National Park to say hi. After meeting with the indigenous Manawhenua ki Mohua people and traditionally greeting elders with traditional Maori hongis ("a touching of noses," according to Stuff NZ), Prince Harry then gave a speech thanking them for their kind welcome.
The Duke of Susssex said per Hello!, "From myself and my wife and our little bump, we are so grateful to be here. We bring blessings from my grandmother the Queen and our family."
Little bump! How cute. Given that Meghan Markle's properly and proudly showing now, it's an apt description of their future child and pretty coy as it doesn't give away the gender of their little one either. I'll take what we can get at this point though TBH.
Earlier this year at an Invictus Games event in London, Prince Harry accidentally let slip his nickname for Meghan Markle as well. If you're a fellow Meghan or Megan like me, it's not particularly groundbreaking but it's still cute.
In a video shared by The Daily Mail, Prince Harry tried to get her attention and called after her, "Meg! Meg!"
Eventually, she clocked on and turned around to meet him with a smile before apologising. If I shut my eyes and replay the video, I'll just imagine for a second it's my name he's calling and not hers. (A girl can dream.)
Prince Harry and Meghan Markle's time on tour is sadly coming to an end, as New Zealand is the last stop on their tour before returning home to London. After sixteen days spent travelling across Australia, Fiji, Tonga and now New Zealand, it's been a pretty intense outing for the couple.
It's also been an impressive first international tour as they've not only won over the hearts of locals but the entire world. Besides championing important humanitarian and conservation efforts in the region, they've also proved themselves warm and modern royals and I'm every inch a proud mama over here — even if I had nothing to do with it.
Their PDA has also just been completely tooth-rottingly sweet and I'm fully prepared to make that umbrella moment my phone background.
Meghan Markle and Prince Harry will spend a couple more days in New Zealand before returning to the UK on Wednesday. Here's hoping the pair have some major R&R planned — after the past couple of weeks, they definitely deserve it.